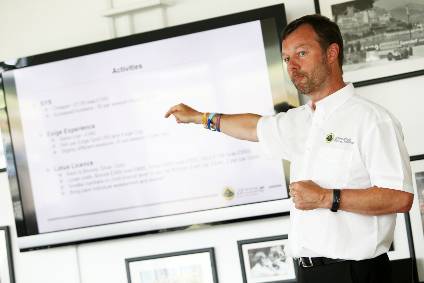 As vehicle quality and reliability has improved, OEMs are increasingly aware of the role user experience can play in the customer decision-making process. That user experience could be planned in during the vehicle development, demonstrated at the dealer or during the test drive. Providing drivers with engineering-led expertise for such scenarios is offered by UK firm ProTwo. We spoke to its founder Simon Poole about why OEMs, Tier ones and dealers are using its services to deal with changing consumer expectations.
Can you provide some background?
Yes, ProTwo was founded in 2007. I was working in the financial sector and was competing in a Lotus race championship. I got to know Lotus Cars well and started to work as an instructor for the manufacturer. An opportunity came up to provide instructors for its activities. We secured this business and because we chose a high calibre of drivers with engineering expertise, our reputation spread, and we quickly picked up more contracts. Now we work with over ten OEMs as well as test and development drivers. In 2011, we opened an office in India to cope with the growing demand in that region. Today, I think we offer one of the strongest driver line ups available for vehicle dynamics, ergonomics, NVH and user experience. We have some very specific expertise in areas such as emissions, tyre and durability testing.
What services are you offering? Is it supplying test drivers?
Our focus is on using our engineering expertise to create a better user experience.
It's more than that. Our focus is on using our engineering expertise to create a better user experience. We have two main areas for this; we provide drivers for new car development and durability test driving. Alongside this we are also training new engineers for OEMs and Tier Ones.
We are also helping with specific OEM requests. One such interesting project was to undertake 40,000km in Algeria, using local drivers to develop local driving style data. We did all the logistics in a country that is supposedly 161st in the World Bank's 'Ease of doing business' index in less than 90 days. We relish a challenge and can take a programme on like that for an OEM. The second area of focus is providing drivers for vehicle product launches and more recently placing our team in vehicle dealerships.
Looking at the OEM aspect first, why are OEMs using you and not in-house test drivers?
That depends on the OEM. We have witnessed in recent times a dramatic shift in product ranges. Now it is not unusual for a premium sports car manufacturer to offer an SUV or for a mainstream OEM to create a niche EV vehicle. In-house test teams may lack the experience and knowledge for these new sectors. We have a pool of over 200 drivers, across a diverse and comprehensive demographic profile that can provide the specific experience for an automotive programme. We are also training their engineers to be able to do the work going forward. This has been one of the main activities in India for ProTwo. India has a lot of very talented engineers but despite extensive theoretical knowledge, some may lack the practical experience of developing and assessing vehicles at the limit. We create and run bespoke engineering training courses for them.
Why don't OEMs just use their engineers to train them?
Engineers aren't always the best at training younger engineers. Some may lack the communication skills to be able to train and in-house training teams aren't always capable of sitting alongside an engineer who is driving at the limit for the first time. This is something we are good at and are finding with the younger and developing OEMs, providing both a 'customer' and 'engineering' focus to a training programme.
You mentioned providing drivers for vehicle development. Is it easy to embed your engineers in an OEM's test-driving team?
We find that OEMs that work with us like to have that knowledge and expertise from outside their business. Our drivers are driving everything from motorbikes to off-highway trucks and we have collated a vast knowledge pool of user experience. We can share this experience with the OEM team. For example, an OEM creating its first ULEV, contracted us to draw on our experience, both from an engineering and a customer point of view. We've been able to provide independent advice from our experience of multiple brands.
And how do you work with end customers?
We can provide staff to work in dealers to help customers navigate the buying process.
Our work is on two levels. First, we can provide experienced drivers for events and test drives. One appeal for OEMs is we can supply prominent names such as former F1 drivers, Le Mans winners and BTCC stars, that add kudos to a driving event with the public. Second, we can provide staff to work in dealers to help customers navigate the buying process. One example is assisting with the sale of EVs. We have a deep knowledge of the offerings in the market. So, if a customer wants to know if a certain charger fits the prospective car as well as the car they already own from another brand, we can answer that. Or what are the differences in charging times, rates, battery life? When we extend that to specialist test drives, we have seen 70 per cent conversion rate. That's very effective for a dealer and helps to justify running events beyond the showroom.
And can you apply that to the other megatrends such as autonomy and connectivity?
Yes, we have just undertaken a project with an OEM to look at connected vehicle operation under extremes of usage, including signal degradation and drop out across the UK road network. This consisted of route planning, data collection, analysis of signal strength data (synchronised to location) and the effects.
And autonomy?
It's an area that is just starting for us to develop. Autonomous test drivers should be some of the most skilled drivers deployed. That's because they must be continually monitoring and be prepared to intervene. There is an ongoing discussion as to whether it should be mandatory to have two test drivers as a minimum in an autonomous vehicle. We feel that considering the increased workload, that's a sensible approach.
What is next for ProTwo?
We are keen to expand in China. Our offering has been well received in India and given the rapid development of the automotive industry, we feel China's domestic producers could close the gap to engineer a better user-experience.