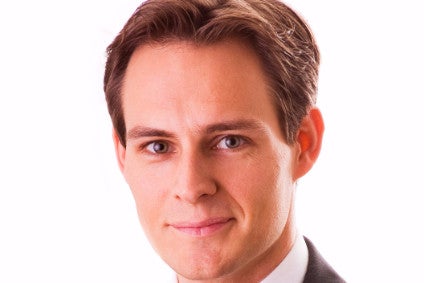 Henkel develops adhesive, sealant and functional coatings technologies for the automotive industry. Matthew Beecham caught up with Frank Kerstan, Global Programme Manager for Automotive Composites and his colleagues to learn more about Henkel's composite leaf spring for Volvo, adhesives for windscreens, and electro ceramic coatings.
Could you tell us how you developed the composite leaf spring for Volvo and your partnership with Benteler-SGL?
Frank Kerstan: Automotive OEMs are constantly seeking cost-effective processes that are suitable for high-volume production of greater than 10,000 parts per year, along with tailored adhesives, and fast-curing and reliable resins for use in short production cycles. They also want reliable partners with in-house test capabilities. That's why Henkel recently opened its new Composite Lab in Heidelberg, Germany, a test centre for customer trials using HP-RTM equipment.
In-house testing and development capabilities for tailor-made resins also played a crucial role for the partnership with Benteler-SGL.
The challenge for the leaf spring was developing a fast-curing resin that provides high fatigue performance. Henkel's result is Loctite MAX 2, a composite matrix resin based on polyurethanes that is designed for a fast automotive resin transfer molding (RTM) process and for excellent product performance (high toughness and superior fatigue resistance).
The composite spring is manufactured by Benteler-SGL in RTM process, designed for an automated production with output rates of over 100,000 parts per year.
The leaf spring is now used by Volvo on the XC90, its premier crossover SUV and enables a weight savings of 4.5 kg per axle. Based on the SPA architecture platform, this leaf spring concept is also used for the Volvo S90 and V90.
Aluminium content in new cars is steadily increasing. To what extent do Henkel's technologies contribute to the auto industry's push for vehicle lightweighting?
Frank Kerstan: Automakers increasingly are turning to aluminium and fibre-reinforced plastics to replace steel, and this creates a growing need to find effective ways to bond these types of mixed materials to one another. For overcoming the different coefficients of thermal expansion (CTE) in modern, lightweight bodies, the market needs an adhesive that offers both high strength and high elasticity at the same time.
Henkel developed the new adhesive Loctite UK 2015, which is based on two-component polyurethane technology. This adhesive is ideally suited for use on structural body parts, regardless of whether they are made of fibre-reinforced plastics, e-coated steel or e-coated aluminium.
In terms of bonding windscreens to the car frame, what are the safety issues there?
Henkel spokesperson: It is important to note that many of the safety standards set for automotive glazing applications are focused on the regulatory test performance of the windscreen and windows, but one of the primary enablers for safety is the direct glazing adhesive used to fix the windows to the vehicle structure.
Automotive glass plays an important role in a car's ability to offer safety and security to its passengers. The automobile industry is dominated by the use of laminated glass, which is a "sandwich" of two glass sheets with a thin but tough plastic layer in between. The layers are bonded to each other under controlled heat and pressure. If the glass suffers an impact, the glass layers may fragment but, depending on the force of the impact, the plastic interlayer will hold. This safety feature enables the vehicle to absorb some of the energy of the impact and helps to prevent the ejection of the driver and passengers and the penetration of objects in case of an accident. A different kind of passenger safety factor is provided by UV (ultra-violet) filter glass, which blocks harmful UV rays to protect skin and eyes.
What makes your windscreen bonding materials attractive for crash repairers?
The remainder of this interview is available on just-auto's Global light vehicle materials market- forecasts to 2030