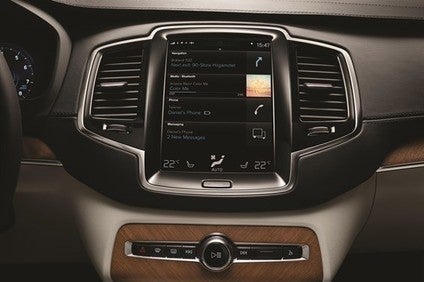 The wave of advanced vehicle connectivity technologies coming to vehicles embrace a number of interlinked elements, from seamless personal connectivity, to driver assistance systems (and autonomous vehicle control), intelligent transport systems, on-board telematics and the changing human machine interface itself inside the vehicle. In this month's management briefing we talk to OEMs and examine key aspects of the connectivity revolution coming down the line. In this first instalment, Cat Dow speaks with Volvo Car's Petter Hörling about its priorities in the connected car area.
In 2013, Volvo Car Group launched a voice activated music system through a partnership with digital music service, Spotify. The solution is fully integrated into the dash through Volvo's 'Sensus Connected Touch'. It was seen as a significant development because Volvo's integration with Spotify is both voice-activated and touch enabled and the streaming service has become popular in a number of markets. The system allows drivers to be able to stream music with a 3G/4G dongle or via the driver's mobile phone connection through their dashboard. Drivers can play any Spotify track they want just by just saying its name, allowing car owners the ability to remain connected when driving.
Volvo maintains that its system responds to demand from drivers for consumption of music on the road, combined with Volvo's core safety value. It is easier and safer to use whilst driving, as drivers can access and operate the music system via the steering wheel and centre stack controls, without taking their eyes off the road or their hands off the steering wheel. As well as Spotify, the technology also includes access to thousands of radio stations from all over the world.
The system is based on Android technology, which allows it to be regularly upgraded. Other apps accessible via Sensus Connected Touch include Google maps, TuneIn, iGO navigation and an app store for new functions and updates. Internet data can also be transferred via Wi-Fi between the mobile phone and Sensus Connected Touch and the Wi-Fi network can be shared with everyone in the car when using a dongle.
Sensus is the name Volvo uses for all its HMI (Human Machine Interface) functionality.
Cat Dow recently met up with Petter Hörling, Volvo spokesperson for HMI and Sensus, to discuss the features of the new XC90 and the broader development of the connected vehicle from Volvo's perspective.
CD: Following some pilots in 2013, Sensus was rolled out to a raft of Volvo models but some were excluded for technical reasons. The new XC90 has also been unable to be fitted out; have you managed to do that yet?
PH: No, not yet.
CD: What is the delay?
PH: Carplay is one of the key priorities. I'm not sure how well Carplay has been able to integrate Spotify but it is one of the applications – TuneIn, the internet radio service, is what we currently have in the car – so that is a roll-out plan. But it is such an obvious area to expand and continue expanding to make it up-to-date, so let's see what resonates after one year and that's when we will push.
CD: Is Spotify something special for Volvo?
PH: Yes. In Scandinavia, Spotify is a key player. That's where it adds a lot of value to many customers. Of course, we would like to also meet that.
CD: I've been told the new style platform "is built for electrification and connectivity." In what way?
PH: Let's take the first one, electrification and consider the car we are sitting in. It's a plug-in hybrid and that's where the 7-seater is not seen as being in the competitive landscape. Usually, you need to pick and choose; you have the [fuel] flexibility or a family-friendly car. When it comes to the connected portion, as you see, this car is connected. It will make your life easier, which is where a lot of things we are trying to find are the biggest innovations where we could make this difference. If the car is not connected, this will just be a car and then you could have different aspects. But I'm pretty sure if you also don't have a touch interface it would be hard to make some innovations because it will be too cumbersome to do things and this [smartphone] will be a more relevant device in the car and more distracting. These [devices] were not designed for in-car use.
CD: Okay, tell me about this large screen.
PH: This brilliant centre screen is like a diamond, it's very beautiful. It's very well thought through. We have kept the main button but the rest is inside next generation touch technology which is much better than capacitive, namely new Optical infrared touch technology. If you look on any other model of premium car, there is a plethora of buttons and it is a lot of distraction that, for us, is unacceptable. So what we have done in the screen is one basic KPI. When the sunlight is on such a device you can get a reflected image so that you cannot use the screen – on the road you can't change screen orientation as you would with a smartphone when you're out and about – so we have added a coating on the screen that prevents reflections. It's glossy but it doesn't reflect.
CD: This is great for photographers because we easily get ourselves in the reflection of a product!
PH: Yes! It only reflects the lights you would typically get on a screen. It's not the sunlight but it is reflecting. If you had put an iPad here, the sunlight would have reflected, and at night, you would have a huge display in the windshield, which would be distracting. So we have taken this away.
CD: And who did you develop that with?
PH: That one we have done a lot on our own but a lot of the research for the basic technology development, we have done that with a Swedish company called Neonode.
CD: What about this tiled menu system?
When it comes to the [menu layout], we have played around with the fact that you are in the car. If you go for that app and you launch a new one, and you go for that app, it means it [the menu system] is very deep. In the car you have to make sure that you can quickly do the most important things directly and so we have played with those four tiles – which as far as we know, we are unique with this design. If I launch any of the tiles – navigation, info, apps and so on – the last one we take away, two remaining we shrink a bit and then we expand the ones we want [like a dropdown menu]. That means, I can go from media to navigation directly, from media to audio directly; and not having to go 'Home' and then select the next application. It is half the depth.
CD: I can see that climate is always available, regardless of the function you select…
PH: Yes, climate is always available wherever I launch. And wherever I am in the system I can go to the other two screens [swipes left and swipes right of centre menu].
CD: So Volvo has really taken a smartphone and shifted it to use in the car?
PH. Yes, and adapted it to the context of the car.
CD: Is there any application integration?
PH: Yes. We have Volvo On-call. That's the portal you use. And you also have On-call if you're in an accident. We have had this since 2001. The car will phone up [the emergency services] and tell them where you are at, how many people are in the car, if you're likely to be injured. It is a crucial thing and we are really proud of what we have already now but we continue to enhance this one. Already in the current cars that we sell, we have very important connection between the car and your digital life. There are aspects that can be checked, so you can set the heater or pre-cool the car. One of the key functionalities is being able to do your trip planning from home because this is where you typically do this and then you send it to the car and you don't even have to start with setting destination. As nicely integrated as we have done, you can still send it from Volvo On-call.
CD: So we would plan it through the Volvo portal on the app?
PH: Yes. You will have it in other languages as well. The car will politely ask if you want to drive to this destination and you just push okay and then you are ready to go. Journey planning is not typically done in the car. I would say the majority is done in the sofa with friends, with the family.
CD: And you use HERE maps?
PH: Yes, we use HERE maps.
CD: I usually check my route on Google.
PH: That is one of the balances that we still have make to happen. HERE has an extraordinary area of map data but the issue is that that you cannot plan your trip completely because on Google you find a hairdresser, find a place for dinner. It's more comprehensive and that's where Google is really good. Once you have found it and searched for it you need to paste still to the HERE map so you need to have the address.
We have the big navigation area and the map comes up between the dials [in the instrument cluster] as well. In that driving perspective, you will see it on the heads-up display (HUD), which is less distracting from having to look down…
When driving, you utilise primarily the HUD, that's where you'd have the key areas with the information and the things up here we have your speed, the speed limit, that's one of the input points and in the map we have the data about speed limits.
CD: Is that map data downloading on a regular basis?
PH: It is. We can do portion downloads over the air, but it's onboard. It's something we carry onboard in the head unit system. On the right [of the steering wheel], we have what we call 'Seamless Driving'. If you are driving up to 50kph (31mph) and the lanes on the road are there, then the car will deal with the whole thing. It will steer, accelerate, decelerate – all you need to do is stay on top of the driving. You need to have one hand on the steering wheel so you can't fall asleep.
CD: Why is there such a strong push from Volvo for assisted piloting?
PH: A typical driver's scenario is usually just full of pain points: the commute, the queue situation, the stop-start, stop-start monotony.
CD: But you can't go the whole way yet, so what other features have you got?
PH: Okay, so if you have a lead vehicle or not and also if the line is detected, then also if you set a speed, say 70kph and you approach a car at only 40, you will see a visual distinction showing it is going slower and giving you a warning with the graphical display.
CD: The instrument cluster is a skeumorphic design (clearly electronic not mechanical, but there's an anologue-style dial with needle, and also a digital readout of speed in the centre of that dial). Could that dual display be used to show two speeds, your car and the car in front perhaps?
PH: No, no. We could have gone that way, and we could have completely abandoned the old design of circular and mechanical dials, but there is something intuitive because we've been used to it for such a long time. If you look on this screen, we have the dry mode selected. When we have eco-driving the rev counter is now gone. You consume electricity and (pointing to the right of the instrument cluster) you're recharging. You could play around with that but we've kept the dials and added the number in the middle.
CD: The design of the steering wheel controls are quite intuitive too, aren't they?
That's one of the key things. What we have in this car, you look on the steering wheel and you can do most of the things you need from those button areas. The left one is completely dedicated to active safety, driver support systems and you see a symbol and we have two active safety drive modes. There's cruise control, if you launch this one by pushing in the middle, the car will just guide you with the speed. I could do most of the basic things from here. So if I push the menu button I can get the memory to pop-up and I can set the guidance, I could set a destination I could mute or repeat the guidance.
CD: Did you say you can set the destination from the steering wheel?
PH: I could do that. Some simple ones [destinations], [i.e.] the previous ones and also "Take me home", which accounts for half of journeys made.
CD: Can you select by voice?
PH: We work a lot with the voice and we talk more about the natural language so your own way of saying things for example like – 'take me home' or 'phone my wife' or 'make a call' – instead of [a specific syntax, e.g.] 'call'. We've made it [the menu options] very shallow. When you make it shallow, there is less risk that you can go wrong [and get lost]. Like the head-up display, it needs to be very clear. What we've added to [the XC90] is also in-car applications. So you could for example push it and say 'I'm hot' and then it would decrease the temperature by 10°.
CD: So it takes action based on something you tell it rather than something you commanded it to do?
PH: Yes. But it is not an artificial intelligence. We have taught the system so that if you say you are hot, you are likely to want it to be cooler which is the same as a decrease in temperature. It's a linguistic feature.
CD: You are going to integrate Carplay. Are you also going to integrate Android Auto?
PH: That's our plan, but that's probably for a later announcement, but we know that many of our customers today have iOS phones for some reason. I think it's something tied to the Volvo brand as well. There's something in its simplicity and the Scandinavian design etc. When we launch Carplay it will be seen in the fourth tile; Navigation, Media, Phone, SMS. Of course, some of the things there will be appealing to many of our customers. Personally, I think [the in-car] navigation system might have to be something we really emphasise because of the nice screen and the head-up display [integration].
CD: It sounds like Carplay integration will be quite shallow.
PH. Yes, it will.
CD: You've spent all this time, money and effort integrating these functions on Sensus, but by adding Carplay you are adding another approach for the user. People can simply by-pass your Volvo embedded Sensus features and use Carplay instead?
PH: I think one of the areas, in which we have a huge benefit in what we have designed, is that you would find two ecosystems; one is the phone and one is the Volvo. Here, you have a duality between those two, so you could go from this tile and to navigation directly. Let's say if we believe that might have some media aspect we really like in Apple Carplay then it would be down here. Navigation is also something we could potentially love about the car then you have the duality that is easy to access. If you go for another application on other manufacturers' systems, then you need to choose in the screen that you either have Carplay or you have the in-car system. And that means you would need to constantly come back to the homepage.
CD: Is that not almost the same as having your own navigation and then also having HERE? Does that bring HERE benefit?
PH: We would have many applications continuously launched including HERE local search. This adds a lot of value to the customer. Right now, the car is not connected but if you go here into the fourth tile you could start to look for the hairdresser, look for the restaurant. It is still not Google. It is still not what many people use in their daily lives but it adds flavour into that direction that adds value.
CD: Does that make Apple's Carplay preferable to Google?
PH: To us they are the same. It is just the phone mirrored on the screen.
CD: How do you go about actually making the car connected?
PH: You can do that by doing Internet sharing from the smartphone to the car or you add a SIM card in the vehicle.
CD: Is it all LINUX based?
PH: No. We've done the head unit jointly with Mielco. It's a flexible area and there are so many core functions embedded in this head unit. It's not only media. It is connected to safety functions and climate.
CD: Do you think that there is a possibility in the future that connected cars will be hacked?
PH: It's a very tricky question. There are two things at work. There is privacy, which we saw with the On-call and to make sure it is the customer concern, it really adds value and saves people's lives – not misused. It is a balance. Then the other aspect with the security is that one of the key things is the second you start to embed pure vehicle functions in a way that you could reach them externally through application updates then all precautions will have to be taken and if you look on this car it is not connected to the outside world. There are firewalls and many layers of security to protect the steering, the powertrain information. We can package things that we would like to share with the outside world in a way that could protect what's there and also to make sure that whatever is there, it has this interaction pattern in the car.