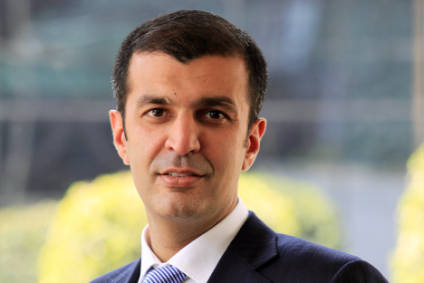 Continuing just-auto's series of interviews with global tyre makers, Matthew Beecham spoke to Neeraj Kanwar, vice chairman and managing director of Apollo Tyres. Since its attempt to buy US-based Cooper Tyre, the company has become more focused on organic growth and currently concentrating on a greenfield expansion in Hungary. It is also targeting a share of the Malaysian replacement tyre market and Indian two-wheeler tyre market.
What have been Apollo Tyres' major achievements and expansions in Europe over the past 12 months?
Apollo Tyres has had a lot of exciting developments over the past 12 months. Our main focus this year has been on our European expansion. Following the acquisition of the Dutch Vredestein Banden in 2009, we have acquired Reifencom GmbH, the largest tyre distributors in Germany, in November of last year.
Reifencom operates 37 stores and service centres across Germany, in addition to an online presence in Austria, Denmark, Italy, France, and Switzerland. It will enable Apollo to improve on its existing mix of distribution channels in Germany and Europe and aid in increasing the visibility of Apollo and Vredestein brand of tyres especially in the fast growing online retail space.
A greenfield facility in Gyöngyöshalász, Hungary is currently under construction and likely to be ready by early next year. It is a perfect fit – located less than 100 km from Budapest, it is in close proximity to various OE manufacturers such as Volkswagen, Daimler and Suzuki Motor Corp.
In terms of further growth in Europe, what are your targets and how do you expect to achieve them?
Nearly every segment of the European tyre industry saw a growth in shipments in 2015. The European tyre market is expanding and our expectations are that over the next 3-5 years the market should grow by 2%.
Our main focus at the moment is on the Hungarian plant. The construction has already started at our planned greenfield facility in Hungary, which will see an investment of approximately 475 million euros over the next 2-3 years.
The Gyöngyöshalász plant will complement Apollo's factory in Enschede, Netherlands, and will produce both Apollo and Vredestein brand of tyres. This state-of-the-art plant will have the capacity to manufacture 5.5 million passenger car and light truck tyres (PCLT) and 675,000 heavy commercial vehicle (HCV) tyres a year.
Our aim is to benchmark our manufacturing facilities, thereby further increasing our competitive strength in the European market.
To what extent do you anticipate your new facility in Hungary will enable Apollo Tyres to become more cost competitive and grow its business in the US?
Producing in Hungary will make it much more cost competitive to sell in the United States. While most of this capacity would be sold in Europe, we would have some capacity available for exports as well.
We know the American customers demand high timeliness of delivery, and that's where we excel.
We produce tyres based on our monthly budget: putting tyres in a warehouse and then shipping them, leading to a high fill rate. Vredestein production has a 6-week turnaround to the U.S. from Europe.
How is your recruitment going for this Hungarian plant? Are you finding people with the right skills with a background in tyre manufacturing? Or will they need extra training?
As the wages in Hungary are lower than in other countries in western Europe, this has led to a significant brain drain and a limited pool of skilled labour. To support recruitment and to ensure we have an up-to-speed workforce, we have signed scholarship agreements with students of several educational institutes in Heves county in northern Hungary. These students will receive support from Apollo in their last semester. We are committed to creating value for our employees – giving our workers extra training, and offering attractive competitive wages.
We are planning to provide direct jobs to 975 people, the majority of which would be hired locally. The factory will also lead to the creation of indirect jobs and contribute significantly to the development of the region. So far, we have been able to fill most technician jobs with workers from the region around the eastern town of Gyongyos. We did face some difficulty in finding skilled staff.
Since Apollo Tyres' attempt to buy US-based Cooper Tyre, are you still searching for acquisitions or focusing on organic growth in North America?
We are more focused on organic growth and are concentrating on the greenfield expansion in Hungary.
We are also looking for a much larger contribution from farm tyres for our total business in the U.S. We see a big opportunity with the Vredestein line of agricultural tyres and have introduced several new sizes of farm tyres for the North American market, beginning in the fourth quarter of 2015 and continuing through 2016.
We recently learned of your plans to set up an office in Malaysia. Why are you now stepping up your focus on this market?
Subsequent to setting-up its sales and distribution hub in Bangkok for the ASEAN region, Apollo Tyres has been increasingly focusing on expanding its footprint in South East Asia, and with Malaysia, being the third largest automotive market in the ASEAN region, it was always on the list of markets to enter for the company. We are targeting a share of the pie in the Malaysian replacement tyre market, which has an annual capacity of 580,000 truck-bus radials and 9.5 million passenger car tyres. Apollo Tyres is building a complete team of sales and service personnel to service the Malaysian customers.
What is Apollo's expertise with reverse engineering?
We have a reverse engineering lab, which means we can analyse about 98 percent of the product to gather information about their specifications and compositions, which can be utilised to come up with better products for our customers.
We have recently expanded our R&D bases in India and in Europe, with nearly 300 employees.
A new R&D sub-centre recently opened in Raunheim in Frankfurt, Germany where they are not only creating OE relationships but also testing tyres at various test tracks in Europe which is really exciting in terms of new products for the future.
Until recently, Apollo Tyres has produced and sold tyres for a number of applications except two-wheelers. Why have you taken the decision to enter this market segment?
Two-wheeler production in India has grown from 8.5 million units annually to 120 million units in the last seven years. The market is growing at a compounded annual rate of 8.5%, offering huge potential, and significant opportunities does exist in the rural markets as well.
This is a milestone for Apollo Tyres – entry into the two-wheeler segment makes Apollo a full-range player and will help cement the company's leadership position in India.
'Apollo Acti' tyres for motorcycles and scooters will cover nearly 85% of the replacement market for two-wheelers in India, providing the best value proposition to our customers along with an enjoyable driving experience in diverse Indian road conditions. We have spent over 2 years developing a range of two-wheeler tyres in our R&D Centre in Chennai.
We have seen a number of tyre manufacturers create ties with football clubs. What's is your strategy in this sport in Europe?
Apollo Tyres has been associated with Manchester United since 2013. And, the last three years of our association with Manchester United Football Club has significantly helped increase the awareness for the Apollo brand across geographies.
Apollo Tyres has also launched the 'Go the Distance' pitches, one of its latest CSR initiatives. 'Go the Distance' pitch is a state-of-the-art surface, which has been created using 100% recycled rubber from the company's own discarded tyres. Roughly 10 tonnes of rubber, which is equivalent of 2,200 tyres have been used to create each of the two fields in the UK and India. These pitches have been specifically designed around the three key challenges incorporating control, agility, and accuracy- key performance aspects for Apollo Tyres' products.
These pitches are open to young people from local communities in the UK and India to test out and hone their football skills, with the aim of encouraging them to take up sports and have a more active lifestyle.
To take the association forward, we have also introduced a special edition Apollo & Manchester United dual branded tyres, which are now available across multiple countries.
How do you see the further roll out of the run-flats amongst car segments in Europe?
Run-flat tyres are an acquired taste. Historically, run-flat tyres have had a poor reputation because their reinforced sidewalls, which retain their basic shape in the event of a blow-out or puncture, gave a less comfortable ride. The tyres also offered reduced fuel economy.