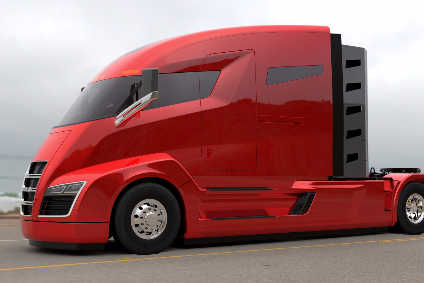 Just what would a Tesla electric freight truck look like? It's a question that many in the auto industry have been asking after the latest visionary bulletin (Master Plan, Part Deux) from Tesla founder and talisman Elon Musk.
Tesla CEO Elon Musk wrote in his Master Plan, Part Deux, that future electric models from Tesla will include a full-sized truck. He promised that it would "deliver a substantial reduction in the cost of cargo transport" as well as being safer and "really fun to operate".
Ales Alajbegovic, VP Ground Transportation at EXA is in a position to have some inkling of the design that may be coming down the Tesla CV line (and unveiled as early as next year). EXA already works with Tesla to reduce aerodynamic drag on its passenger vehicles, as well as truck firms and semi-trailer makers to help reduce air drag and cut down on the substantial fuel costs.
Alajbegovic points out that there are some first principles to consider when looking at an electric freight truck. For one thing, the designers need to cut the drag enough to increase battery range to the point it would be palatable to a commercial fleet. Battery range is all-important, in terms of the size of the vehicle and its design specification for short-haul work.
"For one thing, the tractor and trailer would have to be designed together," Alajbegovic says. "The drag coefficient on an average semi right now is about 0.55-0.60Cd. To extend the battery range to the 500-600 miles within driver limits without making the purchase cost prohibitive, you'd need to get that down to about 0.25."
And there are some concerns about the notion of a ground-up concept that is radically different from the trucks that freight operators drive now.
"That drag coefficient of 0.25 is possible, but it would look very different," says Alajbegovic. "There'd be no gap between the tractor and the trailer. The trailer would have a boat-tail to reduce the low-pressure at the back. The bumpers would have a very organic shape, the whole truck would automatically lower at speed, and it would have trailer skirts to fill the gap between the tractor and the rear wheels of the trailer. Essentially the trailer would be developed alongside the tractor."
Alajbegovic reckons there would be some resistance from truck operators to such a radical all-in-one design. "Right now they've the choice of around 4-5 different makers for the trailer and some would hate the idea of buying both elements from one maker. Tesla could get around this by offering an aero kit that would work with all the major trailer makes."
Also, the cab design could end up being more bullet shaped to reduce the drag, but Tesla needs to be careful not to completely reinvent the look of the tractor, Alajbegovic stresses. "We know from experience that truck operators do partly make their decision based on design and might not embrace a radical new look that moves too far away from the more traditional styling of established brands."
Alajbegovic also points out that it would also be tricky to design a truck that would work for both America and Europe due to significant differences to the regulatory environment. Length restrictions in Europe have dictated that the tractors have far less aerodynamic flat fronts in order to maximise load bay or trailer length.
However, Alajbegovic is convinced the market is moving Tesla's way. Last month, Daimler in Europe showed off a prototype truck with a 125-mile range, while US-based newcomer Nikola has unveiled a design for a full-sized electric truck with an on-board natural-gas turbine to extend the range of the batteries.
"An electric truck that cuts down the substantial running costs of a diesel unit would be welcomed in the industry," says Alajbegovic. Crucially, zero emission running for freight delivery could be pushing at an opening door on a number of other grounds – including cleaner air standards in urban areas and also bypassing night-time noise restrictions for city deliveries.
"As truck driving becomes more automated, an ECV looks like the next logical step," Alajbegovic maintains.
Nikola One electric truck prototype to be unveiled in December
Nikola Motor Company is planning to unveil a working Class 8 electric truck prototype in December, in Salt Lake City. "While other companies have recently announced battery-powered semi-trucks, those trucks are restricted to a range of only a couple hundred miles and four to eight hours of charging between stops," said Nikola Founder and CEO Trevor Milton. "Nikola has engineered the holy grail of the trucking industry. We are not aware of any zero emission truck in the world that can haul 80,000 pounds more than 1,000 miles and do it without stopping. The Nikola One requires only 15 minutes of downtime before heading out for the next 1,000 miles."
Nikola battery and range extender turbine
The Nikola One's electric motors are powered by a liquid cooled 320kWh lithium-ion battery pack (over 30,000 lithium cells), which is charged by an onboard turbine. The turbine automatically charges the batteries when needed and eliminates the need to ever "plug-in", the company maintains. Nikola says that when compared to a typical Class 8 diesel, the Nikola One's turbine is "much cleaner and more efficient". The turbine is also "fuel agnostic", meaning it can run on gasoline, diesel or natural gas.
Nikola claims that the electric drivetrain removes heavy Class 8 truck parts like the diesel engine, emissions equipment, transmission, drivetrain and differentials, making the Nikola One "thousands of pounds lighter" than the average Class 8 truck. It is claimed that while it takes 40-60 cents per mile in fuel to operate a diesel semi-truck, the Nikola One works out at half of that – around 20-30 cents per mile.
Daimler shows fully electric heavy freight truck
Daimler Trucks has shown its Mercedes-Benz Urban eTruck and says it is the first fully electric truck with an admissible total weight of up to 26 tonnes. Daimler also claims the market launch of this technology is conceivable for Daimler Trucks at the 'beginning of the next decade'. In the light distribution sector, Daimler Trucks has been demonstrating the day-to-day suitability of the fully electric truck in customer trials with the Fuso Canter E-Cell since 2014.