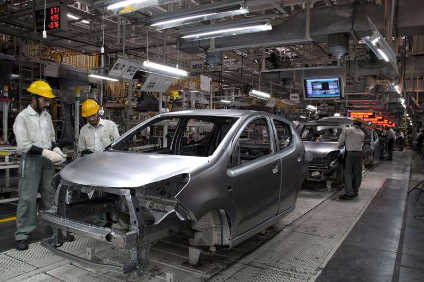 Although it is a relatively small carmaker keen to retain its independence, Suzuki is not averse to cooperating with other automakers and has a long history of doing so. The company recently announced exploratory talks with Toyota over R&D collaboration. Ray Hutton considers Suzuki's strategy.
Last month, at a brief press conference in Toyota's Tokyo office, CEO Akio Toyoda and Osamu Suzuki, chairman of Suzuki Motor Corporation, announced that their companies had started 'exploratory talks' on a partnership.
On the face of it, this is surprising. Toyota is the world's biggest car company, which recently made Daihatsu a fully-owned subsidiary and already has cooperative agreements with Mazda and Fuji (Subaru). Suzuki is a big company, in the top 10 of car manufacturers and a truly global player with production facilities in 19 countries; strong enough, it would seem, to stand on its own.
While it is not clear what Toyota would gain, especially since Akio Toyoda said Toyota was 'not good at alliances', such a deal is important to Suzuki. It may build 3m cars a year but its models are small and relatively inexpensive so it needs to sell a lot of them to make a decent profit. That has been the case since it started car manufacturing in the 1950s.
For 30 years, General Motors had a 20% shareholding and Suzuki was brought into its product development programmes. Suzuki products were sold in America and elsewhere by GM brands and they had a joint venture manufacturing plant in Canada. When all that ended in 2008 as GM fell into bankruptcy, Suzuki looked elsewhere for a partner and quickly found Volkswagen.
In December 2009, Osamu Suzuki and Volkswagen CEO Martin Winterkorn shook hands on a deal. It involved cross shareholdings (Volkswagen bought 19.9 per cent of Suzuki for 1.7bn euros and Suzuki used half of the proceeds to buy about 2.5 per cent of VW) and was to give Suzuki access to Volkswagen technology, while the Germans would benefit from Suzuki's expertise in small, economical cars and its strong presence in India and Asian markets.
Volkswagen-Suzuki was an unmitigated failure. Nothing even got started. Suzuki was told that the latest VW diesel engine would not be available for the European-made SX4 S-cross (it bought from Fiat instead) and declared that there was no cooperation from the Germans. There was a suspicion that Volkswagen's real intentions were to annex Suzuki as the 12th brand in its empire, then bent on world domination.
Volkswagen may have gambled on the demise of Osamu Suzuki, who had been running the company for more than 30 years and had no obvious successor. If so, it was a bad bet. Now 86, Mr Suzuki seemed fit and well at the Tokyo meeting with Toyota and said again what he had made clear at the VW announcement seven years ago: 'Suzuki is an independent company and will continue to be run independently'. He batted aside a suggestion from the audience that he might retire as 'an immature question'.
The divorce from Volkswagen was acrimonious and long drawn-out. Suzuki demanded that that Volkswagen sold its shares but it refused to do so. As long as VW had a substantial shareholding Suzuki was unable to enter into another large-scale alliance.
The matter was finally settled after three years of dispute by an arbitration court in London. Volkswagen had to sell its Suzuki shares (and, incidentally, made a tidy 1.5bn euro profit) and Suzuki was free. But Osamu Suzuki continued to worry about the future and the R&D resources needed to keep up with the rapidly-evolving automotive scene.
Chairman Suzuki said that the idea of a link with Toyota came out of an informal discussion in Soichiro Toyoda, the 91 years old honorary chairman, father of Akio and his predecessor as CEO. He explained: 'There are great changes in automobiles, particularly in information technology and energy and environmental issues. We face an uncertain future if we just continue with traditional technologies.'
Although it was emphasized that the terms of the relationship, including whether there is to be any capital transfer, have not yet been decided, Suzuki obviously wants to benefit from Toyota's massive R&D budget. The trade-off for Toyota, apart from achieving even greater dominance of the Japanese industry, would be in the same areas that attracted Volkswagen – Suzuki's prominence in Asian markets and particularly in India, where Maruti Suzuki has 48 per cent of the domestic market. Akio Toyoda said, 'We want to learn from Suzuki's frontier spirit'.
Suzuki has already announced a mid-term business plan called Next 100 (the company is 107 years old, having started, like Toyota, making automated looms). This involves a new platform strategy – three basic body structures using high-strength steels to reduce weight and increase rigidity – downsized turbocharged direct injection Boosterjet engines, a mild hybrid system, and the application of some of the latest safety technology including Radar Brake Support.
The first results of this programme are the Baleno B-sector hatchback, launched in Europe earlier this year, and the Ignis, unveiled at the Paris Show in September, which joins the burgeoning market for compact SUV crossovers. Next up, in mid-2017, will be a new generation Swift, the car that did most to change the perception of Suzuki in Europe.
Until Swift was introduced in 2005, Suzuki was regarded as an oddball manufacturer. It offered various minicars, 4X4s and sports cars derived from Japan-market kei cars – a sector which it still dominates, along with Daihatsu. For a long time its mainstay in Europe was the Alto which, latterly, was sourced from Maruti. It tells something of the cost of car production in India that Suzuki UK could offer the Alto at GBP6,000 ('VAT free' – a 20 per cent discount) and still make a modest profit.
The strategy now is to move from cheap and cheerful to value-for-money cars that are stylish, useful, and fun to drive. The current entry model, the Celerio, is GBP7,000 and no longer the cheapest new car on the UK market. For the past two years Suzuki's UK sales have stood around 37,500 but the future plan is to achieve equal sales of 15,000 a year from three platforms – Celerio/Ignis, Swift/Baleno, S-cross/Vitara. The UK is Suzuki's biggest market in Europe; the target for total European sales in 2019 is 280,000 (2016:232,000).
One of Suzuki's strengths is its global reach. Although it pulled out of the US and Canada after the GM connection was severed, it still makes cars in 11 different countries. For European markets, Celerio comes from Thailand, Baleno from India, Ignis from Japan, and Swift, Vitara and S-cross from Hungary.
Following the damaging revelation of 'improper' fuel consumption and emissions tests in Japan earlier this year, chairman Osamu Suzuki stepped back from his dual role as CEO in favour of his son Toshihiro Suzuki. That was a very Japanese gesture which conveniently kept things in the family and does not seem to indicate any change in policy. By concentrating on simple, small cars (the C-sector is its limit), Suzuki is consistently profitable and still growing. But to thrive in a future dominated by electronics, IT, and new technologies like autonomous driving, it needs a partner.
It was the company patriarchs, Osamu Suzuki and Soichiro Toyoda, who proposed the latest liaison but it will be for the younger generation of CEOs to make Suzuki and Toyota a lasting relationship.
See also: