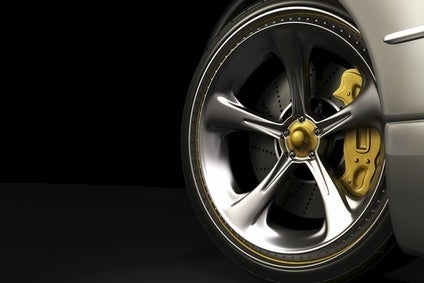 Continuing just-auto's series of research snapshots – pulled from its automotive research platform, QUBE – Matthew Beecham reviews some trends in the road wheels market.
Despite the popularity of alloy wheels fitted to modern vehicles, pressed steel wheels have a number of advantages. They are cheap, can be manufactured with high accuracy, and resist damage due to minor impacts ("kerbing") much better than their alloy counterparts. Also, very often and apparently contradicting the obvious, they are no heavier.
In the majority of cases, alloy wheels are fitted for cosmetic purposes. The alloy used may be based either on aluminium or magnesium, which is lighter but more expensive. Well-designed magnesium alloy wheels normally enjoy a weight advantage over steel, size for size.
There has been a steady tendency, during the last past two decades, for cars to be fitted with wheels which are both larger in diameter and wider than those seen in the cars of the 1990s and earlier. At that time the average wheel rim diameter was around 13-inch for B/C segment products, increasing to 15 or 16 inches for high-end and luxury models. Today, the equivalent figures are 15/16 inches in the C-segment, and around 21 inches in luxury models.
While there is some advantage in a larger-diameter wheel – which reacts less sharply to road surface bumps and craters – in most cases the increase has been for cosmetic purposes, ignoring the drawbacks of larger wheels (more space needed within the body envelope, higher unsprung weight leading to poorer overall ride quality, sheer weight of wheel and tyre making wheel-changing more difficult, problems finding sufficient space for a spare wheel). In the same way, wheels – and tyres – have increased substantially in width. Again, this has usually been for cosmetic rather than chassis engineering purposes.
For its part, Alcoa Auto Wheels is supplying forged aluminium wheels for the Ferrari 458 Italia. The front wheel weighs in at 10.3 kg (22.8 pounds), while the rear wheel weighs 11.5 kg (25.3 pounds), a significant saving compared to a typical cast aluminium wheel. Meanwhile, wheel diameter on this model has been increased to 20 inches in order to accommodate large carbon-ceramic brake discs, and rim widths of 8.5 inches (front) and 10.5 inches (rear) are required by the high performance tyres. Alcoa points out that lower wheel mass decreases rotational inertia, meaning forged wheels require less energy to spin up to speed during acceleration. This also helps reduce the gyroscopic effect of high speed rotation, improving steering response and performance. The lightweight wheels also improve grip, traction and braking resulting in better vehicle control and a smoother ride.
Yet there has been a disappointing lack of real interest in alternative materials for wheel manufacture. As long ago as the 1970s, Citroën demonstrated alternative plastic composite wheels (for the high-performance SM), which afforded substantial savings in actual and unsprung weight. There have been few moves in this direction since. For aftermarket applications, steel and aluminium wheels dominate the wheel business. While there is evidence of alternative materials used in niche segments – such as carbon fibre and magnesium – volumes remain low due, in part, to their relative high cost and manufacturing complications. These niche applications are typically confined to race cars.
The North American market is also said to have more of an appetite for brighter finished wheels than in Europe. Another styling trend emerging in the US is for wheels eluding a three-dimensional look, as an auto executive told just-auto: "In the past, wheels tended to look 'flat' with holes in them. Over the past two or three years, we're seeing a more 3D look, meaning more of a sculptured surface with deeper spokes. That's happening on cars as well as trucks."
During the 1980s, with the growing emphasis on fuel economy and the need to reduce vehicle weight, automakers turned to alloy wheels in preference to steel. Hurt by the loss, steelmakers enlisted the help of wheel manufacturers and OEMs and launched a campaign to create new wheel styling and explore the use of new steels. Using bright materials like stainless steel that attach predominantly to the wheel and modifying disc and rim designs to enhance styling, wheel makers managed to satisfy consumers' desire for a decoratively styled wheel.
Among the reasons for the comeback of steel wheels are high-strength steels and new designs that offer large ventilation openings that mimic the thin-spoke appearance of some alloy wheels. More specifically, the use of high-strength steel, plus high-ventilation area wheels design, increases steel wheel market opportunities. Lighter-weight, high-strength steel has opened up an increased opportunity to mimic the thin-spoke appearance of some alloy wheels. In addition, the use of high-strength steel has reduced the weight penalty normally associated with steel wheels.
In addition to lower weight, there are a number of other benefits of steel wheels over aluminium. Along with lower costs, steel wheels offer better pothole resistance and improved corrosion resistance in the bead-seat area.