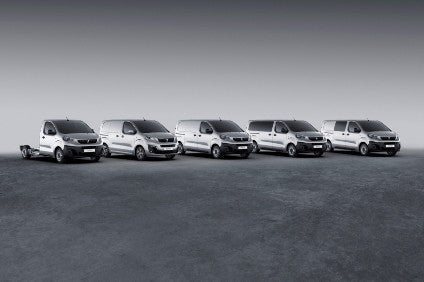 PSA Peugeot Citroen is claiming a couple of firsts for its redesigned mid-size Peugeot Expert and Citroen Jumpy/Dispatch model lines – a new, compact 4.6m long version and the availability of hands-free electric sliding side doors.
Built on the new EMP-2 platform, the fully redesigned pair, which make their public debut at the commercial vehicle show in Birmingham at the end of April, will be offered with 2.92m and 3.27m wheelbases and rear overhangs of 0.8m and 1.15m which combine to produce three body lengths – 4.6m (which Citroen calls XS), 4.95m (M) and 5.3m (XL). Peugeot calls them Compact, Standard and Long. Body styles are van, combi, double cab and cab/chassis. All three van/combi body lengths can be configured to carry up to 1,400kg (1.4 tonnes) and the combi (passenger and freight) versions can carry up to nine people. Load volume is up to 6.6 sq m and up to 2.5 tonnes can be towed.
PSA was also very keen to point out, at a dual Citroen/Peugeot launch event at the plant, XS and M versions are just 1.9m tall, for easy underground car park access, not always a given in this segment.
Buyers will choose from a multitude of petrol and diesel engines, manual or automatic transmission, tailgate or barn doors, various combinations of load floor length and height, two, three or five seats and a multitude of car-like comfort, driver aid and safety options that even includes a head-up display.
The new Citroen and Peugeot model lines will be built in the flexible, former Fiat-PSA joint venture Sevelnord plant in northern France (the JV was dissolved in 2012 and current-model Fiat Scudo production ends by 2017 as FCA aligns with Renault to make future LCVs). The PSA vans will be assembled alongside newly redesigned Proace models built under contract for Toyota Europe.
Double cabs allow up to six people to be carried with a separate load area of up to 5.5 sq m with the partition folded. There are two versions – with folding (load area boosted by 1.5m with rear seats not in use) or fixed partitions. The M (4.95m) cab/chassis flatbed will be a basis for conversion into the likes of refrigerated vehicles.
Various wood trim kits to protect the load area will be either factory- or dealer-fitted along with towing hooks. Cab storage space includes a lower glove box with jack, 12V and USB sockets, shoe and 'hard hat'-sized space under the passenger seat, cupholders each side of the dashboard, central upper storage area and door bins large enough for 1.5-litre bottles.
Ingenious touches include Moduwork, a combination of a car-style ski hatch and Honda's Magic Seats. PSA's invention is a front passenger seat that rises, supported by a gas strut against the loadspace bulkhead to provide extra load space in the cab. A large flap in the bulkhead can also be opened up to allow items like pipes, timber, lengths of guttering, etc to be poked through, offering a useful load length of up to 4m. PSA said the three-seat bench is very popular with buyers as it allows easy transport of employees and tools to the work site.
The optional hands-free operated electric sliding doors are opened by waving a foot under the van in much the same way as used for tailgates on Ford's Kuga, various BMWs and the recently launched Mini Clubman and there are also dashboard mounted operating buttons.
The vans share their EMP2 platform with PSA passenger models such as the Peugeot 308 and Citroen C4 Picasso so there are plenty of standard or optional car-like driver and safety aids including a Top Rear Vision camera system for enhanced visibility when manoeuvring, colour head-up display, and connected 3D navigation with seven-inch touchscreen. The navigation is powered by TomTom with free lifetime map updates four times a year and associated connected services such as traffic, service station and car park location, weather and local-search POI are included for three years. Alert Zones will also be optional in the 11 European countries currently supporting the technology.
Other items include adaptive cruise control and speed limiter road-sign reading and recommendations, Driver Attention Alert and Active Safety Brake, blind spot monitor, Collision Risk Alert, lane departure warning, automatic high/low beam switching and Grip Control, an upgraded anti-skid system that optimises wheel grip consistent with road service. That can be combined with the Construction Site Pack which allows a bigger payload, raises the suspension 20mm and installs a protective plate under the engine.
Other options include a Look Pack with enhanced front lighting including chrome grille, vertical LED DRLs and fog lamps, and bumpers, door handles, mirror housings and side mouldings in body colour. Coachbuilder conversions will be offered and a 4×4 conversion by Automobiles Dangel will also be available.
PSA is also claiming class-leading fuel consumption and CO2 emissions for its BlueHDi 115 diesel with six-speed manual gearbox – 5.1l/100km and 133g/km. The BlueHDi diesel engines (which use AdBlue for the SCR emissions system) range from a 1.6-litre 95hp unit with manual transmission (a version with automated manual and stop/start is also available) to two-litre 180hp (with 400Nm of torque) combined with a six-speed full automatic.
Suspension is 'Pseudo MacPherson strut at the front with a new oblique wishbone rear axle which allows payload up to 1.4 tonnes. To maximise loaded/unloaded comfort, springs feature variable stiffness and shock absorbers are load-sensitive, which PSA desribes as a "passive" system that adjusts springing and damping to vehicle attitude.
The Sevelnord joint venture has built 2.5m vehicles across four brands since 1994 and PSA currently claims about 19.5% of the European light commercial vehicle market. CEO Carlos Taveres said the automaker is aiming to achieve a "better" share with the redesigned Expert/Jumpy/Dispatch line. Peugeot brand CEO Maxime Picat added the brand would "consolidate and develop its position in a market up 9% in 2015". PSA plans to push further its 'people carrier' versions, several of which were on show with luxury power, heated leather seats, glass sunroofs, front and rear climate control and numerous other toys, and wants these models eventually to account for 30% of sales. It sees growth in the compact van segment growing beyond 2020.
Although the models' primary focus is on Europe, they are widely exported. GoAutoNews reported on Tuesday (5 April) Australian Peugeot and Citroen importer Sime Darby is in talks with the French factory to determine whether it will bring the Dispatch and Expert to market 'down under'. Sime Darby last year stopped selling commercial vehicles in Australia under the Peugeot brand, leaving Citroen with just the small Berlingo van as the sole commercial offering in its range and leading to speculation that, in future, Citroen alone would carry the PSA commercial vehicle flag in Australia. However, Peugeot's success in entering the Australian fleet market late last year in deals with supermarket chain Woolworths and cosmetics brand Nutrimetics may put the brand back in the game for commercial vehicles, the report said.
A Sime Darby spokesman told GoAuto the cessation of local Peugeot commercial vehicle sales was the company "stepping back and looking at the big picture of what both brands needed to offer in Australia and how the model line-ups will be structured".
"These two vehicles form part of that and it will depend on both our discussions with PSA and what we believe is best for both brands locally," he said. "That's not to say both will get it, or that neither will get it or that one will and one won't – we're looking at everything at present."