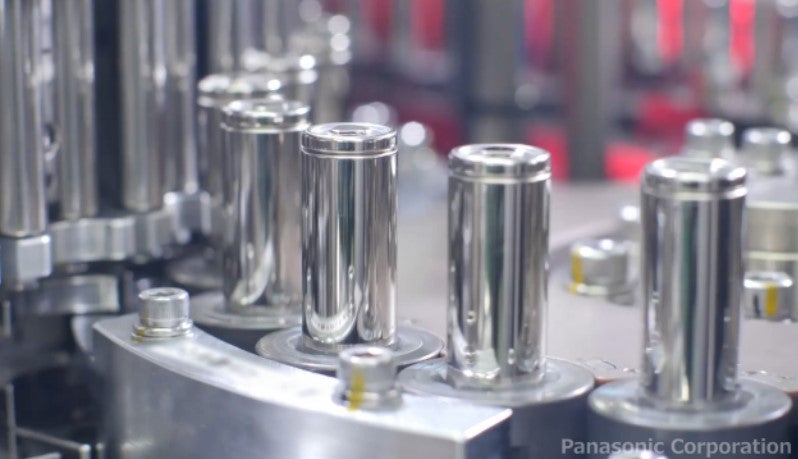 Tesla's North American battery partner, Panasonic has shown a prototype of the new 4680-format cylindrical battery cell. The format was first shown by Tesla at its 'Battery Day' in September 2020 and led the automaker to claim that EVs equipped with this cell would travel 16% further than vehicle's equipped with today's cell technology.
However, the timeline to release the new format has been repeatedly pushed back as Tesla and its suppliers wrestle with the challenge of putting 4680s into mass production. Back in September 2020, the company stated it already had a pilot line in Fremont, California under its Project Roadrunner plan to develop and optimize the manufacturing process for 4680 cells. At the time, Tesla said it expected to have ironed out production kinks and would be moving into mass production at that point. Now, with the proposed September 2021 deadline having passed and Tesla and its suppliers still only at the prototype stage, how much longer will it take to get 4680 cells into new EVs?
Panasonic is Tesla's main battery supplier and supplies all the cells destined for Tesla vehicles built in North America. Considering its position within Tesla's supply network, Panasonic revealed to Nikkei that it had been in discussions with Tesla about the format before the 2020 Battery Day announcement – as such, the Japanese company is likely to have had longer than Tesla's other suppliers to understand the new format and develop mass production processes for it.
While Panasonic has only specified 2022 as a production start target, its battery CEO has stated that "In terms of product development, the technological goals [of the 4680 project] have largely been achieved" and that it expects to receive an order from Tesla as soon as the cell can be put into production. This suggests Panasonic's new-format cells are fairly close to production ready. In July, rival suppliers LG Energy Solution and Samsung SDI announced they had completed sample 4680 cells, with the former giving 2023 as a target for production. Tesla's Chinese supplier, CATL is also said to be developing a 4680 cell in a project reportedly named 'Golden Cudgel'.
Turning to Tesla's history, we can look to the rollout of the 2170-format cell – used in Model 3 and Model Y vehicles – to understand what the timescale for the 4680 format might be. For 2170, the first evidence of production taking place at a Panasonic facility appeared in January 2017 – six months before the first Model 3 rolled of Tesla's factory equipped with the then-novel cell format. This could mean the first 4680-equipped Tesla models could leave the factory around May 2022.
Why adopt the 4680 format?
There are a number of benefits that are expected to be realised by equipping EVs with 4680-format cells – so-called for their 46mm top diameter and 80mm height. The primary advantage is the more optimized size it offers in relation to the vehicle – in other words, where 18650 and 2170 cells are too small, and other formats too large, the 4680 is the ideal size for use in an electric vehicle.
Using cells that are too small means you generally have to fit thousands of individual batteries to make a pack large enough to power an EV, which takes up production time and increases the amount of weight devoted to the casings of the cells and other structural elements that don't add to energy density. Conversely, cells that are too large are harder to package and more susceptible to overcharging because there are fewer individual cells in a single pack to evenly distribute charge across. The 4680 cell is thought to be a 'Goldilocks' size for EVs – large enough that meaningful time is saved in the production process because fewer are needed for each pack, but small enough that a sufficient number can be fitted to a single pack to give the range, power output and charging performance expected of a premium EV.
What's more, the 4680 cell format is expected to form the basis of Tesla's so-called 'structural' battery pack. Currently, Tesla battery packs are built to include the necessary support structure and protection to keep the 18650 or 2170 cells safe in the event of an accident, but this extra structure adds weight, thus reducing the vehicle's potential range. Tesla has noted that the casings of the 4680 cells are designed to be able to handle torsional loads from the vehicle, meaning the pack itself forms part of the vehicle's structure. This removes weight because the pack no longer needs to insulate the cells from the motion of the vehicle, with the cells instead forming part of the vehicle's body design. This innovation is combined with the 'tabless' design of the 4680 that ditches the traditional tab connectors found on cylindrical cells, replacing them with simplified connectors that are easier to manufacture and better for EV applications.