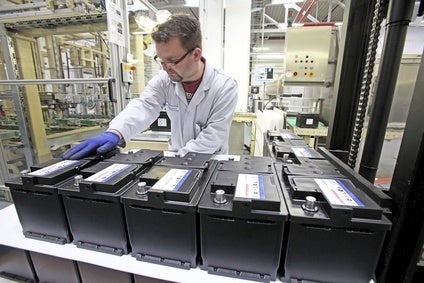 There is much more to the IAA in Frankfurt than a dazzling array of new cars. At the world's biggest auto show, suppliers' stands bristled with lightweight innovations to help reduce emissions as well as improve driver safety, comfort and communications. Matthew Beecham caught-up with executives from some of the world's leading component suppliers. This first instalment summarises the main IAA technology messages from Tedrive Steering, Johnson Controls, Continental and Hella.
Tedrive Steering Systems GmbH
As an exhibitor at the world's most important motor show, Tedrive Steering presented its product portfolio designed for global vehicle platforms. On the press and trade days, visitors were able to learn about the steering specialist's novel lightweight steering systems. The company is researching a number of different concepts that enable steering systems to help achieve the targets set for sustained weight reduction in automotive design.
We spoke to Peter Heimbrock, Director Engineering Tedrive Steering Systems GmbH to learn about Tedrive's steering innovations and ambitions to grow business in China.
Main message
"The main message on the passenger car side is lightweighting. For example, we have here a steering gear displayed that is 30 – 40 percent lighter compared to a conventional part. This one designed for eMobility vehicles hence those with very low front axle load.
"We have developed a similar technology for a column EPAS powered vehicles in the A, B and up to C class segments. For such cars, we have designed a mechanical steering gear with plastic housing that offers a reduction in weight of about half a kilogram. So saving half a kilo on the front axle becomes quite interesting for the OEMs.
"Although lightweighting is an important topic the other is, of course, autonomous driving. Due to our company set-up and history, we currently do not have any electric power steering (EPS) systems in production. We are working on that, though. In the meantime, we can offer another interesting solution, mainly for high front axle loads.
"In terms of higher front axle loads, there is a certain limitation in terms of EPS technology because you cannot offer enough electrical power which then limits the desired steering performance and feel. Therefore we believe that there is a good opportunity to use hydraulic [rack and pinion] steering gears. Our Intelligent Hydraulic Steering Assist (iHSA) enables us to control the hydraulics of the steering system independent of the driver. So we can supply all the comfort and safety functions which are usually only known from EPS systems. The major benefit of iHSA is that it is completely front axle load independent hence instead of requiring additional electrical power for the assist it takes existing energy from the hydraulics. By means of its torque overlay, iHSA can interface with driver assistance systems such as active lane keeping systems. Through the integration of the iHSA module into the rack and pinion or recirculating ball steering, we can make this technology available for cars, light commercial vehicles, trucks and busses."
More: Why EPS prices will fall
Johnson Controls Power Solutions
Global automotive industry trends, such as environmental regulations for more fuel economy, were the driving forces behind Johnson Controls battery innovations at the IAA 2015. For the first time in Europe, the company debuted its 12-volt Lithium-ion battery. In an Advanced Start-Stop vehicle, it can achieve eight percent fuel savings.
We spoke to Lisa J Bahash, Group Vice President and General Manager, Original Equipment, Johnson Controls Power Solutions.
Main message
"Our main message is that start-stop and advanced start-stop technologies enable us and our automotive partners to meet the regulations well into the 2020 time frame. There is quite a bit of penetration of start-stop here in Europe already; 65 percent of the market today and we expect that to go to 85 percent by 2020. Of course, that is continuing to grow in China and the US. Today, both the US and China are at around five percent. By 2020, we expect that to be at 40 percent for both.
"Another part of the story is that we are showing for the first time in Germany our 12 volt lithium-ion battery paired with an AGM battery. This combination can achieve up to eight percent fuel economy.
Between start-stop and advanced start-stop, we have got a long runway before we need higher levels of electrification."
See also:
FRANKFURT: Johnson Controls ramping up on start-stop batteries?
Continental Corporation
In a finale to its "Summer of Innovation," Continental used the IAA to present its fundamental building blocks on the road to automated driving.
We spoke to Christian Schumacher, head of business unit, NAFTA, advanced driver assistance systems, Continental Corporation. This interview was carried out in the relative tranquillity of Hall 5.1 at the 2015 IAA where the global supplier's booth bristled with innovation on automated driving, electrification of the powertrain and intelligent connectivity of driver, vehicle and environment.
Main message
"We are trying to represent here not just individual solutions [but] a complete solution from the beginning to the end. It comes back to Vision Zero, i.e. somewhere in the future we hopefully will see no traffic fatalities.
As we understand it, multi-function cameras are forming a core technology for advanced driver assistance. These cameras will be cheaper, more effective and easier to integrate than radar and infra-red systems. Is that how you see it?
"I would see it a little bit different. Our portfolio includes all of the sensors, including camera, radar, LIDAR assistance in our portfolio, but at the end of the day we prefer every sensor like it is, with its strengths and weaknesses. When we are looking at things like Euro NCAP, we strongly believe that as a base the radar is the better solution. In this case, it's mostly because of the ability to react in pretty much all weather conditions. But at the end of the day, we agree the ADAS technology is becoming more sophisticated and moving into a price range making it affordable in all classes, because that's our intention."
Hella
Under the theme of "Hella is making sense(s)", the lighting and electronics supplier used the IAA to unveil its vision for the connected car of 2020. Practical real-life scenarios gave visitors first-hand insights into the supplier's solutions. For example, in response to a scratch or dent on the vehicle body, a sensor can immediately detect the intensity of the damage, the time it occurred and its location on the vehicle. This information is then sent to the vehicle owner via a smartphone or a radio transmitter key. Visitors to Hella's booth will be able to see for themselves how this damage recognition feature interacts with other lighting and electronics solutions in the connected car of the future.
We spoke to Dr Christian Amsel, Member of the Executive Board, Business Division Electronics, Hella to enquire about tomorrow's advanced driver assistance system (ADAS) cameras and sensors.
Main message
"This year our IAA motto is "making sense(s)". We think that the connected vehicle requires additional senses, such as sense of touch, smell and sight to allow the integration of the vehicle into a digital network of "mobility units". In today's vehicles this is already realized through lighting, camera and radar technology, for example from Hella. With an increasing degree of integration of vehicles into networks such as the principles of vehicle-to-vehicle or vehicle-to-infrastructure, the vehicle needs to extend its senses to derive sufficient information about its environment in order to draw up a "digital environmental map". More specifically, this digitalized map should not only include objects like pedestrians, vehicles or road boundaries, but also environmental conditions such as air quality, light conditions or rain intensity.
"Furthermore, we think that connected vehicles will interact more closely with their users through smartphone integration or smart lighting functions. This is where Hella's vision of "making sense(s)" comes in: We provide connected vehicles with (human) senses that allow interpretation and interaction with the environment. To convey our vision at the IAA 2015, we have sketched five use cases on consumer level, which reflect how connected vehicles could be enhanced by innovative electronics and lighting technologies. In the use case "damage detection", the consumer learns how a daily life situation – like a car being scratched in the parking lot – can be handled independently by the connected vehicle: the car detects the damage, illuminates the environment, takes a picture of the incident, informs the driver via smartphone and sends the case to the insurance for further processing – this is how innovative technology can make our life easier. This is Hella's motto "Technology with Vision" in action."
Next: Tenneco, Faurecia, Magna and Plastic Omnium