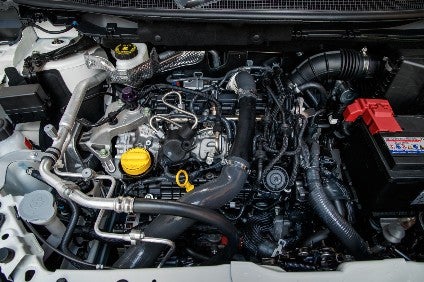 Competition is hotting up in the European C-SUV sector as Honda unveils a new CR-V, with a hybrid to come, and Toyota loads its own ammunition in the form of a redesigned RAV-4, with the arsenal again including hybrid.
Nissan, whose Qashqai dates back in current form to 2014, with an update in 2017, has new engines in new capacities to offer with a 1.3 petrol developed with Daimler replacing both 1.2-litre and 1.6-litre petrols plus an uprated 1.5-litre diesel. The existing 130PS 1.6-litre diesel continues in 2WD form with manual and CVT automatic transmission versions plus a manual-only 4WD. Long gone are two-litre Qashqai variants. For the new 1.3, the 1.2's CVT automatic is replaced by Nissan's first dual-clutch transmission – a seven speed 'wet clutch' unit.
Nissan said the highly efficient new engine – in 140PS and 160PS forms – delivers reduced fuel consumption and lower CO2 emissions. It was developed by the Renault-Nissan-Mitsubishi Alliance in collaboration with Daimler.
The engine makes its Nissan debut in the Qashqai with six-speed manual and DCT auto, both with front-wheel drive. It's the first time a DCT has appeared in a volume Nissan model – the Japanese like their CVTs – and is claimed to offer "a sporty and more direct dynamic experience, improved standing-start performance and smooth power delivery".
There are three 1.3-litre powertrains – 140PS and 160PS six-speed manuals and 160PS seven-speed DCT. Torque figures are 240Nm for the low output, 260Nm for the high output manual and 270Nm for the DCT. There's more torque versus the old 1.2 and 1.6, delivered lower down the rev range.
Service intervals are also extended from 12,000 miles to 18,000 miles.
The three 1.3-litre powertrains directly replace the 1.2-litre 115PS manual and CVT and the 1.6 163PS manual. All are compliant with the latest Euro 6d-Temp emissions standard.
"All three powertrains are extremely competitive versus those available from other manufacturers, and in many cases the level of CO2 emissions is significantly better," Nissan said.
Improved efficiency comes thanks to a fundamental reworking of the engine design compared with previous petrol units. A gasoline particulate filter has been added, and areas of improvement include the fuel injection system, combustion chamber design, reduced friction and optimisation of the turbocharger. It also offers a quieter experience for occupants because of the higher torque at low RPM.
Compared to the outgoing 1.2-litre 115PS manual, the new 1.3-litre 140PS manual has an extra 25PS and an extra 50Nm of torque. In the Qashqai on 17-inch wheels, the CO2 emissions are 121g/km (NEDC-BT), which is 8g/km lower than previously (NEDC).
Comparing the same two powertrains, acceleration has also improved. While the 0-100 km/h (0-62mph) time is almost identical (10.6 secs on the 1.2, versus 10.5 secs on the new 1.3) fourth gear acceleration from 80-100km/h (50-62mph) has dropped from 5.7 to 4.5 seconds – an 18% improvement. In sixth gear at 100-120 km/h (62-75mph) it's even better – a 35% improvement offering much greater flexibility for the driver.
Compared to the outgoing 1.6-litre 163PS manual, the new 1.3-litre 160PS manual has an extra 20Nm of torque. In the Qashqai on 17-inch wheels, the CO2 emissions are 121 g/km (NEDC-BT), which is 13 g/km lower than previously (NEDC).
The new DCT has electrical on-demand cooling and electro-mechanical gear actuation to improve efficiency. The driver experiences an immediate gear shift with no power interruptions while the absence of a torque converter creates a more direct driving feeling.
The Alliance expects to build up to 1m of the 1.3s in the next fiscal year, and it will be fitted to more than 50% of all Qashqais sold.
Engine technology
Cylinder head
• The new engine's compact form allows for more room under the bonnet, as well as reducing overall vehicle weight
• It features a new triangular-shaped 'delta' cylinder head. The injectors are centrally installed for better combustion
• The exhaust manifold is partially integrated into the cylinder head for more efficient cooling of exhaust gas and more efficient combustion, particularly at low engine speeds and high loads
• A gasoline particulate filter has been added. The filter destroys particles in the exhaust gases by trapping them in a microporous honeycomb structure that regenerates automatically at regular intervals
Bore spray coating
• For the first time the Alliance is applying this technological innovation to a volume model's engine
• Using a plasma torch, a fine film of very hard steel is sprayed on the shafts of the cylinders to enhance heat conductivity during combustion
• Aside from creating significant savings in mass, this technique greatly decreases uncontrolled detonations (clicking) in the engine and increases the compression rate for greater efficiency
• Bore spray coating is responsible for a 1% reduction in consumption and emissions
Turbocharger
• The turbocharger is now equipped with a motor driven recirculating safety valve (a so-called 'e-waste gate'). This replaces pneumatic valves in older engines
• It means the turbo is more responsive, particularly at low engine speeds
• This waste gate allows for optimum engine mapping without affecting drivability
Injectors
• The injector nozzles features six holes for better fuel atomisation
• They are fed by a common rail at a high pressure of 250 bars. This compares with the outgoing 1.2-litre engine's 200 bars
Variable valve timing with rocker arm
• The valve train features a finger follower type rocker arm with hydraulic guidance support, rather than tappets. This helps to reduce the internal friction and improve durability
• The primary benefit is a reduction in internal friction and the promise of greater durability
• The engine is more efficient thanks to twin independent variable camshaft timing for intake and exhaust
Upgraded 1.5-litre diesel engine
Regardless of politician demonisation, Nissan still sees a future for diesels, albeit accounting for a lower powertrain mix as electrification kicks in as we head to the 2020s.
The updated 115PS is 5PS more powerful than the previous generation and torque remains the same 260Nm though the engine now features a new overboost function. This delivers an extra 5PS and 25Nm of torque for up to 15 seconds of driving.
Also new is Selective Catalytic Reduction (SCR) technology using AdBlue to reduce oxides of nitrogen (NOx) emissions. This technology allows the engine to meet the latest Euro 6d-Temp emissions standard while preserving efficiency and performance.
More than 90% of the engine's components have been modified to deliver these improvements, including the oil cooler module, oil filter, dual mass flywheel, vacuum pump and high-pressure fuel pump.
New NissanConnect infotainment system
I've always found the various iterations of the NissanConnect infotainment system to be very intuitive to use and easy to set up on-the-hoof in unfamiliar press launch drive cars so it was interesting to see Nissan roll out a new version I'd yet to sample with the re-engined Qashqai – it was introduced back in October.
Nissan says it:
• Enhances driver's experience thanks to voice recognition, customisable homescreen, single line search and Find My Car
• Apple CarPlay/Android Auto standard on Acenta grade and above
• Over The Air (OTA) map and software updates available via smartphone or wifi
The automaker highlights seamless and intuitive integration smartphone with vehicle, the ability to download Over The Air (OTA) map and software updates and the inclusion of Apple CarPlay and Android Auto above entry level Visia – this is something the likes of Volvo and the German brands may well charge you GBP300 extra for.
Users are encouraged to download a new app – called Door to Door Navigation – to their smartphone. This unlocks enhanced functionality, such as planning a route before they leave their home or office on their phone. Once complete, they can send the destination directly to the car to start route guidance the moment they're behind the wheel.
New NissanConnect also features TomTom Premium Traffic, which provides highly accurate real-time traffic data to optimise travel time.
Access to New NissanConnect is via a seven-inch touch-screen head unit integrated centrally into the dashboard. It's the same size as before, though now has fewer hard keys and a new multi-touch capability. The system's new features include:
• Single line search: this new functionality in the navigation system speeds up and simplifies the process of finding a location
• Personalisation: the homescreen is fully customisable via 'drag and drop' functionality so users can set up short cuts for regular tasks
• Voice recognition: accessed through the revised steering wheel buttons, making phone calls, having messages read out and controlling music can all be carried out by voice command
• Apple Carplay and Android Auto: standard on Acenta, N-Connecta, Tekna and Tekna+ Qashqai grades
• 3D Maps: standard for improved clarity, plus multi-touch capability to zoom in and out for enhanced detail or a wider view
• Find My Car: the parking point can be logged as users flip the navigation back to their smartphone to walk to their final destination
• Premium Traffic powered by TomTom: accurate real-time traffic information provides on-the-go rerouting to minimise journey time. This service is free for five years, and transferrable to second and subsequent owners
• Door to Door Navigation app: Available from the Apple Store or Google Play, the customer downloads this to their smartphone to access the full functionality
• Plan a trip before leaving / send destination to car: In conjunction with the Door to Door Navigation app, user can identify their destination on their smartphone when at home or in the office then send it to their Qashqai. Route guidance will begin as soon as they start the vehicle
• OTA software and map updates: customers can download these at their convenience via wifi or their smartphone's data package
The instrument cluster display – located between the two dials directly in front of the driver – has also been redesigned to show additional information when receiving phone calls or SMS text messages. It also displays turn by turn route guidance.
The system worked well with pre-loaded routes on our launch test drives – two quite complex drives – and the ability to display a second set of directions between the two main dials is always welcome. We did not see speed camera alerts which would be useful.
We tried only the 1.3 petrol engine in both DCT and manual forms. The DCT is a cracker with lightning fast, smooth shifts and prompt downshifts when needed for extra acceleration. It does blot its copy book a bit with stop start – if you just prod the gas pedal without waiting for the engine to restart (which it does as soon as hoof is removed from brake pedal) there will be a brief delay of nothing and then the engine fires and the car suddenly launches itself over the bridge or through the traffic lights like a startled horse. You need to learn a bit of technique. Otherwise it's a nice, refined engine but, in 140PS with six speed manual, needs a lot of gear changing for rapid results, all aided by an electronic change up/down arrow nanny.
My only reservation will be reliability. DCTs have proven very troublesome for both the VW group and Ford – we hope Nissan's supplier – not known at the time of writing – has done enough development to avoid the bugs that have plagued other automakers. That reservation aside, DCT is a huge improvement over CVT and should prove a popular choice.