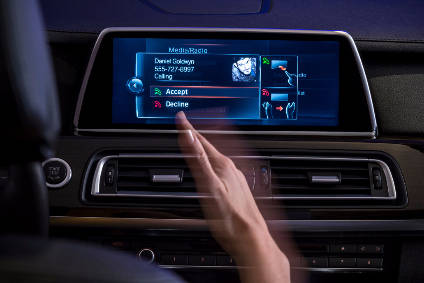 If you like the idea of talking to your car to operate certain functions, you can now wave and take a swipe at it. While gesture recognition is used in consumer electronics, it is now creeping into vehicles. Given that prodding and pinching at a touchscreen while driving can be distracting, using hand gestures and even eye movements to control climate and switch radio channels is seen as the next best thing. Continuing just-auto's series of research snapshots – pulled from its automotive research platform, QUBE – reviews the stage reached with gesture recognition and what we can expect to see in tomorrow's car.
What is gesture recognition?
Gesture recognition uses a camera and proximity sensors within the cabin that can recognise certain hand movements for pre-programmed adjustments and functions. For instance, rotating your finger clockwise at a screen could turn up the radio volume or a deft hand gesture could answer or decline a phone call. While such novelties will make life simpler for the driver, it should also simplify interior design and liberate space for storage options.
Which cars offer it?
Among those cars featuring gesture control include the BMW 7 Series that recognises six hand movements waved in front of its centre console. Such wizardry will no doubt become available on cheaper BMW models shortly.
Other car models with in-vehicle gesture control include the 2017 Subaru WRX, SEAT Leon, and VW Golf GTI. The system used in the Golf, for example, recognises swipe gestures to move the horizontally arranged console menu items left or right, allowing the driver to change radio stations, scroll through a playlist or browse through the Picture Viewer and albums in the media library. A 'light flare' indicates which options can be operated by gesture control and operation is supported by visual interactive feedback.
For its part, VW used the Consumer Electronics Show (CES) earlier this year to unveil its e-Golf Touch concept, complete with a gesture control system. PSA is also reported to be considering the use of gesture recognition in their cars. PSA Group's gesture control system is part of the Group's global thinking on the development of autonomous cars, adding to the touch and voice controls already available via current onboard communication systems.
Outside the car, gesture control is also being used to open and close the boot (tailgate) hands-free. For example, the new Jaguar F-Pace is offered with such a device operated by waving a foot under one of car's rear flanks. Other car models offering gesture controlled electric tailgates include the Land Rover Discovery, Ford Kuga, and Audi S5.
What's next?
Visteon is taking gesture control to a new level with a proprietary 3-D gesture recognition concept. The supplier used the most recent Beijing motor show to demonstrate the concept in a multi-purpose vehicle. The system reads defined hand movements to command certain features, using time-of-flight camera technology and high-performance, image-processing algorithms. "The system recognises specific gestures such as holding up one, two or three fingers to perform different functions such as operating the windows, changing audio volume or opening the glove box," explained Matthew Cole, who is Visteon Corp's head of product development. "This provides quicker access, without the need to touch buttons or look for knobs. The system distinguishes between driver and passenger hand gestures, and also allows customisable gestures." Time-of-flight technology is based on the time it takes for light to travel from the source to the object and back to the camera's sensor. By providing distance images in real time, the time-of-flight camera enables close-range gesture control in the cockpit.
Continental is also working on a project focusing on the detection zone of gestures on the steering wheel, also using a time-of-flight sensor, which is integrated into the instrument cluster. "With gestures in a clearly defined area on the steering wheel, we can minimise distraction and increase safety," said Continental Interior head of strategy, system development and innovation, Ralf Lenninger. "This narrowing down also prevents the driver from unintentionally starting gesture-based control by means of their usual everyday gestures and thus making unwanted selections." Continental's solution uses two transparent plastic panels, without any electronic components, behind the steering wheel, which a driver can operate with their thumbs, almost like a touchpad. To select sub-menus of an app or to find a song, the driver swipes horizontally on the gesture panel.
During an interview with just-auto on the eve of the most recent consumer electronics show (CES), Harman's Phil Eyler, executive vice president and president of infotainment, said: "Our latest infotainment innovations, such as head-up displays, gesture-based controls and augmented navigation, will continue to develop. Just a few years ago these technologies were like science fiction, so it's a very exciting and fast-paced arena in which to be innovating. The technology featured in the BMW 7-Series provides prime examples. The 7-Series debuts a number of industry firsts, such as automatic OTA quarterly map downloads, personalised routes and a richer graphics system called 'Micro City' with detailed building imagery, as well as including more data like the width of roads. Harman has also assisted in its gesture recognition features, Near Field Communication for improved Bluetooth pairing and dialect recognition."
It's all in the eyes
We recently reported how driver alert systems – aimed at identifying signs of driver fatigue – have been around for a while, yet eye tracking and camera-based facial recognition technology are under development. Delphi has taken this a step further, pushing back the technical boundaries of gesture control by adding a new dimension to the touch-free cockpit experience. The supplier has developed technology that tracks eye movement to detect what you are looking at and infers what action you want your infotainment system to carry out. When combined with improved gesture control and natural voice recognition, Delphi says it is possible to never touch a single infotainment control and still manage the system with your eyes, voice and hand gestures.
KIA has also developed concepts for gesture recognition and eye movement tracking. An infra-red camera initially registers the driver's palm, and then a series of menus is accessed via various finger, rotational and swiping movements. Its eye tracking system adjusts the 3D instrument display according to the viewing angle.
As with just about every new in-car technology, it may take us a little time to get used to gesture recognition. Given that some drivers have already had lots of practice using all manner or gestures on the road, it shouldn't take them too long to get the hang of it …
See also: