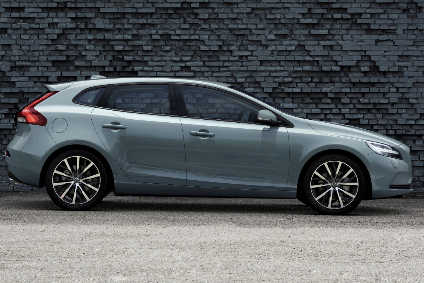 Four years on from its release, the V40 has come in for some styling changes and other revisions. Such has been the car's success in the C-premium segment, it's hard to believe this model was derived from the low volume C30, itself a vehicle that used a lot of Ford technology from the 2000s.
I've noticed this many times – Volvo has a knack of making its cars look their best right at the end of the lifecycle. I'm a big fan of the XC90 but am I alone in thinking it doesn't look as attractive as the old one? All it would take would be the ditching of some of the rather bland alloy rim options, grey or black wheelarches instead of colour-coding, and revised headlights.
Thankfully, the new S90, V90 and V90 Cross Country have made big leaps compared to the S80, V70 and XC70 which they replace but they too have the scored T-shaped pattern in their headlights. Maybe it's just that there is an official, silly name for this shape: Thor's Hammer. This seems to appear in every review we all read of new Volvos. If a car is well proportioned, no-one needs to explain its features. At least Volvo executives tend not to use the dreaded i-word. Just as "Britain is open for business" seems to be all that any politician can utter lately (err, when were we closed?), seeing anything and everything referred to as 'iconic' does become tiresome.
So then, to the updated V40, which has had some revisions for Volvo's model year 2017. Yes, it gains those headlights and I am going to say that I do like them in this application. The revised grille and badge ('updated and more visually striking Volvo Iron Mark' says a press release) add to a more minimalist front end, and fresh tail lights jazz up the back end somewhat too.
What really sets the 2017 V40 apart from the cars which went before is a five-strong range of new exterior colours. Volvo has really nailed it here as the various shades, combined with the revised front and rear ends plus great new alloys make the car look as good as an A3 Sportback.
This V40/V40 CC is the brand's best performer across European markets and the company's number two worldwide, behind the XC60. We shouldn't be surprised how well the XC90's little brother has been selling (111,937 YtD) – after it gained new engines and a terrific exterior refresh, suddenly it had the look and driving feel of a true premium product. The same now applies to the V40.
There are still some problems. No car should have as obvious a bit of money saving as a handbrake that hasn't been repositioned for RHD markets. In the V40, the driver has to lean awkwardly over the cupholders to release and apply it. Ergo, you will find yourself making terribly British apologies for touching the passenger seat occupant's leg when parking, setting off or making a hill start. Sorry…
The test car came with the 2.0-litre diesel which in higher output form is known as the D4. This engine hasn't been altered but the D2, which is the same basic unit but with less power and torque, now has a CO2 number of only 89g/km when paired to manual transmission.
Volvo makes things complicated when it comes to engine names but let me explain what the various Ds and Ts mean. In the V40, the D2, D3 and D4 are all versions of the same 1,969cc unit but outputs differ. These are, respectively, 88kW (120hp), 110kW (150hp) and 140kW (190hp). The last of these has two turbochargers and a lower compression ratio. Its maximum torque is 400Nm, while the D2's equivalent is 280Nm and 320Nm for the D3.
Let me now translate what T2, T3, T4 and T5 means for petrol engines. Here, it gets strange as there are two T2 engines. Basically, if you want automatic transmission you get a 1.5-litre three-cylinder engine but a manual gearbox means a 2.0-litre four-cylinder unit. Despite having different engine capacities, the outputs are the same: 90kW (122hp) and 220Nm of torque.
Guess what? The same thing happens with the T3. Outputs in these cases are 112kW (152hp) and 250Nm for the four-cylinder manual and three-cylinder automatic. Now, are you ready for this? The T4 manual and automatic are both linked to a 140kW (190hp) and 300Nm version of the 1,969cc Drive-e engine. The T5, however, comes only with an Aisin Warner auto gearbox. It's got more oomph than the T4: 180kW (245hp) and 350Nm. Despite those high numbers from the four-cylinder engine, drive is to the front axle only.
The 190hp 2.0-litre diesel in the press car was linked to a six-speed manual transmission and that was a great combination. Lively performance and that 400Nm is most welcome. Amazingly enough, it was rare that the front tyres were battling with torque steer so the engineers should be congratulated for having done a cracking job. The handling is better than I remember earlier V40s being but still not quite as agile as quattro versions of the latest Audi A3 Sportback.
Overall, the 2017 V40 came a pleasant surprise. It's never going to be the last word in handling finesse but it's more than good enough for most buyers in this segment. As long as Volvo keeps the model year tweaks coming and doesn't make the car too expensive compared to its more advanced and younger German rivals, it should still be being churned out of the Ghent plant in Belgium not too far below the current 90,000 units/annum level.
V40 replacement & future CMA models
The replacement model, which is due in 2019, will have all-wheel drive capability and that should mean a Polestar variant – something which is not available in the current Y555 series V40. We'll also see a plug-in hybrid as unlike the Focus-based platform of Y555, the new one will be Volvo and Geely's CMA, which is being developed for multiple powertrain applications.
A rival for the Audi A3 sedan is also expected and this should be built in China and, possibly, Belgium. An S40 Polestar seems like an obvious addition to the range – a car to take on the Audi S3 sedan. This might well be a PHEV, in which case it would logically be called S40 (T4? T5? T6?) Twin Engine.
The V40 Cross Country has been fairly successful (15,035 sold worldwide YtD + 56,755 V40s) and developing it wouldn't have been expensive so a direct replacement is probably on the cards. Above it in the 40-Cluster line-up will be the XC40, which would be aimed at the BMW X4. Sources believe it will be manufactured at both Ghent and Luqiao, a district of the eastern China city of Taizhou. The release date could be as soon as 2017. A couple of Geely Emgrand models as well as the Link & Co. range will also use Geely-VCC's Compact Modular Architecture.