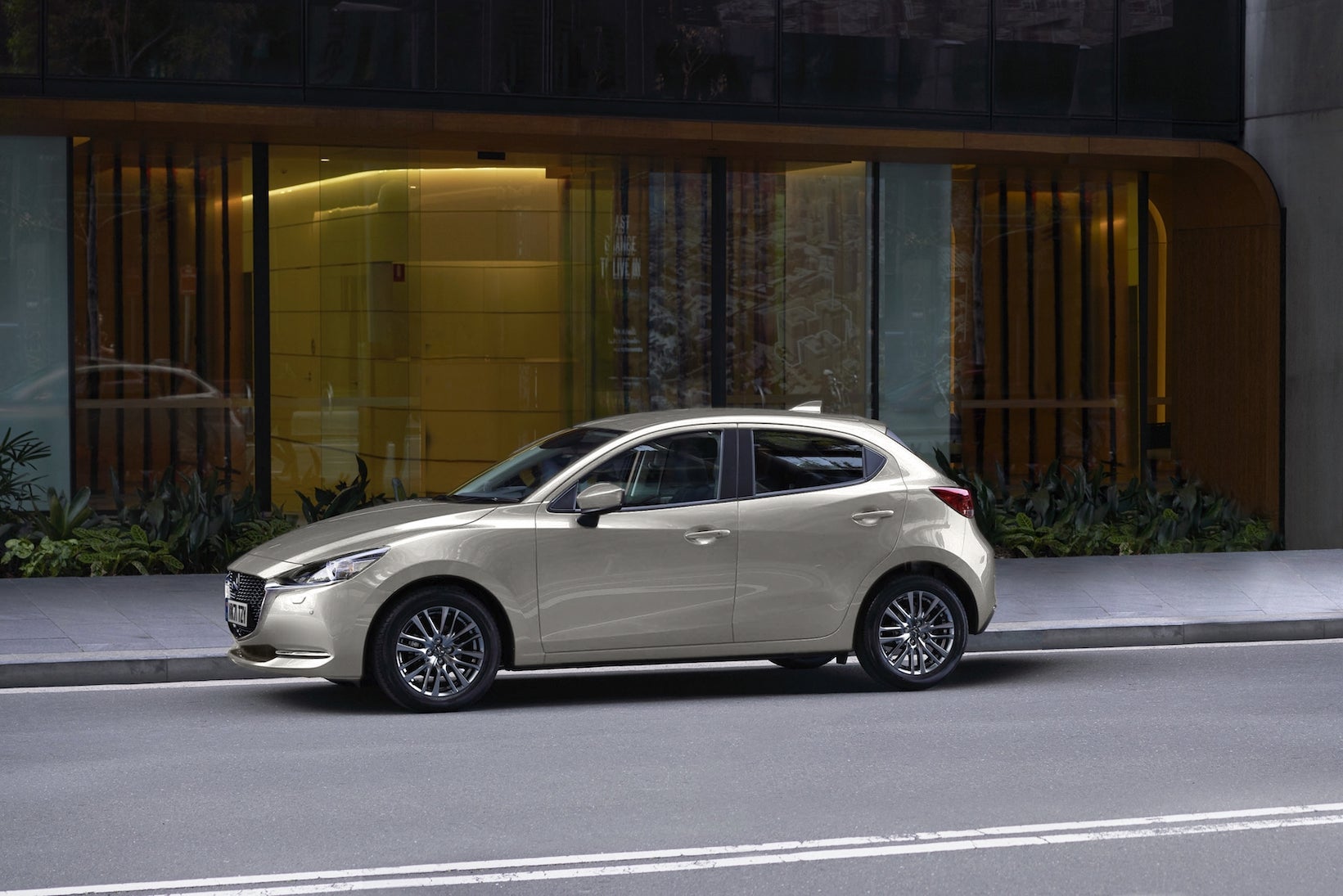 I've been driving the 2022 model year Mazda2, a slight refresh of the built-in-Japan small hatchback that's been around for more years than is typical for the company's cars. Not that dating to 2014 makes it feel old; rather that the brand's models have traditionally been on life cycles of four to six years. The 6 is another exception to the norm: should it still exist in August, that will mark a decade of production.
The little 2 retains the snazzy looks, the model year changes being centred on new model grades and fewer emissions, these falling by up to 14 g/km. More on that in a moment.
What's just as noteworthy is what Mazda Motor Europe decided to do in order to lift sales numbers in the B segment and also help itself with fleet average CO2. The solution is to have a lightly modified version of the Yaris Hybrid, the car rolling off the same line in France as the Toyota original. To be clear, both cars are called Mazda 2 but the Toyota-based one is the Mazda 2 Hybrid.
Announced only a few weeks ago, the Hybrid will be in dealerships from March or April. The powertrain is a turbocharged 1,490 cc three-cylinder petrol engine plus two motors, driving the front axle. Engine power and torque are 85 kW (116 PS) and 169 Nm (125 lb ft). The first motor produces 59 kW (80 PS) and helps to power the car, while the second one fires the engine and charges a battery.

To go back to the non-hybrid, Mazda-made 2, this car obviously looks completely different and had its last facelift in 2019. The name also became standardised at the same time: until then it had been the Mazda Demio in Japan and certain other countries.
In a mirror-image strategy of what will soon commence here, the 2 (a sedan and a hatchback) built in Mexico was also briefly available elsewhere in The Americas with Toyota Yaris badges. It didn't sell too well in the US and Canada, the imports which started in 2019 ending after fewer than twelve months.
In addition to production in Japan and Mexico, build has been or still is at plants in Thailand, China and Vietnam. Worldwide, the car remains a major success, especially in Asia. It has also done well in Britain and many left-hand drive European markets so the latest update is understandable – the new 2 Hybrid is all well and good but there is still demand for the ICE-only original.
Over the years, there have been a few engine options in this car, such as 1.3- and 1.5-litre four-cylinder petrol units, as well as a 1.5-litre diesel. Now though it's just the one low emissions 1,496 cc Skyactiv-G petrol mild hybrid. There are though three levels of power, these being 55 kW (75 PS), 66 kW (90 PS) and 85 kW (115 PS).
The 2022MY range builds on certain tweaks which were new for 2020, the recent changes also including modifications to the car's dynamics. For example, there's now a urethane top mount in the rear dampers and the steering is claimed to be more responsive (it is). Further, what Mazda calls its G-Vectoring Control Plus (GVC Plus) now also employs the brakes – formerly the engine only – to apply direct yaw movement control.
Whilst the company isn't calling it a new engine, there have certainly been important revisions in the quest to bring down the CO2 number. One such is the compression ratio being increased from 13.1 to 15.1 and the exhaust manifold now having a 4-2-1 pattern instead of 4-1.
Emissions have dropped by 11 to 14 g/km depending on engine and gearbox, one of the most improved being the 90 PS Sport manual which goes from 120 g/km to 107. Average official economy is also better.
Along with the brand's reputation for building vehicles which never seem to die plus strong residuals, standard equipment is another reason why this little car does well in the UK. For 2022, navigation, cruise control, integrated Bluetooth and air conditioning are fitted to even the base variant. Sport, which is one level up, adds wireless Apple CarPlay.
The press tester was a GT Sport and that has a reversing camera, a colour head-up display and heating for the front seats/steering wheel. The most expensive trim is new and called GT Sport Tech. Additional equipment includes blind spot monitoring, a 360-degree camera, smart city brake support in reverse and adaptive LED headlights.
One of the things which Mazda really got right when it first launched this car was the cabin. It still manages to offer both generous amounts of room and high-quality materials. The design and layout really don't look too dated either and there is an overall less-is-more approach to everything, which adds to the spacious, almost premium atmosphere.
Along with the praise, there are some areas where the 2 has been left behind by newer models in the same class, such as boot capacity (280 l) and if you like that sort of thing, more digital controls. Some cars of the same size (this one is 4,070 mm long and 1,695 mm wide) have sharper handling too. On the outside, it still looks well proportioned and a good selection of very 2020s colours also helps.
It's not hard to see Mazda greatly improving on the 2's sales performance this year compared to last, the update being a worthwhile one and the car still offering a good balance of value and low cost of ownership.
The review car, a top-spec 115 PS GT Sport Tech, has a maximum speed of 124 mph, reaches 62 mph in 9.1 seconds and returns a Combined 56.5 mpg.