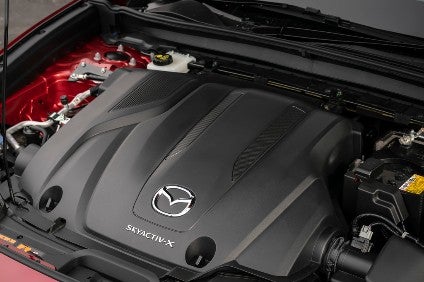 It didn't take long for the Mazda CX-30, launched in 2020, to get a powerplant upgrade. A new upgraded e-Skyactiv X engine made its debut in the 2021 model year CX-30 this month and will find its way into the 3 (same platform) next month. This is an updated version of Mazda's unique Skyactiv-X SPCCI Spark Controlled Compression Ignition petrol engine which I have tried with some enjoyment before. And, before that, our analysts took a close look.
To recap: consign to oblivion any ideas the new two-litre engine – which Mazda brands Skyactiv-X – is devoid of the spark plugs used to ignite a petrol/air mix for decades. This is the world's first production petrol unit to exploit the benefits of compression ignition but the plugs are still there and in use. Just not as much. Key to this new engine's operation is the use of a highly lean, fuel- and emissions-efficient mixture of air and fuel: 2-3 times leaner than in today's conventional engines. This mixture has so little fuel in the air that a normal engine with spark plugs cannot fire it. Mazda already uses uniquely high compression ratios on its current Skyactiv petrol engines to reduce fuel consumption. This led to the idea of increasing the compression ratio even further and igniting the fuel simply by compression as is the norm in modern diesel engines.
Renamed e-Skyactiv X, the updated version delivers increased performance and even more efficiency – it's always been a mild hybrid but the name now acknowledges that. It now produces 186ps at 6,000rpm and maximum torque of 240Nm at 4,000rpm, increases of 6ps and 16Nm respectively. The torque improvement is most noticeable from 2000rpm onwards, however e-Skyactiv X's torque output has improved in almost all engine speed ranges, and particularly under acceleration from partial-load driving situations most commonly found during daily driving. Even better, efficiency has also been improved, with CO2 emissions dropping by 5 to 11g/km – depending on model, transmission and trim level. A corresponding improvement in WLTP combined economy should further increase the appeal of Mazda's unique SPCCI petrol engine.
For example, the range topping AWD GT Sport CX-30 automatic now emits 11g/km less CO2 with a 2.4mpg improvement in combined WLTP economy, while the entry-level front-wheel drive manual SE-L Lux CX-30 is 6g/km cleaner and is 2.5mpg more fuel efficient. The updates to the engine have been achieved through lowering the compression ratio from 16.3:1 to 15.0:1 while other modifications include the optimisation of combustion control, modified pistons and updating the M Hybrid mild-hybrid system's software. This results in a broader operating band of combustion efficiency, which ensures e-Skyactiv X not only delivers higher maximum engine torque but also improved real-world fuel economy. The intake valve timing has been adapted through modifying the intake camshaft, this leads to a reduction in pumping losses and further increases the engine's specific heat ratio, resulting in improvements to the e-Skyactiv X's fuel consumption.
Additionally to the updates to the combustion engine, the mild-hybrid system has had a software update that enables faster reactions of the system's belt-driven ISG's torque control. This improvement on control smooths drivability by increasing or reducing torque control when needed. For example, when the e-Skyactiv X's air supply unit turns on – to provide sufficient air needed for a lean combustion fuel-air mixture – or off again, the unit's inertia creates torque fluctuations. The enhanced software enables torque reactions issued through the belt-driven ISG that are quick enough to flatten the torque curve. As a result, the engine feels even smoother during linear acceleration.
Corresponding to the renaming of the e-Skyactiv X engine, the two-litre Skyactiv-G engine is moving to e-Skyactiv G naming and, across the CX-30's 122ps engine range, CO2 has been reduced by 7-8g/km.
The UK 2021 CX-30 line-up has nine e-Skyactiv G models, which are offered exclusively with front-wheel drive in SE-L, SE-L Lux, Sport Lux, GT Sport and GT Sport Tech trim levels with the option of automatic transmission on all models with the exception of the entry-level SE-L. The 12-model e-Skyactiv X range offers SE-L Lux, Sport Lux, GT Sport, and GT Tech trim levels with the option of automatic transmission throughout. From GT Sport upwards there's also the option of all-wheel drive.
Jeremy Thomson, managing director Mazda UK, said: "Our SPCCI engine technology is part of our multi-solution approach to powertrains and sustainability that has also seen the introduction of M Hybrid in 3 and CX-30, plus the launch of the MX-30 – our first battery electric car. The CX-30 is now our best selling car in the UK and 47% of CX-30s and 3s sold in the UK feature the SPCCI engine."
Although it preceded the 2021 models with updated engines, I could not resist a steer in the 100th Anniversary Special Edition CX-30, one of a series of special versions of all the key passenger cars in the automaker's global line. They were designed to celebrate the company's centenary and have a white-and-burgundy two-tone exterior/interior combination, inspired by high-grade versions of Mazda's first passenger car, the R360 Coupe.
Snowflake White pearlescent exterior paint contrasts with burgundy interior carpet and burgundy leather seats, an interior trim I would plead with Mazda to make available for regular production. Other details include a unique 100th Anniversary badge on burgundy floor mats, key fob and embossed into the headrests. Externally, the same badge is on the wheel centres and the exterior sides. The CX-30 has the earlier version of the Skyactiv-X engine now updated for the 2021 model year. Each vehicle has a bespoke key presentation box to be used on vehicle handover and, following delivery, the customer receives a limited edition book documenting the 100th anniversary of Mazda, as well as a 1:43 model of the R360.
The CX-30 is a usefully larger size than the CX-3 predecessor and just the right dimensions, in and out, for those (like me) who find the CX-5 just a little bit large for local conditions. I'm not surprised it's already Mazda UK's most popular model. Build quality, as always with recent Mazdas, is impressive with fit, finish and materials giving the likes of Audi strong competition. The car is easy to familiarise yourself with, easy to drive and rides and handles well. Stop-start also works well and I ended up with just one minor gripe – I'd like the Hold button to remain 'on' till selected off rather than cancelling when the engine is stopped as the feature is so useful. There was also a thumbs-up from The Family for rear seat room and load space practicality, including power tailgate. On the want list: full length sunroof (a conventional tilt/slide pane is fitted) and a space saver spare wheel in lieu of pump 'n' gunk; there is no factory choice.