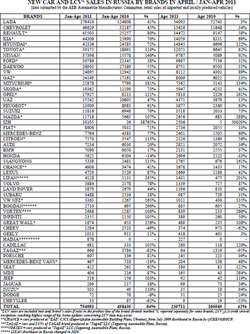 The nations of Brazil, Russia, India and China form a neat acronym – the BRICs. These countries possess rapidly developing economies, large populations and plenty of untapped potential for consumption growth as incomes rise. They are also experiencing rapid vehicle market growth as well as rising automotive industry activity. For May's briefing theme, Dave Leggett reviews the latest developments and prospects for the BRIC automotive markets. This instalment looks at Russia.
To say that Russia's economy has been on a roller-coaster lately would probably be understating things. As the energy and commodities dependent economy has lurched, so the vehicle market has been subject to similarly large swings. Russia's car market took a dramatic turn for the worse when the international financial crisis that began in 2008 hit its financial system hard. Unlike the other BRICs, Russia's economy took a severe battering as international credit flows dried up. For foreign OEMs with deteriorating capacity utilisation rates at assembly plants in Russia, additional pressures were to come as the weak rouble raised the cost of imported components and forced them to raise prices, even in a weak market.
The Russian light vehicle market halved in 2009 to 1.4m units. A scrappage scheme that has twice been extended has helped the industry to recover. It has helped the lower price offerings of the domestic makers – especially AvtoVAZ. In that sense, it has been a well targeted aid measure from the Russian government worried about high unemployment and the plight of producers in 'monotowns' such as Togliatti.
Along with an uptick to the Russian economy, the scrappage incentive helped the light vehicle market to grow to an estimated 1.9m units in 2010.
The immediate outlook is very positive for the Russian car market as it benefits from a stronger economy and a continuing scrappage lift. The Russian economy is expected to see growth of around 5% this year, a further tailwind provided by higher energy prices. Moreover, a positive market outlook is combining with new rules introduced by the Russian government for foreign investors to stimulate a new investment wave by OEMs.
Strong start to the year reinforces industry optimism
The Russian car market has got off to a strong start in 2011. The Moscow-based Association of European Businesses (ABB) said that car and light commercial vehicle sales in Russia reached 235,711 units in April, some 42% ahead of April last year. In the first four months of the year, sales are up 64% to 754,081 units.
April's strong results led the AEB to revise its 2011 forecast up. David Thomas, Chairman of the AEB Automobile Manufacturers Committee said: "Strong growth continues across the industry though at a lower pace than the first quarter. It is important to remember that the second quarter of 2010 was the first period of growth since 2008, therefore, direct year on year comparisons are deceptive. The sustained growth leads us to increase our consensus forecast to 2.35m for 2011, up from our previous 2.24m."
A light vehicle market of 2.24m in 2011 would mean market growth approaching 20% for the year. While the market still would have a way to go to get back to the 2008 peak, it would signal that a demand recovery is well underway and strengthening.
JD Power analyst Carol Thomas told delegates at the firm's Global Outlook Conference in London last month that risks are on the upside that support for the market will continue further in 2011. "We also know that there will be continuing low-interest rate subsidy schemes targeted at helping domestic manufacturers into 2012 and beyond," she said.
Thomas also believes that the Russian government will have one eye on prospects for local giant AvtoVAZ. "AvtoVAZ has a new – and critical – low-cost car coming out later this year and that would clearly potentially benefit from support aimed at that part of the market," she said. And there is every chance that the Russian government will extend support for the auto industry and market into 2012 if it feels such measures are necessary and that industry volume will be insufficient without them.
Russia also has good long-term demand prospects. It has relatively low per capita car ownership – estimated at around 250 cars per thousand population, compared with a level of over 500 in Western Europe. Russia is also a country with a relatively low density of population and an appetite for motorised travel. In addition, the car parc contains plenty of aged vehicles that will be ripe for replacement if the economy continues to grow and allow household real incomes to rise.
Analysts believe that a post-incentive West European-style negative correction to the Russian car market in the medium-term is unlikely. There should be enough underlying momentum to keep the vehicle market in Russia growing. Indeed, JD Power forecasts that the Russian light vehicle market (ie including light commercial vehicles) will reach 3.6m units by 2016, which compares with 1.9m in 2010 (within that number, 1.76m were actually passenger cars).
Vehicle production surge in prospect
International OEMs with plants in Russia are being gently nudged by the Russian government to invest in more capacity and increase local sourcing. The suspicion is that they took a look at what has been happening in China with its strict rules on joint ventures and decided that they should get much more involved in setting rules and directing the Russian automotive sector's development. A new framework of rules – 'Decree 166' – has duly been constructed that give foreign investors breaks on tariffs if they invest more in Russia.
Under the new rules OEMs must commit to:
produce over 300,000 units – at a new plant within 4 years of the agreement being signed – or build over 350,000 units for an existing plant within 3 years of the agreement being signed;
achieve 60% local content within 6 years (more rapid timetable for existing plants);
carry out stampings within 4 years;
equip at least 30% of vehicles with locally-sourced engines and/or transmissions within 4 years;
establish an R&D centre in Russia
In return, they receive benefits:
components to be imported on preferential terms for eight years (but no later than 2020);
SKD (semi-knock down kit assembly) can be carried out for 36 months following the signing of the new agreement (but kits should not account for more than 5% of total production)
Provisional signatories so far include:
Renault-Nissan/AvtoVAZ
KamAZ & Mercedes-Benz
Ford-Sollers
Volkswagen and GAZ
Fiat
Magna
We should hear more details in June about who has finally signed and who hasn't, or indeed whether discussions on participation are continuing. Automakers have the option to stay outside of the new framework, but strenuous efforts are being made to find local partners and sign up.
There are certainly signs of serious intent from the OEMs. General Motors recently outlined how it plans to take annual production in Russia to more than 350,000 vehicles a year by 2020. To get there, the company will increase production at its plant in St Petersburg to 230,000 units from 60,000 units currently and expand the capacities of its joint venture with Russia's AvtoVAZ to 120,000 units from 90,000 units.
Ford announced last month that it will add a shift and move to a three shift production pattern to expand capacity at its Russian manufacturing plant. "The shift to a three shift production pattern is further evidence of the recovery in the Russian economy and increasing demand for both Focus and Mondeo," said Gray Greenway, Ford Motor Company ZAO General Director.
The rise in production looks imminent in the face of a rising market. Analyst Ian Henry envisages light vehicle production in Russia by non-domestics (ie excluding the likes of AvtoVAZ but including Western and Asian makes producing vehicles in Russia) rising from 340,000 units in 2010 to 660,000 units this year.
"The expansion really gets going in 2012 when capacity expansions bear fruit," he says. In 2012, output by the 'non-domestics' grows to 1.1m units and, Henry says, will be approaching 2m units by 2014.