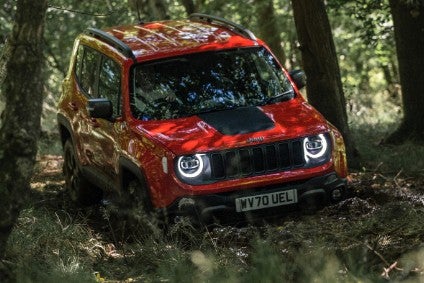 The Turin-based part of Fiat Chrysler continues to update many of its older models with new powertrains, readying various brands for next year's lower CO2 regime in the European Union. While various Fiats have gone mild hybrid or electric, for Jeep, petrol plug-in hybrids are being offered in ever more models, including the smallest one.
How the world has changed since the Renegade arrived in 2014. The square-jawed but friendly faced front- and all-wheel drive SUV brought Jeep into the mainstream in so many countries. The decision to twin the model with what became the 500X – it appeared a year after the little Jeep – meant Fiat SpA ended the supply arrangement it had had with Suzuki. The Sedici, a Swift-based crossover, was manufactured at the Japanese company's Esztergom factory in Hungary between 2005 and 2013, with the replacement landing two years later.
Production & life cycle
The Renegade and 500X roll off the same line at FCA's Melfi plant but there are multiple other manufacturing and assembly locations the world over. Even with all the ensuing newer and additional competitors rocking up in recent years, both still sell surprisingly well. Series production of the new PHEV had to be delayed from June to August due to Italy's COVID-19 emergency, Europe-wide sales commencing a month later.
The petrol and diesel variants were facelifted in 2018 and the Renegade will likely have the extended mix life cycle of eight, nine, ten or more years typical of FCA models. We can therefore expect the current shape to stick around for somewhere between one and four more years. It all depends on whether Stellantis has begun a project to re-engineer and re-body this one or instead utilises Groupe PSA and Dongfeng's CMP and e-CMP [architectures].
Sales – down in UK, up elsewhere
Due to the recent arrival of a couple of 4xe-branded plug-in hybrids, Jeep sales have begun to dramatically recover from some steep plunges in most European countries. November sales data for the UK weren't great – down 44% to just 299 vehicles – but at least there was way better news in both Italy and the region's largest market.
The KBA notes that deliveries of EVS and PHEVs took off due to extravagant incentives. Even Tesla, a brand which hadn't seemed able to catch the imagination of Germans (it's also tiny in Italy), had a terrific November, registrations rocketing to 1,680 units and capturing 1.6% of the market. As for plug-in hybrid models, their deliveries increased by 383 per cent to 30,621. Fiat did well, sales being lifted by 43% while Jeep was up 13% to 1,449 vehicles, enough to give the 4×4 brand a 0.5% share. Year to date, total deliveries of 13,968 kept Jeep ahead of Land Rover (11,719) and (also Tesla: 13,149).
Let's look at Italy. As with Germany, the market was down (-8.2%) but Jeep gained 18.2% and climbed to seventh place with 7,022 deliveries and a 5.1% share of the market. The other new PHEV Jeep took seventh position (Compass: 3,680 and 24,099 YtD), and while the Renegade was just behind in eighth (3,298), over the year to 30 November, its sales haul was better, at 28,383. That's quite an achievement considering the model's age and how much competition there is in the segment. While the 500X remains Italy's top selling B-SUV with 28,841 registrations, if December's results are similar to November's the Renegade should squeeze past its Fiat brother to take the crown as the segment's numero uno.
Three PHEV variants
I've driven the Renegade many times and while it's never been a class leader, there are no strong flaws. The three new 4xe variants are called Longitude (GBP32,600), Limited (GBP34,500) and Trailhawk (GBP36,500) so none is exactly bargain basement, which is why the PHEV has to be compared to genuine premium brand B-SUVs. Luckily for FCA, there aren't many of these, the Audi Q2 being the main one.
The first things that come to mind are cute looks, and the fact that the Renegade does still have something of a presence about it. The Trailhawk that was mine for a week gets a black sticker on the bonnet's power bulge and surprisingly, this really does make the front end look more assertive although even with that and round headlights, a Dodge Charger it ain't. There's a lot more black-out detailing elsewhere, such as roof rails, grille, wheel arch extensions, mirror casings and lower bumper covers. In Colorado Red, it's a good combination and with some mud spatter down the sides, the effect is even better.
The bad (not much) and the good (much)
A few things can grate to some, such as the loud beeping when unlocking (why must there be a noise?), another one when the ignition is pressed (ditto) and when cold, the electric-petrol system can't always make up its mind. Backing out of my driveway, there was the thrill of silence but then after a few metres the engine kicked in, although without any abruptness.
Looking around the interior, there is grey leather with red stitching and red TRAILHAWK on each of the front seats. Ahead of these, the dashboard is a masterclass in slab-sidedness. While there's nothing wrong with the design theme, maybe not everyone will be mad about the Cubist approach. FCA did at least greatly improve things two years ago when the Renegade had an update. Now the touchscreen is bigger, the ventilation system is mostly via big dials (oddly, steering wheel and seat heating are screen-only), and there's a 12V outlet but only USB socket up front and one in the back.
Proper 4WD capability
Below the HVAC wheels and buttons are a variety of four-wheel drive controls. Each is selected via a rotary switch, available modes being Auto, Sport, Snow, Sand, Mud, Rock, 4WD Low and 4WD Lock. This is one of the things which does set the Renegade apart in a class bursting with would-be rivals, very few of which are anything but front-wheel drive. So major points for that.
Regenerative braking is highly effective at both slowing the vehicle gently and harvesting otherwise lost energy: it can become addictive to see how often you can push this into the 400 V 11.4 kWh battery. Why though did FCA decide that issuing this command can only happen by pressing a button positioned of all places between the front seats? Paddles or even a B function on the transmission shift lever would be so much better, especially as you need to glance down each time – I didn't want to risk hitting the nearby parking brake switch.
Hybrid, Electric and E-Save
There's no speedometer in the 4xe, which takes some getting used, mainly because there are conventional gauges in the cluster. Your pace is shown solely via a small digital readout positioned between large circular tachometer and Power/Charge displays. Still, it's satisfying to see the rev-counter's needle swing to OFF when the engine is shut down and the front motor is moving the car. As with other PHEVs, you get Hybrid, Electric and E-Save settings, each one of which is a button at the bottom of the centre console.
Powertrain
Supplementing a turbocharged 1,332 cc petrol engine and six-speed automatic transmission, there are motors at the front (on the auxiliary belt) and rear (axle-mounted). The CO2 average is 51g/km. There are two outputs for the three 4xe variants: 130 hp or 180 hp, plus the 60 hp produced by the motor, adding up to 190 hp (Limited) or 240 hp (Trailhawk and S). In both cases the motors produce 250 Nm of torque, while the combustion engine delivers 270 Nm.
FCA says the boot's capacity is hardly affected by the PHEV system's components, capacity being 330 litres, while a spare wheel can be housed under a lift-up panel – the test vehicle didn't have one though. The car itself looks very similiar to other Renegades, with the exception of the 4xe badge, blue highlights for the Jeep logos and of course the charging flap which is on the opposite side to the one for petrol.
Summary
The little PHEV Jeep is exceedingly easy to live with, while that relatively small capacity battery means charging doesn't take long either. The real-world EV range of 20-25 miles won't be enough for lots of people yet for others, it's fine, especially when topping up at destinations seems to be getting easier all the time (i.e. supermarkets, hotels, offices, retail parks etc…). Like other plug-in hybrids, it's pricey which is probably the only thing which could hold back sales.
The new Jeep Renegade 4xe reaches 62 mph in 7.1 seconds, has top speeds of 81 mph (electric mode) and 124 mph (hybrid) and an EV range of up to 26 miles.