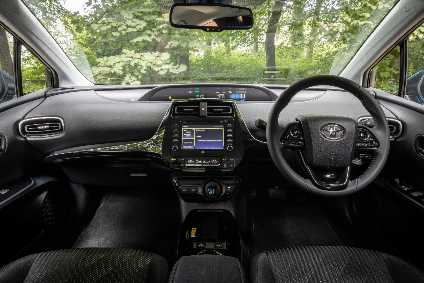 Since the launch of the first generation Toyota Prius way back in 1997, this popular eco-car has brought a wave of new driver assistance technologies with each new launch. While motorists are unlikely to consider buying a Prius because of its wacky interior, this model has moved the hybrid on from a car that you should drive to one which you want to drive. It makes a statement inside and out. Continuing just-auto/AIC's review of interior design and technology trends, we step aboard the fourth and latest generation Prius to take a closer look at its distinctive dash.
Cutting a dash
A layered, soft-touch plastic dashboard wraps around the driver and flows into the door panels. Its dominant centre cluster has a silver-finish frame and a 'floating' design, created using a sculpted and near-invisible rear mounting. Designed like a tablet, the seven-inch touchscreen panel allows the driver to operate the audio and navigation functions, swiping and scrolling through the displays. It's a little fiddly to use at first but you soon get used to it.
While the layout of the dash is somewhat unconventional, it serves its purpose without too much distraction to the driver. Other welcome features include a wireless phone charging tray beneath the centre stack and a colour head-up display presenting data such as vehicle speed, battery charge status and other useful facts and figures.
The instrument cluster consists of a pair of 4.2-inch colour TFT futuristic screens positioned atop and centre of the dash. The screen nearest the driver presents the basics such as vehicle speed, fuel level, odometer, trip meter, driving range, average fuel consumption, outside temperature and drive mode. Background colour will change according to the drive mode selected: blue for Eco, grey for Normal and red for Power. Efficiency of the driver's driving style and the car's progressive fuel economy can be monitored, broken down into periods of five minutes, last kilometre, last five kilometres and one month. The second screen provides information on the hybrid system and eco-driving tips and performance, together with multimedia and climate control system details and driver assistance alerts.
Material-wise, the areas of the cabin that are touched the most are swathed in soft-touch materials, while other parts are hard plastic set beneath a dark headliner. A leather-trimmed steering wheel, high-gloss black inserts hither and thither and satin chrome interior door handles add to the classy feel.
Acclimatising to the Prius
The air-con system is worthy of note. It incorporates an S-Flow function to improve efficiency. It registers whether or not the front and rear passenger seats are occupied and detects when either of the rear doors is opened and closed, adjusting ventilation and heating performance accordingly and minimising air flow around any empty seats. It also monitors the cabin temperature settings, external temperature and the amount of sunlight to calculate the most efficient operating parameters. Other advances in the system include a new evaporator that uses less energy and an electric compressor that is quieter and delivers improved cooling performance.
It is easy to get comfy in the driving position thanks to some design tweaks. A reduction in the steering column angle from 24 to 20 degrees, a lowering of the driver's hip point by 55mm and a new seat design all help create a decent driving position. Protruding from the centre console is a studding gear lever that is easy to operate.
Take a seat
The front seats were redesigned to offer greater comfort while at the same time saving weight and space. The seat heating area has been increased, adding to the improved comfort level. The rear seats were also revised, says Toyota, for greater comfort and they benefit from an improved armrest and cupholder. While head, shoulder and leg room are quite generous in the front, in the rear, it still feels pinched due to the battery being relocated from the boot to below the rear seat. It means six-footers sitting in the back (of a Prius taxi) will brush their head on the sloping roofline although knee room is more reasonable. Access to the rear seats is adequate, however, thanks to the wide-opening rear doors.
Cavernous cabin
The more compact hybrid system with HV battery and the new double wishbone rear suspension eliminates intrusion into the boot space. The boot floor is set 110mm lower, expanding capacity to 457 litres when a temporary spare wheel is carried and 502 litres with a tyre repair kit.
Folding the 60/40 split rear seats flat provides 1,633 litres of load space. Load space has been improved thanks to the use of a smaller, more energy-dense hybrid battery that is located entirely beneath the rear seats, and a new double wishbone rear suspension system. The boot itself is long, wide and shallow. It also feels a little more rigid than previous generations thanks to Toyota's global architecture platform.
In the spacious cabin, the storage points were made larger or were reprofiled to improve their usability. They include front and rear door pockets, an overhead console, glove box (large enough to stash a one-litre bottle of water) and a console box with a removable inner tray. The console box's soft-close lid doubles as an armrest and opens sideways allowing easy driver access. Two cupholders are provided in front of the console box.
Advanced driver assistance systems
Prius comes with a variety of advanced driver assistance systems (ADAS), including a pre-collision safety system. This uses a front-mounted camera and millimetre-wave radar sensor to detect vehicles and pedestrians on the road ahead, operating at speeds between 6mph and the vehicle's top speed. If it calculates a risk of a collision, it automatically warns the driver with a buzzer and alert in the multi-information display. The radar sensor, developed by Denso Corp, uses radio waves to measure the distance and direction of the object ahead, while the vision sensor uses a camera to detect road lane markings and the object in front. Previously, these sensors worked separately; however, Denso has enabled them to work with each other while making full use of the advantages of each sensor to achieve more rapid and accurate detection. This advance has also assisted some practical safety functions on-board the Prius, including autonomous emergency braking (vehicle and pedestrian), full-speed range adaptive cruise control, lane departure warning and automatic high beam.
The model we borrowed came with a parking assistance system, or Simple Intelligent Parking Assist as Toyota calls it. It uses ultrasonic sensors located on the car's corners to size up parallel parking spots. We understand that some advances to this technology allow it to work in parking spaces up to 22 percent smaller than previously. It certainly worked a treat while both manoeuvring into and out of some quite tight spaces.
On the road
In and around town, Prius is a cheap-to-run car. And as we would expect at low urban speeds, it's also super quiet. While hybrid cars often come with headline-grabbing fuel economy figures, some are hard to achieve in everyday driving. The Prius, however, is spot on. And that's how it should be given its main focus is on low emissions and impressive fuel economy. Powered by a 1.8-litre petrol engine with a compact electric motor, we achieved an average mpg during the course of last week of 64 mpg on 17-inch wheels compared to the expected range between 58.87 and 64.7 mpg. Rivals to the Prius in the compact hatchback fraternity include the Hyundai Ioniq and Kia Niro.