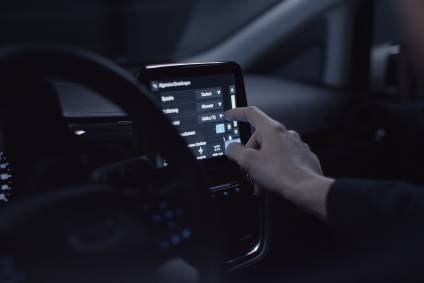 Since its introduction in 1976, Ford has rolled out seven generations of Fiesta, each one slightly more spacious, safer and efficient. The latest incarnation expands the range to include a crossover-inspired Active and luxurious Vignale. Continuing just-auto/QUBE's review of interior design and technology trends, we take a closer look inside this ever-popular supermini.
More icons, fewer buttons
"People decide within three minutes if they love a car or not."
"People decide within three minutes if they love a product or not, and it is the same for your car," explained Amko Leenarts, Ford's head of global interior design operations. "From the moment you get in, you form connections with the smell, the feel of the surfaces, or the sound of the car door closing and it's very powerful if we – as designers – can help create the perfect experience for the customer."
We would certainly agree that the interior is a step up from its predecessor. The cabin is well packaged and feels more spacious, cloaked with soft-touch surfaces. A one-piece centre console connects to the lower instrument panel with no visible fixings to the floor.
Standing proud of the dash positioned centre stage is a slick, eight-inch colour touchscreen that delivers a welcome (and silent) sequence on start-up. The number of buttons on the centre console is reduced by almost half compared to the outgoing Fiesta. Only the essential rotary dials to control the HVAC system and audio volume are left in place, making it more user-friendly and ergonomic.
There are fewer buttons on the steering wheel, too, which can also be heated for the first time (a pleasure to use on some nippy autumn mornings). The new Fiesta may be ordered with a panoramic glass roof.
On the infotainment front, Ford's SYNC 3 voice recognition system enables drivers to control audio, navigation and connected smartphones, giving commands such as "I'm hungry" or "I need a coffee" to locate nearby cafés and restaurants, or "I need petrol" for local fuel stations.
Seat testing
Leather steering wheels are tested for resistance to sunscreen lotion.
Seat materials and carpets across the Fiesta range were the first to be tested in the carmaker's upgraded materials laboratory in Dunton, UK. Seat bolsters undergo 60,000 test cycles to ensure wear-resistance. The robustness of colours is tested using a 'weatherometer', and analysed with a spectrometer to avoid fading after exposure to ultraviolet light. Ford points out that leather seats must resist ground-in coffee and the dye from denim jeans. Leather steering wheels are tested for resistance to sunscreen lotion.
Capless refuelling system
Responding to feedback from customers, the Fiesta now features windscreen wipers that clear 13 per cent more of the windscreen and doors that require 20 per cent less effort to close. Also featured is a fuel filler neck optimised to reduce spillage when using the Ford Easy Fuel capless refuelling system that prevents misfuelling.
Other neat ideas
Although our focus here is on the Fiesta's interior, there are a number of noteworthy exterior design features. For example, Ford's novel Door Edge Protector features a protective flap concealed in the door that flips into position in a split second as the door opens, preventing damage to paint and bodywork and helping drivers when parking in tight spaces (and all for just an extra GBP85).
Another clever feature is found on the roof. Nifty channels drain water away from the roof edges, reducing the risk of being dripped on when getting in or out.
While we are here, let's also just point out that parking sensors are now fitted flush with the body panels; windscreen washer nozzles are hidden beneath the upper bonnet lip; there are no visible screws on the taillights or rear fascia; and the shut line between the roof and the rear liftgate is reduced by more than 30 per cent. While these may sound like minor tweaks, they contribute to giving the new Fiesta sharper looks.
"We've paid a lot of attention to elements and features that customers notice without realising it, from panel gaps to pedal feel," said Jon Buttress, Fiesta chief programme engineer. "Fiesta is one of the most universal sights on the road, and our goal was to deliver a car that would inspire an admiring glance every time."
Advanced driver assistance systems (ADAS)
Ford describes its seventh (Mark VII, or Mark VIII in UK) and latest generation Fiesta as the 'world's most technologically advanced small car'. It offers 15 driver assistance technologies, including Adaptive Cruise Control, Adjustable Speed Limiter, Blind Spot Information System, Cross Traffic Alert, Distance Indication, Driver Alert, Lane Keeping Aid, Lane Keeping Alert and Forward Collision Warning.
ADAS technologies are supported by two cameras, three radars and 12 ultrasonic sensors, which in combination are able to monitor 360 degrees around the vehicle, and scan the road ahead up to a distance of 130 metres. It can also detect pedestrians who are in or near the road ahead, or who may cross the vehicle's path; the brakes are automatically applied to avoid them if the driver does not respond to warnings.
Ultrasonic sensors can locate suitable parking spaces nose-to-tail and side-by-side with other cars, and the Fiesta can guide itself into them hands-free while you operate the accelerator and brake.
Other technologies can monitor road signs to keep the driver up-to-date on speed limits and overtaking regulations. Cruising speed adjusts when using cruise control to maintain a set distance to traffic ahead. The driver will be warned of vehicles approaching from the side when reversing out of a parking space.
"For some drivers, our automated parking technologies deliver a 'future shock'".
"For some drivers our automated parking technologies deliver a 'future shock': they remain so advanced that customers using them for the very first time can be a little awe-struck," explained Buttress. "Brake interventions for Active Park Assist can prevent distracted drivers from having low-speed parking bumps, and make parking in tight spaces even less stressful."
On the road
Fiesta trim levels start at Style (aimed mainly at fleet buyers), rising through Zetec, Titanium, ST-Line topping out with the Vignale. Depending on the level, technologies include systems that can park hands-free, detect pedestrians in the road ahead, an openable panoramic glass roof, and a premium B&O sound system with ten speakers dotted around the cabin. Up to 20,000 variations of all-new Fiesta specification are available, almost twice as many as the outgoing model.
Our Titanium three-door is powered by a 1.0-litre EcoBoost with six-speed manual gearbox. While our road test didn't quite match Ford's headline fuel economy of 65.7 mpg, we weren't far off. A stiffer body structure, reduced powertrain noise vibration and harshness, enhanced powertrain isolation, and an acoustic windscreen contribute to a relatively quiet drive. An interior road noise level at 100 km/h (62 mph) represents a 7 per cent improvement on the outgoing Fiesta. All in all, the new Fiesta feels spacious and comfortable, even on long journeys.