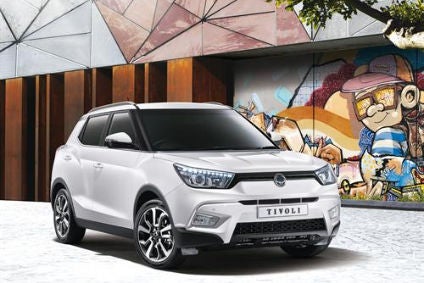 SsangYong, the smallest, oldest, and worst-named of Korea's motor manufacturers, has finally produced a car that measures up to the competition in the European market. The Tivoli is a B-sector supermini-SUV crossover which bears comparison with the Nissan Juke and Opel/Vauxhall Mokka which lead this expanding class – and with UK prices starting at GBP12,950, undercuts equivalent models by GBP2,000 or more.
Tivoli sits on a new platform and introduces a new family of 1.6-litre engines. Both are unique to SsangYong, which is surprising, given that the company's total production last year was only 180,000 units. But then it is surprising that SsangYong still exists after the turmoil it has endured over the last 20 years. Stand by for a summary of its convoluted recent history.
When I visited SsangYong in 1996, it seemed likely to become the Asian manufacturing base for Mercedes-Benz. Daimler had a 5% shareholding and had equipped SsangYong's engine plant at Changwon, on the east coast of South Korea, to make eight different types of Mercedes engines. SsangYong's specialisation in four-wheel drive vehicles was an attraction, as the Mercedes ML plant in Chatanooga was not yet in operation. There was a Korean-produced van which was to be sold as a Mercedes and German engineers and designers had helped create the SsangYong Chairman, a luxury saloon based on an old model Mercedes E-class.
Jurgen Hubbert, then Mercedes passenger car chief, said that a closer liaison and larger shareholding was being considered but it didn't happen; Daimler was to take a controlling share of Mitsubishi of Japan instead. Left to its own devices, SsangYong failed in the Asian economic crash of 1997 but its remains were picked up by Daewoo, which, apparently, was still booming. Confusingly, the SsangYong Musso and Korando 4X4s were rebadged Daewoo but otherwise unchanged.
Then Daewoo Motors went spectacularly bust, eventually to be acquired by General Motors. Somehow, the banks allowed SsangYong to regain its independence. In 2002 it launched the Rexton, a sort of Korean Jeep Grand Cherokee, styled in Italy by Giugiaro, still with a Mercedes engine – and still sold by Daewoo dealers.
In 2004, SsangYong, lacking resources and scale, fell into the hands of Shanghai Automotive Industries Corporation (SAIC) which was just starting to flex its muscles as the leader of the fast-growing Chinese car market. SAIC paid US$532m for a 49% controlling interest in the Korean company and was to put an American, Phil Murtaugh, ex-GM China, in charge, but he lasted only a few months before leaving to join Chrysler.
Murtaugh planned that SAIC's ex-Rover engineering team in the UK would develop new products for SsangYong but that idea faded when he left. SAIC has a poor record in handling acquisitions (think MG) and by 2009, it had walked away, putting the company into administration, back with the Korean banks.
The appointed administrators, ex-Hyundai executives, put a new monocoque Korando into production in 2010, in the hope of securing a deal with Mahindra & Mahindra of India. Mahindra had been in the running for Jaguar Land Rover but withdrew before the final selection. SsangYong fitted well with its own range of rugged 4X4s. Mahindra took 50% in 2011 and has since raised its stake to 74%. And that's where SsangYong is today: Mahindra has made investments in new body and engine facilities in Korea and intends also to use them for the cars its sells in India.
Although it is behind Tata (with JLR) in the league of Indian motor manufacturers, Mahindra also has global ambitions. Already the world's largest tractor manufacturer, it had a deal for with Ford for local car production which was replaced by cooperation with Renault to build the Dacia Logan, sold in India as a Renault. Although it pulled out of the bidding for JLR, it was reputed to be interested in acquiring Aston Martin and Saab, as well as the Pininfarina design business. None of those transpired but it did buy the Reva Electric Car Company that made the excruciating G-Whiz and Kinetic, an Indian manufacturer of motorcycles and scooters.
As a first step with SsangYong, Mahindra started Rexton production in India. The Tivoli platform will give it the opportunity to enter the small crossover sector and thereby expand the Mahindra range. For SsangYong in Korea it brings new horizons. It is promising a new model every year to the end of the decade based on three platforms – two monocoque and one body-on-frame. This will result in a complete range replacement by 2017.
Two of the newcomers will be directly related to Tivoli – a more butch mini-SUV and a longer wheelbase crossover with three rows of seats. These were previewed by the XAV-Adventure and XLV-Air concept cars at the Frankfurt Motor Show in September.
With the new vehicles SsangYong has every possibility of reaching the 250,000 installed capacity of its Korean facilities.
SsangYong's chequered history has been reflected by the comings and goings of its agents overseas. The first UK importer was the IM Group of West Bromwich but it lost the franchise after the Daewoo takeover. A couple of years later, it was acquired by the Windsor Motor Group of Ireland, which had the unenviable task of launching the SsangYong Rodius – widely regarded as one of the ugliest cars of all time. Unable to make headway with a tired range of cars, Windsor's tenure of the marque was short-lived.
Another attempt was made in the closing days of SAIC control. This time, it was the Koelliker Group, SsangYong importers in Italy and Austria, who hired Paul Williams (ex-Daihatsu, Mitsubishi, and Kia) to establish SsangYong Motor UK and he set to work, appointing dealers mostly in rural areas to sell 4X4s and pick-ups as good value working vehicles.
The new Korando in 2010 represented a fresh start, lining up against the Kia Sportage and its ilk, and widening the marque's appeal. But Koelliker, facing a downturn in demand in mainland Europe, lost interest in the UK and sold the company to the Gibraltar-based Bassadone Group, a multi-franchise car business that also sells SsangYong in Finland and the Baltic states. Williams stayed on as UK managing director and in the New Year his ultra-lean operation (15 people) will move to new headquarters adjacent to Luton airport.
Tivoli has changed everything. In 2014, SsangYong UK sold 1,739 cars. By the end of this year its expanding network of 65 dealers will have sold about 4,000 and in 2016 the target is 6,500, more than half of which will be Tivoli.
For the first time in two decades SsangYong looks to be on a sound footing and poised for growth. Mahindra & Mahindra have pledged to maintain the brand's autonomy, while sharing its technology for Mahindra's own vehicles.
Far-sightedness and investment from an Indian conglomerate in a foreign car company. Does that sound familiar?