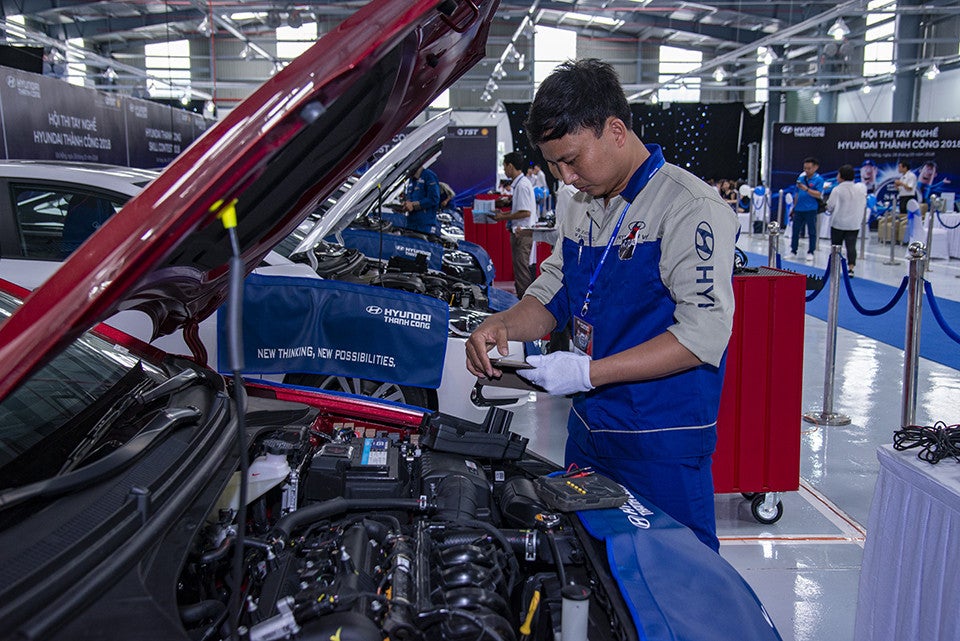 Hyundai Motor has been investing heavily in southeast Asia in the last few years to challenge the dominance of the Japanese and to take on the rising threat posed by the entry of a rising number of Chinese brands in the region. In some markets, the South Korean automaker is already enjoying the significant benefits from its investments and a more hands on approach, while in others there is still restructuring to be done.
Over the last two decades Hyundai prioritised its investments to strengthen presence in the world's larger regional markets, mainly North America and Europe, and also in South America, India and China, where it has established significant manufacturing capacity and in-house distribution operations.
Southeast Asia took a back seat for much of this period, with the automaker relying mainly on contract assemblers and locally owned distributors to establish a presence while investing very little in marketing the brand. Its sales and market share were very limited as a result, with the dominance of the Japanese seemingly unassailable. This is now beginning to change.
While Toyota and Daihatsu continue to dominate most markets in the region, weaker Japanese brands such as Nissan and Mazda have lost significant market share here in recent years. Hyundai had until recently failed to benefit from this, despite offering a much-improved product range. In some markets it had been overtaken by new entrants in the form of Chinese brands.
Last year Hyundai is estimated to have sold 129,098 vehicles in the ASEAN's six main markets, for a regional market share of 3.7%. Almost two-thirds of these sales were generated in Vietnam, where it was the country's second-best selling auto brand behind only Toyota. The company also has a strong position in Singapore, the smallest market of the six, while in Indonesia its sales surged more than tenfold to over 32,000 vehicles last year to claim a 3.1% share of the overall vehicle market. Elsewhere in the region, its share of vehicle sales was negligible.
In the last few years, Hyundai has built full-scale vehicle production plants and has taken control of vehicle distribution in Indonesia and Vietnam, while dealer networks have also been strengthened significantly. The company has also been positioning itself in the region's emerging electric vehicle (EV) segments, with assembly of the battery powered Ioniq 5 launched in Indonesia last year.
The automaker is poised for further strong growth in southeast Asia in the next few years, and it rolls out investments and its direct management approach to other markets in the region, including Thailand and the Philippines. It also stands to benefit from being able to offer an expanding range of its latest products made locally. The growing popularity in the region for anything South Korean, from mobile phones and other consumer electronics, home appliances and even K-pop and soap operas will likely provide an additional tailwind.
Markets
Vietnam has become a major market for Hyundai, with sales rising by almost 16% to 81,600 units last year according to local reports. The company's local joint venture, Hyundai Thanh Cong, completed construction of a second vehicle assembly plant last November, bringing its total production capacity in the country to 180,000 units. The sales data are not covered in the market reports released by the Vietnam Automotive Manufacturers Association (VAMA).
Its best-selling model is the small locally-assembled Accent sedan with 22,650 deliveries last year, followed by Creta compact SUV with 12,100 units, which it imports from Indonesia. The Stargazer MPV, imported also from Indonesia, was launched in October and is also proving to be popular. Other key models include the i10 small car and the Santa Fe and Tucson SUVs.
In Indonesia Hyundai sold just over 32,000 vehicles last year, up from just 3,164 units in 2021, most of which were produced at its new wholly-owned plant in Cikarang – just east of the country's capital city Jakarta. More than half of its local sales, or some 16,930 units, were its Creta compact SUV, which are also exported in large numbers to markets across the region. The Stargazer MPV is its second-best selling model with over 11,000 local sales.
The plant, completed in late 2021, has a production capacity of 150,000 vehicles per year and produced over 83,100 units in 2022 – including almost 57,900 Creta models, over 21,700 Stargazers and close to 2,000 Ioniq 5 models. Hyundai also established a new wholly-owned distributor to help strengthen its local marketing and dealer network in the country.
Sales in the Philippines have plunged in the last few years, by 57% to an estimated 4,300 units in 2022 from just under 9,900 units last year and 33,000 units before the pandemic in 2019. The company has moved to restructure its local distribution operations over the last couple of years. It has set up its own distribution company, Hyundai Motor Philippines Inc, to take care of passenger vehicle sales and marketing while its existing local distributor Hyundai Asia Resources Inc (HARI) is now focused solely on commercial vehicles.
HARI also assembles some Hyundai models at a plant in Laguna, mainly commercial vehicles. Hyundai's passenger vehicle sales are expected to rebound significantly in the next couple of years under its new in-house distributor, driven by improved customer services, dealer network expansion and new models imported from neighbouring countries such as Indonesia.
Hyundai's sales in Thailand are estimated at around 4,900 units last year, mostly Staria minibuses and Creta SUVs imported from Indonesia. Its market share was just 0.6%, reflecting in part the dominance of pickups in this market, a segment in which Hyundai is currently not active.
Last year Hyundai established a new subsidiary, Hyundai Mobility (Thailand), which is scheduled to take over the company's distribution operations in the country later this year from Hyundai Motor (Thailand) – an outside company.
Hyundai has also applied for investment incentives from Thailand's Board of Investment for a facility in the country to produce EVs. Here too, Hyundai plans to implement a more hands on strategy with a wholly-owned distributor. The company is currently expanding its dealer network and will offer a rejuvenated product range sourced from neighbouring countries as well as from South Korea, all of which are expected to drive up sales in this market in the next few years.
Malaysia is the weakest link in Hyundai's ASEAN chain, mainly due to protectionist policies in the country such as the national car programmes. Its vehicle sales amounted to just over 1,300 new units last year and a negligible market share. Its local distributor is Hyundai-Sime Darby Motors Sdn Bhd, owned by the local Sime Darby conglomerate. Sime Darby Motors distributes and operates dealers for a large number of brands, including Ford, Land Rover, BMW, Peugeot, Volkswagen and Kia among others.
Local multi-brand contract assembler Inokom assembles the Santa Fe SUV in very limited volumes, with most Hyundai vehicles sourced from Indonesia and South Korea. Improved product availability is expected to drive up sales in the next few years, but without direct involvement Hyundai's market share is expected to remain limited.