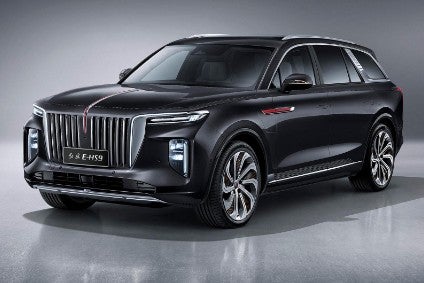 Having doubled its home market vehicle deliveries in 2020 to 200,000 units, surging past the totals of built-in-China Lincolns, Volvos, and Teslas, Hongqi is on a roll. What's next for FAW's luxury car division?
FAW chairman Xu Liuping says he wants to see 400,000 deliveries in 2021 but how realistic is that? After selling only 33,028 cars in 2018, Red Flag (its English name) pushed up into a high five figures total during 2019. Even with the production stoppages caused by COVID-19, that number – 99,331 – became 200,338 in 2020.
Hongqi's ranking in the Chinese wholesale deliveries chart rose ten positions to 26th place last year. Which other premium makes could be in danger of falling behind this rising national star which continues to surge at home, January deliveries having just smashed another record (+158% on Jan '20 to 32,500)?
In December, the luxury brand's sales shot up by 82% compared to the same month in 2019, although due to a couple of even bigger gainers (Lynk & Co, +130% to 24,853; Chery +92% to 67,365), the marque's 22,041 were only good to secure 28th place. And thanks to 23,804 deliveries, Tesla got ahead too.
Along with the American EV specialist, next in Hongqi's sights will be Cadillac (27,524, +56% in Dec). Above GM's luxury brand there's a substantial gap to the three Germans so even if Hongqi gets ahead of Cadillac it could be a while before it begins to draw close to Audi, BMW and Mercedes. And yet if it continues to fill out its line-up with even more of the kinds of cars and SUVs which are proving to be so appealing to buyers in China, Hongqi could really start to shake things up.
Some are beginning to wonder what FAW might be intending to do about export markets. A presence somewhat larger than the current modest one which exists outside the PRC might become reality later in the decade. The brand will be introduced to the Japanese market in March though only the H9 will be offered at first, joining existing exports to countries in the Middle East.
Hongqi's parent has given it big targets. The latest one in a five-year plan is 700,000-800,000 global deliveries by 2025 with as many as 21 new or updated vehicles due to have been launched between the start of 2020 and the mid-decade point. A goal of selling one million vehicles per annum remains for 2030.
Cars
The H9, a 5,137 mm long luxury sedan, is the replacement for the H7. Revealed at a special event in China in January 2020, it arrived at dealerships four months later after suppliers and car makers cautiously, slowly restarted their plants.
Engine choice is between a 2.0 turbo with outputs of 252 hp and 380 Nm or a 272 hp and 280 Nm supercharged 3.0-litre V6. A seven-speed DCT is standard for both. The powertrains and platform are derived from the Audi A6 L.
An extended wheelbase derivative called H9+ was a world premiere at the Beijing motor show in September. There should be facelifts for both cars in 2024 and electric replacements in 2028.
Will the L3 ever be launched? This long rumoured 5.5 m long limo will be very expensive and sold in small numbers mainly in China. Prototypes have been seen testing and these appear to have similar styling to the Rolls-Royce Ghost.
The N501 (its project code) will likely use either a Toyota or Volkswagen Group platform due to FAW's joint ventures with those OEMs, though it may instead be based on an update of the Hongqi L9's FAW H architecture. That big limousine rides on a modified version of a Land Cruiser body-on-frame chassis provided by FAW Toyota. Sources indicate that the car's engine will be a 4.0-litre biturbo V8.
Some believe that the L3 will only be for government officials but others insist that it will be available for general sale albeit in very volume.
FAW surprised many by not only having a stand at the 2019 Frankfurt motor show but by revealing a supercar there. The mid-engined S9, which was painted in metallic light blue, had butterfly wing doors, a large rear wing and was said to be powered by a turbocharged 4.0-litre V8. Assisted by electrification, the powertrain was claimed to produce 1,029 kW. A production run of 70 cars is promised, the first of which should be made later in 2021.
The Chinese state-run firm told the media in April 2020 that it had established a joint venture with Silk EV. The New York-based engineering firm said earlier this week that it intends to build the S9 in Italy in partnership with the racing car maker Dallara. There will supposedly also be S3 and S5 models, along with an S7. Silk EV is said to be in charge of producing the S7 with FAW itself building the S3 and S5 at its base in Changchun.
SUVs
The HS5 is Hongqi's best seller (9,611 in Dec and 98,365 in 2020). Revealed at the Shanghai motor show in April 2019, deliveries commenced during the following month. It looks like the U-Concept, an SUV which premiered at Auto Shanghai in April 2017. The design study had a screen placed within its steering wheel but the production model does not have this feature.
Expect a facelift and powertrain updates in 2023 followed by a new HS5 in 2026. The second generation may well become an EV.
A concept called E115 was shown for the first time at the Frankfurt IAA in September 2019. The prototype of this big 4×4 had looks which were not dissimilar to BMW AG's X7 and Cullinan SUVs. The head of Design at FAW Hongqi (Red Flag) is Giles Taylor, who is ex-Rolls-Royce.
FAW told the media at the Frankfurt show that a series production model based on the E115 would go on sale in China during 2020. Despite COVID-19, FAW was able to keep its promise, deliveries commencing in December. Exports are promised, Norway being one stated market.
Called E-HS9 in production form, the model is 5,209 mm long with a 3,110 mm wheelbase. There is standard all-wheel drive, a 92.4 kWh battery pack and the choice of two power outputs: two 160 kW motors or a 160 kW one on the front axle plus 245 kW from the one mounted at the rear. NEDC ranges are 460 and 510 kilometres.
Hongqi claims this to be the first mass-produced model equipped with Qualcomm's C-V2X chipset. There should be a facelift in late 2023 or early 2024 and a successor in 2026/2027.
The proposed LS5, a large SUV, will have a turbocharged 4.0-litre V8 under the bonnet. Production, which has been delayed many times since the first LS5 concept appeared in 2015, is due to commence later this year. It is unclear whether the LS5 will be only for government and military officials, or whether it might also be available to private buyers.
Reports for many other manufacturers' future models are grouped in the OEM product strategy summaries section of just-auto.com.
Future platform intelligence
More detail on past, current and forthcoming models can be found in PLDB, the future vehicles database which is part of GlobalData's Automotive Intelligence Center. That includes Hongqis not mentioned in this report such as the H7, E-HS3 and another sedan codenamed E111.
Silk EV and FAW form electric supercar JV
BYD will be the next OEM in just-auto.com's ongoing future models series.