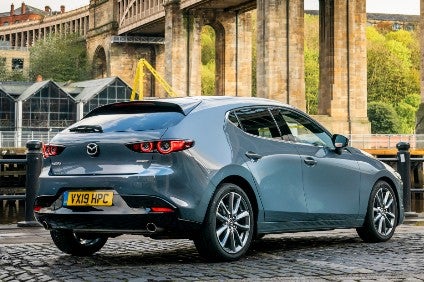 Two things that have always impressed me about recent new Mazdas – superb build quality and paintwork, especially in (GBP790 optional extra) Soul Red Crystal Metallic, and extremely refined diesel engines. In both respects, and many others, the redone 3 did not disappoint.
This is the one that, later this year, will bring us Mazda's industry-leading production compression ignition petrol engine (it still has spark plugs hence it's officially known as the Skyactiv-X with Spark Controlled Compression Ignition or just SPCCI to its friends). That will keep till that media launch but Mazda's UK operation was sufficiently excited about the new motor to provide media attending the launch of the initial cooking 3s – petrol and diesel – some information, brief mentions, the odd video clip and the presence of a University of Bath expert specialised in combustion technology. In a C-segment now littered with well designed, well made, well specified competitors all dripping with convenience and safety kit that would have made a luxury car buyer go 'wow!' just a couple of decades ago, Mazda, a relative minnow in the class, is clearly looking forward to having its new engine as a class USP. I can't wait to see, hear and try it.
For now, though, we must be patient and consider this thorough redesign of a relatively low selling contender in the UK's most popular segment dominated by nameplates such as Focus, Astra, Golf and, oddly given its name, A-Class, nowadays no stranger to the British Top Ten. A surprisingly large proportion of cars on my Middle England suburban street are Mazdas – 2s and 6s – and their owners love them, speaking highly of build quality, reliability and good dealer support (and that's in an adjacent town 30 minutes' drive away). Honda (local dealer) and Toyota (ditto) are also popular in my little slice of the 'urb.
Mazda has completely redesigned the 3, inside and out, with the new body style different enough to persuade a current owner considering an update to splash the cash while not alienating those who think they might get another year or two out of the current chariot. Mazda people talked enough about 'price walks up' of GB1,100-plus across the 18-variant UK range – which mixes five trim levels, one petrol and one diesel engine and manual or automatic transmission – and 'stepped monthly payments' to confirm most private buyers, as with rivals, buy 3s on PCPs (aka balloon leases), enjoying a car never more than two or three years old for a fixed monthly payment. Indeed, the company forecast 70% of buyers will be "retail". On the road prices range from GBP20,370 to GBP27,735. Notable, compared to earlier 3s and some other Mazda models in the EU/UK, where automatic was either not available or restricted to one trim level and engine (to reduce homologation costs), is wide availability – nine variants of the 18 – at GBP1,300 extra.
Fixed specification
Otherwise, the UK arm has kept it simple. There are no factory options for the UK at all, at least to start, bar three metallic paint colours. The engines are either a 122PS two-litre Skyactiv-G petrol with cylinder deactivation or a relatively new to the range, 1.8-litre, 116PS Skyactiv-D diesel engine. This made its debut in the updated CX-3 last year and has a NOx Storage Catalyst (NSC) system which converts nitrous oxide back into nitrogen. The engine also has established Skyactiv diesel technology including High-Precision DE Boost Control, Natural Sound Smoother, and Natural Sound Frequency Control which, the automaker says, "deliver class leading refinement and the smooth power delivery expected of a Mazda diesel". It is not very torquey at low revs so good use of the six-speed gearbox is required but smoothness and refinement are noticeable. It is occasionally possible to hear a faint hint of diesel 'combustion crackle' but this is probably due mostly to the incredibly quiet cabin after Mazda addressed "49 NVH points" with the redesign. Only some tyre roar on (very) coarse chip asphalt surfaces disturbed the interior.
This 3 launches Mazda's M Hybrid 24 volt 'mild' system with both the Skyactiv-G and the coming Skyactiv-X petrol engines. A belt-driven integrated starter generator (ISG) converts the kinetic energy recovered during deceleration into energy and stores it in a 600KJ lithium-ion battery. A DC-DC converter alters the power to the appropriate voltage to supply the car's electrical system. In addition to improved economy, M Hybrid also helps drivability by substituting engine torque for motor torque when the car is starting, accelerating or coming to a stop. Engine speed is adjusted by motor torque during upshifts to deliver a smoother gear change and subconsciously smoother clutch operation by the driver. It's so well integrated it operates seamlessly and imperceptibly.
Transmissions are six-speed manual or a conventional torque converter automatic (yay!), also with six speeds. No currently trendy CVTs (looking at you, Toyota and Nissan) or dual clutch automatics (hello VW, Hyundai, Kia, et al). A choice of five trim levels – SE-L, SE-L Lux, Sport Lux, GT Sport and GT Sport Tech – should see most buyers happy with one of the engine/transmission/trim combos on offer. The aforementioned Skyactiv-X Spark Controlled Compression Ignition engine and a range of saloon (sedan) models arrive later in 2019.
Mazda claims its highest-ever level standard equipment levels such as a windscreen projecting colour head-up display with Traffic Sign Recognition, Radar Cruise Control and LED headlights across the range. Every model in the UK line also has navigation, Apple CarPlay/Android Auto and eight speaker audio system. SE-L Lux variants upwards include a reversing camera, smart keyless entry, heated front seats, and the Sport Lux gains additional chrome detailing, frameless rear view mirror and rear privacy glass. GT Sport adds black leather power seats, heated steering wheel and Bose audio while the range-topping GT Sport Tech has extra active safety equipment, including a 360 degree camera and Driver Attention Alert with interior camera.
Skyactiv architecture, Kodo design
This is the first car based on Mazda's next generation of Skyactiv architecture and the automaker claims it "takes things to the next level" when it comes to handling, ride comfort and refinement. It claims "every element from the seat, body, tyres and suspension" has been developed with "a human centred approach to ensure that Mazda's famous 'Jinba Ittai' sense of oneness between car and driver is more finely balanced than ever before".
We were told designers took "a minimalist approach with every aspect of the cockpit "laid out in perfect horizontal symmetry". Certainly, from the driver and front passenger seats, high-class materials and impressive build quality are evident. When driving, the expected intuitive layout and function of most-needed minor controls, clear instruments (speedo is digital but appears analogue at first glance, alongside conventional analogue displays) and the usual well-weighted clutch and gearshift so really smooth changes are achieved only three or four gear shifts from rest, were appreciated. All models have a seven-inch colour TFT driver instrument display and the latest version of Mazda's MZD-Connect infotainment system now has a larger 8.8-inch central display, improved navigation and a revised multimedia commander control dial, also familiar from previous encounters with this brand and now even easier to learn and use.
This latest "more mature" interpretation of Mazda's much-hyped 'Kodo' design eliminates unnecessary 'character lines' and focuses on curved body panels. The new car looks great in both front and rear three-quarter views but follows the trend to a higher rear door waistline, thicker rear pillars and a smaller back window to the point you think you're looking out through a tank driver's hatch. A far cry from the glassy, 1980s 323s that preceded this car (Mazda Europe has preserved a mint LHD example for its heritage collection). Over 60% of the body is high-tensile steel while use of ultra-high-tensile steel has been increased from 3% in the outgoing model to 30%. The use of ultra-high-tensile steel delivers increased strength in areas crucial for passive safety, while at the same time contributing to weight saving, Mazda said.
Details, details
Burrowing down into the press kit (we were mercifully spared the 200-slide presentation some automakers think they need to share at media events), there are some typically Japanese attention-to-detail gems. The wipers constantly fine-tune operating angle in small adjustments to ensure they clean right to the edge of the glass and rest beneath the bonnet line when inactive, improving visibility and aerodynamics. Washer jets are now attached to the wiper arms to provide improved screen cleaning. Adaptive LED headlights on higher spec versions distribute high beam light in three different patterns depending on vehicle speed while six-stage directional control is linked to the steering angle. Head up display (a really good one including nav instructions) with Traffic Sign Recognition and Radar Cruise Control (non-radar is all but useless on overcrowded UK roads) are standard range-wide. The navigation system has a 3D gyro sensor "with optimised control logic" that calculates car position even with no GPS signal.
The G-Vectoring Control (GVC) system has been updated and the latest 3 introduces G-Vectoring Control Plus (GVC Plus), a claimed world first, which varies engine torque to optimise the vertical load on each wheel to improve handling and comfort while applying the brakes to add direct yaw control. Delivering smooth transitions between yaw, roll and pitch, GVC Plus improves the car's ability to accurately track steering movements and crisply exit corners, also improves stability at speed and reduces driver fatigue by minimising the need for small steering adjustments on undulating surfaces. Cylinder deactivation added to the updated two-litre Skyactiv-G petrol engine improves economy and efficiency, automatically switches between two- and four-cylinder operation depending on driving conditions and shuts down cylinders one and four in light load situations. Intake volume, fuel injection and injection timing are all precisely controlled so deactivation isn't perceptible. So much so we didn't learn about it until told.
'Step change'
Clearly enthusiastic about the redesigned 3's sales prospects, Mazda UK people described it as "a step change" for the brand, "first of a new generation" and also look forward to the four-door sedan. UK distributors seem to be reviving this long-shunned body style (Brits prefer their C-segment cars as hatchbacks) as Toyota is now offering a hybrid Corolla sedan (plus a new Camry next class up). The sedan shares only bonnet (hood) and screen with the hatchback and projected images showed a stylish little brother for the long established, larger Mazda 6. Mazda UK thinks maybe 15% of the 3 mix will be sedans but is cautiously optimistic it will be higher. The upcoming compression ignition engine boosts torque a claimed 30% while reducing fuel consumption 20% – "Mazda 2 economy with MX-5 performance" they say – and you'll also be able to buy an AWD five-door variant with the new engine which, they hope, will account for 20% of sales at a yet to be specified price premium.
Mazda UK wants to have a crack at 'premium' buyers with the new model and sees the competition as the Audi A3, BMW 1-series, Mercedes A-Class and Volvo V40. More realistically, perhaps, the non-premium rivals are VW Golf, Ford Focus, Seat Leon and Honda Civic. UK C-segment sales are 150,000 a year – based on a brief three-variant introduction, I see this 3 easily boosting its share of the cake.