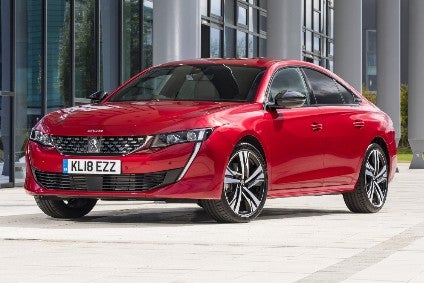 Škoda's experience with the Superb proves that a non-premium brand can succeed in Europe against the might of the C-Class, A4 and 3 Series. With Groupe PSA having taken Citroën out of this segment, albeit temporarily, Peugeot is trying its luck with the 508. So far, results are encouraging.
You almost wonder why the French manufacturers bother with the global D segment. The experiences of Renault, Peugeot and Citroën are mixed at best. There have been many good looking and well engineered cars in the history of all three brands but buyers haven't always responded. Shrinking segments in recent times haven't helped matters either with volume contracting in the French and UK markets especially.
Passat's collapse means a chance for others
Even the mighty Passat has finally started to slide down the German sales charts this year. This market had been the last regional redoubt for buyers who shrugged at similarly sized SUVs. Instead, throughout 2017 and 2018, they kept buying D segment estates and, to a lesser extent saloons or hatchbacks. More recently, Tesla has entered the fray, a large Model 3 order bank now beginning to be fulfilled in LHD European countries.
The rise of the VW Tiguan in Germany and Britain and the 3008 in France has also meant a major drop in sales of the Passat but oddly enough, the Superb and Octavia have stayed strong. As has happened in the USA, while many models have been pulled from the 4.7-5.0m long segment(s), the ones which remain have been doing fairly well.
VAG dominates but PSA finds a niche
Volkswagen AG long ago saw how it could come to dominate sales of big cars in Europe. No longer is there a Mondeo or an Insignia or even a Passat class; rather it's increasingly the Škoda-VW-Audi class. Consider how many models the group has and how well each performs: Octavia hatchback and estate, Superb hatchback and estate, Passat sedan and estate, Arteon hatchback, Audi A4 and Avant.
Groupe PSA observed what Volkswagen Group did and adjusted its strategy accordingly. Which is why the second generation 508 is a five-door fastback rather than a sedan. Should Citroën return to the D/E segment, it will surely be with a four-door car to support rather than challenge the 508.
If you think about it, this new Peugeot isn't trying to compete with the big hitters of the D and E segments. Rather than being trapped in the killing fields where the Octavia, Passat and Superb slaughter all comers, PSA has cleverly gone after the Arteon. Not only in terms of size and body style either, but pricing too. The 508 also has the advantage of offering an estate body style, when the Volkswagen is a hatchback only, although an estate is expected later this year.
Peugeot UK sales – on the rise
It speaks volumes, if you'll pardon the pun, that 1,497 deliveries of the 508 Fastback since its introduction to the UK market late last year can be considered a success. The estate won't be available here until the summer.
Peugeot is having a good 2019, sales holding up as the market has gone into decline. Year to date, the total is 25,242 compared to 24,643 for Q1 of last year. That number now puts the brand ahead of Hyundai (24,777), with Peugeot also ahead of Land Rover (23,840), Škoda (21,992) and SEAT (20,635). There is still a fair-sized gap to Nissan (29,402) but as Kia has just proved (29,954), it is certainly possible to catch and even pass the established big hitters of the British market.
The Europe-wide picture for the 508
JATO's data for March sales across 27 EU nations isn't yet available as I write this. Instead, numbers for the first two months show the Octavia (37,086) as the best selling model line in the 4.6m long and above category. It was a long way ahead of the car in second place, the Mercedes C-Class (24,246).
After the Mercedes came the Passat (16,169), E-Class (16,043), Audi A4 (14,748), Audi A6 (14,225), BMW 5 Series (13,339), Superb (11,309), Volvo S60 & V60 (8,946), Opel/Vauxhall Insignia (7,650), Ford Mondeo (6,725), Volvo S90 & V90 (6,274) and then the 508 (5,225 and up 110.5%). That number also shows the importance of the British market for Peugeot's largest car.
Others which trailed the 508 were the Mazda6 (4,096), Tesla Model 3 (3,724), Renault Talisman (2,472), VW Arteon (2,177), Mercedes CLS (2,035), Mercedes S-Class (1,847), Kia Optima (1,836), Alfa Giulia (1,633) and Audi A7 (1,607). Then there was a drop to well below the 1,500-units mark, that list including the BMW 7 Series (1,173) Jaguar XE (1,076), Audi A8 (981), Jaguar XF (959), Lexus ES (754), Kia Stinger (590), Hyundai i40 (548), Maserati Ghibli (303), Lexus LS (57), Jaguar XJ (69) and Lexus GS (26). I haven't included numbers for Rolls-Royce and one or two other high-priced models plus various cars which do feature in the JATO data but which are out of production: DS 5, Infiniti Q70 and Toyota Avensis.
What might seem like an overwhelming roster of models and numbers in the above paragraphs are included so as to illustrate how strange the European large car market has become. There are some temporary glitches due to WLTP which are partly responsible for cars such as the Passat and Arteon having crashed so spectacularly.
Volkswagen stated recently that it would finally have almost all vehicles approved for sale by the end of April, so even data for March may look quite different from the pecking order above. Nonetheless, the point is to show that premium brands do not necessarily fully control these segments, and that newcomers such as the Peugeot 508 and Tesla Model 3 can make an impact.
Big in France
CCFA's French market registrations data for March gave PSA very good news indeed: the 508 has become segment leader. The Mercedes C-Class ended the quarter with sales of 2,118 units but the Peugeot had an especially strong March, its equivalent being 2,839, a year-on-year gain of 48 per cent. The Renault Talisman fell away to 1,782 units, the Octavia finished the quarter with 1,929 registrations but the Model 3, which wasn't available until February, had a tally of 1,554 cars. The Tesla then is one to watch.
The 508 success formula
What makes the 508 so appealing? First of all it has to be the looks. Peugeot's design team went to a lot of trouble to make this not only a distinctive car but a well proportioned one. The 407 (2004-2010) seemed to be as different from its 406 predecessor (1995-2004) as it could possibly be but that didn't seem to work too well. For that reason, Peugeot went conservative with the first generation 508 (2011-2018) which came after the 407, a model which seemed to have love it or loathe it looks, at least as a saloon. The SW (estate) and Coupé were by contrast much admired.
The distinctive 'lion's claw' slashes on the new model's front and rear ends help to set both hatchback and estate apart from any other cars, with the horizontal line which extends below each headlight emitting white light as a DRL and orange when unlocking or turning a corner. Until you see the elaborate KITT-like performance of the tail lights flickering from side to side, it makes no sense as to why the front DRL illuminate for so many seconds, flashing eight times – it's a synchronised display.
No more noughty presses
The back end of the hatchback is masterfully styled as the fastback styling is convincing enough to cause genuine surprise when the tailgate is raised. Within is a luggage compartment which amazes with its size. There are many other novelties including a warning triangle which is integrated into the boot's wall and a fixed panel which protects luggage from nosey eyes. I miss pressing the zero of the former 508's badge though: the release button is now on the key.
Interior novelties
Back seat space is first class and even better, what at first glance appears to be hard plastic shells ahead of occupants' knees turn out to be soft. The door trims are also covered in pliant plastic, the headliner seems to be of a good quality material and unlike in many low-roof cars it doesn't intrude into headroom meaning you don't have to slouch to see out out of the pillarless windows.
Up front, this is a car like none other in the D or E segments. Some might not like the small steering wheel with its flat top and bottom but I loved it. The touchscreen is also lower than in other cars and that's to the benefit of visibility in what looks from the outside like a genuine four-door coupe´.
i-Cockpit
Below the central screen are seven 'keys' for various functions (Nav, sound system, apps and so on) and then under these are more physical buttons for heating and cooling functions. It all works intuitively although it does take a little while to become familiar with where everything is. Such is the generosity of spaces for stowing things you also begin to wonder why other cars fail to have similar compartments seemingly everywhere.
I can certainly see how people might struggle to love the interiors of other brands' cars after owning a Peugeot, which is surely the intention. The steering wheel of the Citroën Berlingo which I drove immediately after the 508 seemed way too big and even though it's as new as the 508, the layout of the interior looks almost dated even though it clearly isn't.
Pricing – from GBP25,000
In Britain, there are four trim levels: Active, Allure, GT Line and GT, along with a high-spec First Edition. Prices start at GBP25,039 and rise to GBP36,439 (First Edition: GBP37,104 for petrol and GBP37,439 for diesel). There are two diesel engines: a 131hp 1.5-litre and a 2.0-litre which can be ordered in 163hp and 177hp forms. The sole petrol engine also offers a choice of two outputs, these being 181hp and 224hp. Transmissions are six-speed manual or eight-speed Aisin automatic and for the moment all variants are front-wheel drive. That will change once the petrol-electric plug-in hybrid becomes available from the fourth quarter.
Summary
It's easy to see why the 508 has been able to cut through that outdated conversation about big French cars being supposedly inferior to what German makes offer. The top-spec 1.6-litre GT (GBP36,014 before options) might not be the best version though, as it could do with more torque. Power, at 165kW (224hp), is good enough; it's just that the dynamics have been well set up and could so easily cope with greater outputs. Happily, 400Nm is available with the 2.0-litre diesel, an engine I now very much want to try, for its additional hundred Newton metres over the petrol turbo. Bring on the 508 SW.