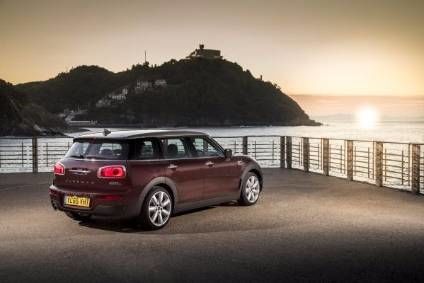 The redesigned Clubman has taken BMW's English brand into new territory where Mini previously dared not tread – would you believe C segment? That'll add fuel to the fire for the numerous 'Bini' haters out there (at least on my Facebook page) who, 14 years on, have still not grasped the idea that Mini is now a brand and not a model description. Now just 2mm shorter than a Volkswagen Golf, the latest Clubman – insiders call it the longest and biggest Mini – is 27cm (almost a foot) longer than the five-door hatchback version on a wheelbase 100mm larger, and 7cm lower with 81 litres more luggage space. And it now has four 'proper' doors. Overall length is 4,253mm, width 1,800mm and height 1,441mm. The wheelbase measures 2,670mm (D segment territory in the 1980s!) while the track is 1,564mm front and 1,565mm rear.
I was a big fan of the old Clubman but it attracted a lot of flak in right hand drive markets for having just one rear side door – opening only after the front door – on the right-hand or 'traffic' side, not ideal for loading or unloading children at the kerb. That was due largely to restraints in the original hatchback design centred around fuel filler placement. The new car has four side doors, all conventionally hinged at the front, and all independently opening, and that makes a huge difference to the practicality of what is really the 'wagon' of the Mini range – the Countryman is the SUV.
With juicily specified demonstrators on the UK press launch in northern Spain straddling the GBP30,000 (US$45,000) mark, the Clubman is not cheap in Cooper D or S form (range prices start just under GBP20,000) and the word 'premium' was mentioned often in official dispatches. The car is among the most "customisable" in the "premium" segment and the latest one has much more of a "premium" feel to it, particularly in terms of interior materials, fit and finish. The dashboard is different from the hatchbacks with changes such as new air vents and other details intended to give a "more grown-up feel" to the cabin.
More practical
While the nose is much like the Mini hatch, and previous Clubman for that matter, the tail now has distinctive horizontal lamps which spill across the barn-style rear loading doors. They have a distinctive LED light pattern but the brake lamps are actually in the rear bumper. The doors can optionally now be opened by waggling a foot under the centre of the rear bumper (a trick pioneered by BMW a few years ago which has now spread across the industry). As those doors open sharply outwards, you get first a warning flash of the rear indicators before the right hand door pops fully open, pushed by a gas strut. Wave foot again, flash, click. And the left side portal opens. Neat when arms are full of shopping, dog or children. The rear seat optionally can be split 40/20/40 to bring another old BMW trick – centre through-load – to Mini and the 360-litre boot has a fake floor for either hiding stuff or expanding capacity. My hatred of tyre repair kits in place of spare wheels is offset by available run-flat tyres. A 60:40 split rear seat is standard while the 40:20:40 option includes a rear arm-rest and two integrated cup holders. This enables the load volume to be increased in stages up to 1,250 litres. A storage package is also available, featuring a variable load compartment floor, additional storage, lashing eyes, attachment nets and a cargo positioning feature which can lock the rear seats to 90 degrees allowing for more cargo space
Other details pointed out on the launch include the shortest overhangs in the segment and that old Mini 'wheel in each corner' trick surely helps account for the go-kart like handling on twisty roads and a satisfied smirk on most drivers' faces. Yet the ride remains compliant and, that phrase from Mini again, "grown-up" though we did hear rather a lot of tyre noise. Satnav, digital radio and Bluetooth are among the standard UK market fittings.
Engines
Four engines are available in the UK from launch in models dubbed Cooper, Cooper D, Cooper S and Cooper SD. CO2 emissions are as low as 109g/km, with fuel economy of up to 68.9mpg. Entry starts with a Mini engine I have yet to try and which was not on the launch menu: an I3 petrol with 'TwinPower' (turbo charging, direct injection, fully variable valve control, variable camshaft control), 1,499cc, 100 kW/136hp at 4,400rpm, 220Nm at 1,250rpm, 0–62mph in 9.1seconds, top speed of 127mph, combined fuel consumption of 55.4 mpg and CO2 emissions of 118 g/km. There are no performance, consumption or emissions penalties for choosing automatic transmission. The lively Cooper S TwinPower we tried is a 1,998 cc I4 developing 141kW/192hp at 5,000rpm, a whopping 280Nm at 1,250rpm (it pulls like a train attached to the new eight-speed Aisin 'Steptronic' automatic making its Mini debut in the Clubman in Cooper S, Cooper D and Cooper SD versions; base models get a six-speeder), 0–62mph in 7.2 seconds (auto: 7.1sec), top speed 142mph, combined consumption 45.6 mpg (48.7mpg auto), CO2 emissions 144g/km (134g/km).
The Cooper D has a 1,955cc I4 diesel where TwinPower means turbocharger with variable turbine geometry and common rail direct injection. This, also a nice, punchy and very refined engine, puts out 110kW/150hp at 4,000 rpm and the 330Nm at 1,750rpm means you can be lazy using the six-speed manual gearbox. Acceleration to 62mph in is 8.6 seconds (automatic: 8.5sec), top speed is 132mph, combined fuel consumption: 68.9mpg and CO2 emissions: 109g/km. The Cooper SD delivers 140 kW/190hp at 4,000 rpm, 400 Nm at 1,750-2,500rpm, accelerates to 62mph in 7.4 seconds, top speed of 140 mph, combined consumption of 62.8mpg (65.7 auto) and CO2 emissions of 119g/km (114g/km auto).
New Mini goodies
Other Mini brand debuts courtesy of this redesigned Clubman include an electric parking brake, full electric seat adjustment and the optional 'Yours' interior styles with backlit door bezels. The so-called Excitement Package is standard range-wide, and features a projection of the brand logo on to the ground beneath the driver's side door mirror when the car is opened and closed, as well as extended interior lighting.
In standard form, both the daytime running light and parking light are generated by additional units integrated into the front apron. The optional fog lamps are also positioned here. LED headlamps are available as an optional extra, surrounded by an LED daylight driving ring. Roof and exterior mirror caps can be finished in a contrasting colour – white, black or new and exclusive to the Clubman, silver – as a no-cost option. Speedometer and rev counter are now located in the instrument cluster on the steering column, as they are on the latest hatchback variants – the big dial in the centre is for infotainment. Toggle switches continue in the roof and lower centre console – a red one serves as the start/stop button. The centre console now includes an armrest with optional integrated telephone compartment available. Electrical adjustment of the driver and front passenger seats, including memory function on the driver's side is a new option for Mini.
Most will be served with Chili
Over 50% of UK Clubman buyers are expected to choose the Chili pack which adds a host of additional extras to the car including cloth/leather upholstery with heated sports seats, comfort access system (such as the foot wave tailgate opener), park distance control, automatic air conditioning, LED headlights and LED fog lights among other features. The Chili pack is priced at GBP2,785 across all models – a 30% saving on ordering the options individually.