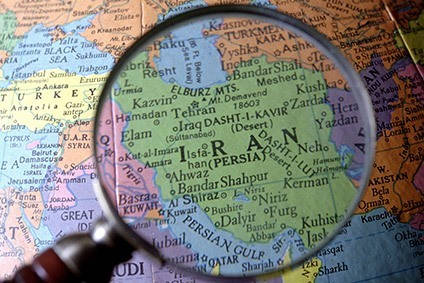 Since the lifting of sanctions on Iran in early 2016 the country's automotive industry has recovered significantly with latest figures compiled by QUBE*, just-auto's research portal, showing that light vehicle production increased by 13.6% in the Iranian year 1396 (equivalent to 21st March 2017-20th March 2018) to 1.51 million units. This is just shy of the country's all-time record of just over 1.6 million recorded in 1390.
While there's been much made of PSA and Renault stepping back into the Iranian industry after the lifting of sanctions, the real international story of the past few years in Iran has been the steady incursion of Chinese brands into the market. In 1396, brands of Chinese origin accounted for 37.5% of the year's 181,000 unit increase in production compared to the 26.3% contribution to growth recorded by French brands, the 19% for indigenous brands, the 11.3% for Korean OEMs and the 5.9% for Japanese brands. A total of 14 Chinese brands were assembled in Iran in 1396. Chief among them were the following:
Chery (Arrizos and Tiggos) with 71,000 made via Modiran a subsidiary of Kerman Khodro
Brilliance with 51,000 made in Iran through SAIPA and its affiliate Pars Khodro
MVM – making a version of the Chery QQ and other Chery models – with 46,000 assembled via a subsidiary of Kerman Khodro called Modiran
Dongfeng with 34,000 made via arrangements with both SAIPA Iran Khodro
JAC with 25,000 assembled through Kerman Khodro
Other brands contributing to the 222,000 vehicles of Chinese origin assembled in Iran in the past Iranian year include Haima, Lifan, Geely and Changan. Perhaps most significant is the fact that BAIC has just signed to produce up to 100,000 of its vehicles a year with local group Diar Khodro.
While the inroads made by the Chinese are significant, production is still dominated by the behemoths Iran Khodro (IKCO) and SAIPA. IKCO made nearly 712,000 light vehicles in the year, with just over 494,000 of French origin (including the Logan derived Tondar range). SAIPA made some 662,000 light vehicles, the majority being its Nasim/Saba small cars. At the behest of the Iranian government, IKCO in recent years has steadily diversified its production away from its Tehran base as the government looks to reduce unemployment in Iran's provincial cities. The latest examples of this policy are the plants at Semnan, operated by IKCO's joint venture Farda Auto, and Sahneh, operated by IKCO Kermanshah. Both plants produce the Peugeot 405-derived Pars.
As of 1396, Iran's light vehicle sector had six manufacturing groups, and as noted, with IKCO and SAIPA dominant. Combined they accounted for 90.7% of production, which was marginally down on their share in 1395 of 91.5%. After IKCO and SAIPA the next largest manufacturer grouping is Kerman, which made just under 114,000 light vehicles in 1396, 15.2% ahead of the prior year.
IKCO's production consists of eight other locations in Iran other than its central operation in Tehran, which made nearly 361,000 out of IKCO's total 712,000 output. In 1396 in order of magnitude the subplants were:
IKCO Khorosan – making 164,000
IKCO Tabriz – making 98,000
IKCO Mazandaran – making 41,000
IKCO Fars – making 22,000
Farda Auto – making just under 10,000
IKCO Kermanshah – just under 9,000
IKCO Diesel – making just 7,000 light vehicles, with much of the company's focus on medium- and heavy-commercial vehicles
AZVICO – fewer than 500 MG vehicles in a joint-venture with SAIC
SAIPA, which is 48% owned by the state, has an approach that is slightly different to IKCO's. As well as its own satellite plants outside of its Tehran base it also has controlling stakes in a number of other automakers. Out of its 662,000 light vehicle output in 1396 it made 227,000 at its Tehran hub. Other contributions to its total were made at the following companies and locations:
Pars Khodro – also Tehran-based and the source of 242,000 vehicles in 1396. SAIPA's held 51% of Pars since 2000
SAIPA Kashan – made nearly 139,000 light vehicles in 1396
Zamyad – a Tehran-based automaker that SAIPA has owned since 1998 made nearly 29,000 light vehicles in 1396
Bonro – the former Parts Industrial Development Foundation (PIDF) plant at Saveh is now part of SAIPA and made just over 24,000 light vehicles in 1396. The plant was established to manufacture Fiat vehicles in the mid-2000s
The Iranian automotive industry may seem somewhat detached from the global automotive industry, but it is not immune from international trends and developments. This is writ large by the Iranian market sharing with international markets an ever-increasing interest in SUVs. Five years ago the segment had just a 1.9% share of output, in the past Iranian year this grew to 9.2%. Compact SUVs contributed nearly 35% of Iran's increase in production, second only to the well-established B-segment (50% share of the market) which contributed 44% of the industry's growth.
Leading the charge in SUV growth were Chinese brands with Dongfeng's H30 Cross foremost in the production totals with nearly 31,000 examples produced by IKCO. Other SUVs significant in the data include: JAC's S5 (produced by Kerman); MVM's X22 (produced by Kerman and a variant of the Chery Tiggo 3); Haima's S7 (produced by IKCO) and Changan's CS35 (produced by SAIPA). The main non-Chinese SUVs produced include the Suzuki Vitara and PSA's 2008 which is also produced by IKCO. Plans were drawn up to produce up to 30,000 of the Peugeot 2008 a year, but production in the past year fell short of target with fewer than 2,000 manufactured.
In summary, the Iranian auto industry's recovery seems well under way. Its manufacturing base is diversifying and no longer so reliant on IKCO and SAIPA branded vehicles to sustain it. This increased consumer choice is a result of both investments from Chinese OEMs and the lifting of sanctions in 2016. However, with President Trump raising questions about the deal that saw the sanctions lifted, it's safe to say that those looking to invest in Iran's resurgent automotive industry will be casting an anxious eye over early morning tweets from a certain Twitter account in Washington.
*The full dataset including brand, nameplate, plant, fuel type and segment is available via our QUBE service
Calendar note – Iranian calendar
The Iranian calendar is a solar calendar currently used in Iran. It is observation-based, rather than rule-based, beginning each year on the vernal equinox (usually 21 March) as precisely determined by astronomical observations from Tehran. The Gregorian calendar year that coincides can be calculated by adding 622, but runs from 21 March – most years – to 20 March the following year. For example, 1396 in the Iranian calendar equals 21 March 2017-21 March 2018. We are currently in the year 1397 in the Iranian calendar.