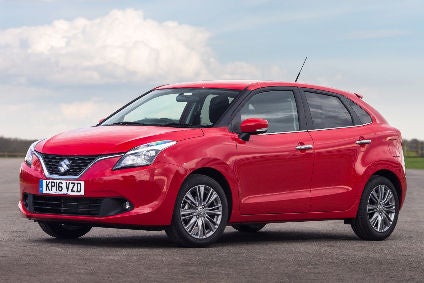 CO2 emissions of 94g/km and official EC consumption numbers of up to 70.6mpg are impressive numbers for a four-metre long five-door diesel hatchback. But Suzuki Europe's newest model, the Baleno, is powered exclusively by petrol engines and those are its numbers.
Key to understanding where this new model fits in is its size. Measuring 3,995mm from end to end, it just manages to slip below a tax threshold in the Indian market. Yes, the Baleno is manufactured by Maruti (Manesar plant) and in its home market, competes with the similarly sized Hyundai i20 and Honda Jazz. Buyers in India have been able to take delivery of this model since October last year but UK sales didn't commence until recently.
Suzuki Motor Europe is hoping to sell 26,000 units of the new hatchback in 2017, of which 3,500 should be in Britain. Next year also sees the debut of a new generation Swift, and that model, like the current one, will be made at Suzuki's Magyar's Esztergom plant in Hungary. Call it a two-pronged attack on the regional B segment. This should mean even better market share than the recent 1.3% (up from 1.2%) which ACEA data show the brand attained over the first half of 2016. That meant a YoY gain of 13% to 103,226 deliveries.
Helped by the first month of Baleno sales, June was especially good for Suzuki Motor Europe, with an 18% rise to 19,069 registrations. Despite Jaguar enjoying a 64% surge (Land Rover was down 3.1%), SME even overtook JLR Europe (18,582). July numbers are yet to be released but who would bet against Suzuki surging further ahead? If such a target exists, Mazda would be the next feather in SME's cap – its total for June was 23,008. And SME's performance further underlines what a long way Honda has still to travel to become relevant in Europe again, with even a 39% YoY improvement still only giving it 14,606 sales in the region. Yes, Suzuki really was almost 15,000 cars ahead of Honda in H1 (103,226 versus 88,242).
The UK remains an especially strong market for the brand, its July numbers rising by 41% to 2,885 cars and SUVs. That was several hundred more deliveries than either Mazda or Jaguar managed, and the year-to-date total is 22,829. A final word on Suzuki's sales figures from one other place. Data from the KBA reveal that mighty Porsche (down 18% to 2,610 vehicles sold) was humbled in Germany last month by Suzuki (up 28% to 2,938). Ouch. Numbers for the year to the end of July were 18,738 and 18,486, and again, it's the Japanese brand in the lead.
Boosterjet or Dualjet?
Let's take a look at the technology in this new model, and specifically, the engines. Buyers can choose from a 1.0-litre three-cylinder Boosterjet or a 1.2-litre four-cylinder Dualjet SHVS, the latter featuring a mild hybrid system. The Boosterjet is turbocharged and produces 111PS plus 170Nm of torque, while the 1.2 Dualjet SHVS (Smart Hybrid Vehicle by Suzuki) has outputs of 90PS and 120Nm.
The mild hybrid incorporates an integrated, belt-driven starter-generator (ISG) which assists the engine during take off and acceleration, whilst also generating electricity through regenerative braking. The ISG, which Suzuki says weighs only 6.2kg, has outputs of 2.3kW and 50Nm. It is this engine which has the especially impressive numbers for economy and CO2 noted at the start of this article (94g/km CO2 and 70.6mpg Combined).
One of the few obviously cheap things about the Baleno is a five-, not six-speed manual gearbox. While the ratios are well spread, the car does get buzzy on motorways, which is a real shame as both engines are otherwise hard to fault. If you prefer automatic transmission, that's an option but only for the 1.0-litre engine and you also lose 10Nm: torque is 160Nm.
The range
As you'd expect of Suzuki there's a generous level of standard equipment for all cars with the exception of base trim. The GBP12,999 SZ-T 1.0-litre Boosterjet model grade misses out on electric rear windows, telescopic steering wheel adjustment and automatic air conditioning. It also does without the chrome-effect door handles and indicators in the mirrors. The other variants are a far better equipped SZ5 1.0 manual (GBP13,999), SZ5 six-speed automatic (GBP15,349) or the manual-only SZ5 1.2-litre SHVS manual mild hybrid. The boot has a capacity of 320 litres, which addresses one of the slightly smaller Swift's main weakpoints, its luggage capacity.
New lightweight platform
The Baleno's introduction was also the debut of a new platform which was developed with the lightest possible weight in mind, according to Suzuki. There is a lot of 980MPa and 780MPa grade steel sheeting in its construction, and the body in white weighs just 196kg. This is said to make it the lightest in the B segment hatchback class with weights ranging 935-980kg dependent on trim level/engine/transmission.
Driving the car you can tell it's a new generation model as the flimsiness you could sometimes sense in older Suzukis is missing. Doors shut solidly, the rear-view mirror never judders and panel gaps are very tight. The fact that there is said to an RS sports model on the way shows that the chassis has been engineered to cope with more power and stiffer springs.
Manufacturing expansion
The Baleno will be one of the models which will be manufactured at Suzuki's own Hansalpur plant near Mehsana on the outskirts of Ahmedabad in the Indian state of Gujarat. This new facility will start with one line but two further lines are planned. Unusually, this factory does not involve Maruti but it will supply cars to Maruti Suzuki. The first production models are due off the line during the first quarter of 2017. The initial capacity is 150,000 vehicles per annum but this may rise to 750,000 over time.
The little Baleno is clearly a bit of a big deal for its maker and it's easy to see why Suzuki sees lots of conquest business ahead.