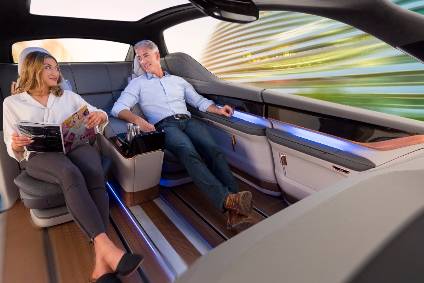 Retracting steering wheels, reconfigurable dashboards, Star Trek swivelling seats and entire windscreens that transform into head-up displays are a common vision of the autonomous car. When an SAE Level 5 car becomes a social (or empty) space that neither needs nor wants your help, what can we really expect? Continuing just-auto/QUBE's research snapshots, this one reviews some interior concepts and innovations to find the pulse of the self-driving car interior.
Level up: Some definitions
The Audi A8 sedan will be equipped with SAE Level 3 technology, marking a 'tipping point' on the road toward full autonomy.
The Society of Automotive Engineers (SAE) defines six levels of driving automation, spanning from 'no automation' (you do all the work, level zero) to 'full automation' (sit back and be chauffeured, level 5). A key distinction is between level 2 and 3. An L2 car has an automated system that can conduct some parts of the driving task, while you continue to monitor the driving environment and perform the rest of the driving task. Whereas an automated system of an L3 car can both conduct some parts of the driving task and monitor the driving environment in some situations, though you must be ready to take back control when the automated system requests. Last July, Audi stated that its next A8 sedan will be the first production vehicle to be equipped with L3 technology, marking a 'tipping point' on the road toward full autonomy.
Flexible, moveable and safe seating
New forms of mobility such as autonomous driving, car sharing and electromobility were hot topics at the most recent IAA show in Frankfurt. Adient, the world's largest supplier of car seating, used the event to showcase its solutions for tomorrow's interiors, including its AI18 innovation demonstrator.
Following Adient's presentation of the AI17 concept for luxury and premium segment autonomous vehicles earlier this year, the AI18 focuses on urban, electrically-powered and autonomously-driven vehicles. "Our AI18 demonstrates our vision of future mobility and the impact to consumers in 2030 and beyond," Richard Chung, Vice President, Innovation and Design, Advanced Product Development, Adient, told just-auto on the sidelines of the IAA.
"This concept presents solutions for five key usage scenarios for autonomous vehicles, namely Lounge, Communication, Cargo, Baby Plus, and Family. In Communication mode, for example, you can rotate the two front seats to face the rear seat occupants. If you are not driving then you do not have to sit right up against the steering wheel or the instrument panel. Instead, you may sit back and use a digital display table to control the functions of the vehicle.
"We will have seats that incorporate a blood pressure sensor."
"Since the driver will become a rider, they may wish to use the additional time for more useful things. For instance, they could have a consultation with their doctor. We have seats that incorporate a heartbeat and breathing sensors and we will even incorporate a blood pressure sensor. As you travel, your doctor can monitor your health and vision thereby saving you more time."
Adient says that the AI18 seating concept flexibly adapts to the requirements of different users and is especially well-suited to car sharing. In working on ways in which to keep the autonomous vehicle occupants safe in the event of an accident, the supplier has formed a technology partnership with Autoliv. "Our expectation is that through our collaboration [with Autoliv]," said Chung, "we will find very innovative solutions for Levels 3 to 5 autonomous vehicles. But the message is that given the car seat will rotate to very different positions, the complexity of the safety becomes exponentially greater."
Creating the next living space
Established in 2015, Yanfeng Automotive Interiors (YFAI) is a joint venture between Yanfeng, one of the largest automotive suppliers in China, and Adient. At its IAA booth adjacent to Adient, YFAI unveiled their eXperience in Motion (XiM18) vehicle interior concept. "This is about the next living space," Han Hendriks, Chief Technology Officer for YFAI, told just-auto. "We all agree that autonomy is one of the most significant drivers along with shared mobility, connectivity, and the new mobility OEMs in California. These all challenge us in new ways, on top of electric vehicles and lightweight." The supplier's XiM18 concept incorporates more than 30 new products and process solutions – and its XiM17 shown earlier this year at the Detroit motor show included more than 25 innovations – for the next generation of electric and autonomous cars. Hendriks believes that 60-70% of those innovations in processes and products are production ready today and would do "very well in a non-autonomous, non-shared combustion vehicle."
Brose also used the IAA to reveal its vision of tomorrow's cabin. When the human driver selects autopilot, the steering wheel disappears into the dash and the pedals are raised to serve as footrests. A table folds out from the centre console and the screen on the dash moves directly in front of the driver. As we have seen elsewhere, various modes of work, rest and play may be duly configured.
Morphing interfaces
Faurecia's showcase at the most recent IAA included its 'Cockpit of the Future'. The technologies included a swivelling seat structure that ensures occupant safety in all positions, developed with ZF. Also on display was a morphing instrument panel. When the driver switches from driving to autonomous mode, the display and instrument panel surface smoothly adapt their position and shape.
Meanwhile, Continental's vision of the autonomous cockpit includes morphing interfaces that can reveal or hide displays as required. "This creates a completely flexible, all-encompassing cockpit," explained Dr Frank Rabe, head of Continental's Instrumentation & Driver HMI business unit.
Surface sensitivity
"Every surface in the car interior will become smart or intelligent."
YFAI predicts those traditional plastic parts will disappear in favour of smart parts and interior surfaces. "Every surface in the car interior will become smart or intelligent," said Hendriks. "Plastics can still have a place, but they will be intelligent plastics." YFAI is working with Kostal to develop smart surfaces in 3D glass.
A vision of tomorrow's empathetic car
Using our eyes, voice and hand gestures, it is possible to eliminate buttons from an infotainment system. In giving us her vision of this touch-free user experience, Rose Ryntz, Vice President, Advanced Development & Material Engineering, International Automotive Components (IAC) Group, told just-auto: "Currently, we see the first distraction free interfaces that allow the driver and passengers to control system functions of the car. These existing scenarios for autonomous level 1, 2 and 3 see hand gestures as technical solutions for these features. But they are cumbersome and not accurate as well as forcing the person to double check by looking at the information to reaffirm and therefore distracting them. An alternative could be functions that are voice activated, i.e. Alexa, Cortana or Siri. One step further, AI will soon free the 'driver' from controlling the vehicle and will instead detect and implement instantly like a radar by recognition and machine learning."
With almost all new cars expected to offer voice recognition by 2022, future systems may evolve to interpret tone of voice and facial expressions, maintains Ford. Tomorrow's systems – equipped with clever microphones and in-car cameras – could learn to identify which songs we like to hear when we are stressed, for example, or when we prefer to simply enjoy silence. Interior lighting could also complement our mood.
"An empathetic car might tell you a joke to cheer you up or offer advice when you need it."
"We're well on the road to developing the empathetic car which might tell you a joke to cheer you up, offer advice when you need it, remind you of birthdays and keep you alert on a long drive," said Fatima Vital, senior director, Marketing Automotive, Nuance Communications, which helped Ford develop voice recognition of the SYNC in-car connectivity system.
"Voice commands like 'I'm hungry' to find a restaurant and 'I need coffee' have already brought SYNC 3 into personal assistant territory," explains Mareike Sauer, voice control engineer, Connectivity Application Team, Ford of Europe. "For the next step, drivers will not only be able to use their native tongue, spoken in their own accent, but also use their own wording, for more natural speech."
Are we nearly there?
There are, of course, a number of ways in which the fully autonomous car will change the look and feel of the cabin. "For an interior designer, the change towards full autonomous cars is extremely interesting because it opens up so many opportunities to create innovative seat layout, features and new design ideas," Robin Page, vice president interior design, Volvo Cars, told just-auto. "The main game changer is that we free up time for our customers to do other things such as relax, work or be entertained and with that comes the opportunity to create interiors that have never even been considered before."
"The advent of autonomous cars is a very interesting time for us designers," Gregory Guillaume, Kia Motors' chief designer for Europe told just-auto. "The way we use the car and interact with it changes profoundly, and with it, novel design solutions and interior architecture will evolve. Incidentally, this change somehow resets the whole industry to a similar starting point: past achievements and package advantages don't necessarily provide an upper hand anymore. While autonomous driving certainly will provide a lot of comfort in congested cities and motorways, the reasons that make individual car ownership and driving today so appealing to many buyers will not disappear. I believe that only the designs that will still stir emotions and, at the same time, offer the best usability will prevail."
On balance, driverless cars will open up a huge array of possibilities for designers. Global automakers and their suppliers, however, are still trying to predict what exactly consumers will want and translate that into their best course of action. Whatever shape the autonomous car takes, we can be sure it will be a massive game changer.