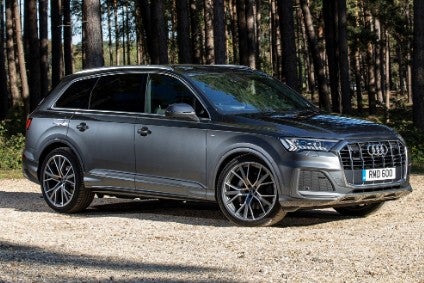 Even if it's the fuel that keeps falling from favour, Europe's biggest car maker continues to invest in diesel. Audi's latest Q7 can now be ordered with the Volkswagen Group's 3.0-litre V6, newly compliant with Euro 6d and with more power to boot.
The 3.0-litre TDI has been a mainstay of the second generation Q7's array of engine options since 2015. There was a rise of 10 kW in output last year, coinciding with a new version developed for the EC-mandate which has been enforced since 1 January. Torque stays at 600 Nm (443 lb ft) but power is now 210 kW (286 PS). Drive goes to both axles via an eight-speed torque converter automatic transmission which Audi calls a tiptronic.
This big SUV has been much-tweaked with all manner of additional variants over the last almost six years. Mostly that's been powertrain improvements plus a couple of PHEV options, one of which, a diesel, has since been phased out.
In Britain, the range starts with a 170 kW (231 PS) 2,967 cc diesel. That's the 45 TDI, with the alternatives being the 210 kW (286 PS) 50 TDI or a 55 TFSI. The last of these is a turbocharged 2.0-litre four-cylinder petrol which produces 250 kW (340 PS). Between the single petrol, two diesels and the 4.0-litre petrol V8 SQ7 is a plug-in hybrid. This, the TFSI e, packs a 250 kW (381 PS) punch, thanks to a 3.0-litre petrol V6.
Not having driven a Q7 for a couple of years, it was good to become reacquainted. There was a facelift in 2019 which included an octagonal grille with its six upright slats, new wheels (19, 20, 21 or 22 inches), fresh bumpers and a few other revisions.
The 50 TDI has to be worth the additional outlay over the 45 diesel, particularly if you take into account the monster torque curve which lets you amble along at low engine revs, to the benefit of economy. The other bonus is a lack of noise, the V6 being unstretched even at the UK motorway speed limit.
The example that Audi provided for this review was fitted with all-wheel steering, something that's standard for the Vorsprung model grade. The best way to sum up what it does is to simply state that it's hard to detect. This trim level also gets lowered suspension and somehow that combined with rear-steer seems to help with the sensation of this being a smaller vehicle when driven with some verve. Even with what are low profile tyres on giant rims, the ride is supple most of the time too.
Who buys big SUVs?
The large SUV segment here in Britain has been battered by not only COVID-19 but a general move away from larger capacity engines. Still, there's clearly a demand for the Audi and its contemporaries such as the Volvo XC90, Range Rover Sport, BMW X5 and Mercedes GLE-Class, particularly from those who might be taking the plunge into the booming caravan market for the first time. As with motorhomes, sales of these have been going through the roof this year as staycations rather than holidays abroad become the norm this summer. And for anyone choosing the Q7 as a luxury tow-car, the more powerful of the two diesels has got to be the way to go.
Performance and economy
The 50 TDI has a top speed of 150 mph (241 km/h), with 0-62 mph taking 6.1 seconds. This from a vehicle that's 5,063 mm long and which weighs 2,200 kg unladen in as-tested form. In that context, the official WLTP Combined average of 32-34 mpg impresses.
Ultra-high-strength parts made of hot-shaped steel form the backbone of the occupant cell, while aluminium castings, extruded sections and panels are used in the front and rear ends as well as the superstructure. These account for 41 per cent of the body structure. Other parts made entirely of aluminium are the doors, the front wings, bonnet and the tailgate. You don't get a spare tyre with the Q7 50 TDI – every little helps with weight saving – while an 85-litre fuel tank costs extra (GBP125).
Built in Bratislava
This must be one of the most profitable vehicles for Audi if you think about it. The platform's development's costs have been well and truly repaid since the Q7 debuted MLB Evo for the Volkswagen Group in mid-2015, most of the powertrains are shared across multiple brands and it's the same story when it comes to manufacturing. Every example of the big Audi is built in low-cost Slovakia. The same plant makes the Q8 and VW Touareg (and two mini-cars, the VW up! and SEAT Mii).
Rumour has it that Bratislava might not be where a supposed extended wheelbase version will be made though. This is said to be on the way for the Chinese market. If the theoretical Q7 L does indeed surface, word is it will be built in Ningbo. We may have to wait until the third generation Q7 arrives for an extended wheelbase derivative. That's due to happen by 2023.
Worldwide sales – the top markets
In contrast to the USA, where Audi sold 7,714 Q7s in the first quarter, neither the UK nor any other country in Europe is a major one for the model. Nonetheless, across our region there's a decent business case for this big SUV and its Q8 brother, particularly now that the plug-in hybrid option is there. China is another large market plus certain other places in Asia-Pacific, as well as Russia and multiple countries in the Middle East. All of that adds up to very good business indeed.
Summary
Audi has done a very good job of keeping the Q7 competitive in its size class, the TFSI e being a very good move as a way of competing with the now multiple large PHEVs. Having said that, the 50 TDI has its own appeal for different reasons, the tremendous torque of that 3.0-litre diesel being why it's the Q7 I'd choose.
The Audi Q7 50 TDI quattro tiptronic costs GBP83,215 in as-tested Vorsprung trim before on-the-road costs of GBP2,020 (GBP1,305 for road fund licence; GBP660 for delivery, registration plates and half a tank of fuel; and GBP55 first registration fee).