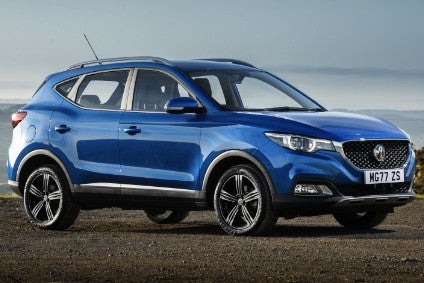 MG Motor has found a sweet spot in the UK market for compact SUVs, slotting its best seller, the 4.3m long ZS, between the traditional 4.0-4.2m B and 4.4-4.7m C segments. Thanks to low pricing and a seven-year warranty, buyers are responding, also making MG the market's fastest rising brand.
Britain remains the sole regional market for MG although next year should see SAIC returning the marque to other European countries. Sales here are small, the brand holding just 0.35 per cent of the market, yet that underplays the true picture. This time last year, market share was only 0.16 percent. The numbers translate to 6,695 registrations for the year to the end of September compared to 3,321 in the equivalent period of 2017.
September was an especially good month, MG sales pushing into four figures, reaching 1,010. The importer's target for the full year, 8,800 cars, looks like it's going to be exceeded. There's even a chance that 10,000 might be reached. Even if the five-figure mark is missed, the result will be well in excess of last year's total, 4,441.
A year ago, the ZS had only just started arriving in British dealerships to supplement the GS, which is MG Motor UK's only other SUV. That model, which is almost 20cm longer than the ZS, is also more expensive and for various reasons, hasn't been as well accepted in the market.
The 4,314mm long ZS is offered in Britain with two petrol engines. While the 106PS and 141Nm 1.5-litre four-cylinder has a standard five-speed manual gearbox, buyers wanting automatic transmission must instead choose the 111PS and 160Nm turbocharged three-cylinder 1.0-litre. What the ZS really needs is a diesel option but that's not going to happen. Instead, SAIC should seriously consider offering the 166PS and 250Nm turbocharged 1.5-litre from the GS.
The 999cc three-cylinder car I tried out was reasonably economical – an average of 37mpg – yet it would surely have used less fuel had the throttle not had to be pressed hard to get the vehicle up to speed when joining motorways or even when leaving junctions. Zero to 62mph takes 12.4 seconds with the turbo six-speed automatic, although the 1.5 manual gets there in 10.9.
Drive goes only to the front tyres, whichever engine the buyer chooses. Despite that, traction is good, even at this time of year when many roads can be plastered in damp leaves or mud. MG says the ZS was modified for the UK market, the dynamics having been altered for our roads. That includes switchable steering assistance, which on the top two of three available trim levels, lets you choose between Urban, Normal and Dynamic modes. Such systems are often tried by owners and then ignored yet this one shouldn't be: Dynamic doesn't quite transform the ZS yet it certainly improves accuracy compared to the too-light Urban setting.
The base 'Explore' 1.5 manual might cost only GBP12,495 but for that, you don't get air conditioning or a DAB radio. Better to pay up for either the Excite (GBP13,995) or Exclusive (GBP15,495) which come far better equipped. MG Motor UK positions the two 1.0-litre turbo versions – there is no Explore model grade – above the 1.5, the manual costing GBP15,995 and the automatic GBP17,495.
SAIC says the ZS will remain in production until 2022, which probably means we're now about a year away from a facelift. That might be when the first of what should be an eventual two electrified variants – an EV – will go on sale. A plug-in hybrid is also expected although that might be only for China.
Summary
For the money, the ZS represents strong value, has a big boot (448 litres) and generous space for all occupants, and with the seven-year warranty, residuals ought to be good too. Both available engines could do with more power though.