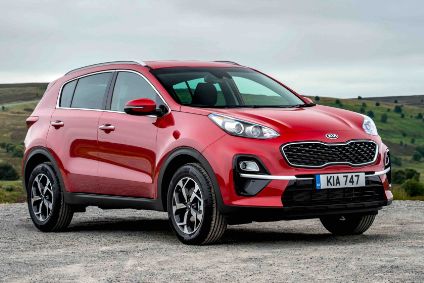 Even with so much competition, let alone the rise of hybrids, PHEVs and EVs in its segment, the Sportage remains a big seller for Kia in the UK. The 2021 model year range includes three engines, two transmissions and four trim lines.
The QL series Sportage, available in European markets since early 2016, not only still looks fresh but is a regular in the British top-ten best sellers list. September was no exception, this model's year-to-date registrations (17,615) being more than enough to keep KIA in eighth place overall (57,155), comfortably ahead of Nissan (53,905) and Land Rover (44,840) in ninth and tenth positions. Hyundai's total stands at only 37,847.
Almost 110,000 Sportages were sold across Europe in 2019, representing some 20% of the brand's volume. More than 34,500 of those were exported to the UK from the Žilina plant which builds the model for the EU-EFTA-UK region. The CEED and Xceed, two other big selling models, are also produced in Slovakia. The concentration of the brand's success is becoming more broadly spread though, with the Niro and Stonic both performing extremely well this year.
Acea is yet to announce data for September and the first three quarters yet even while we wait for those numbers, Kia has already hit a record 3.6% of the European market. In the year to the end of August 2019, the equivalent was 3.1%. The brand says that during the first eight months of 2020, its electrified models made up 26.4% of the 259,442 vehicles sold. That includes EVs, plug-in hybrid, hybrids and mild hybrids.
Others, such as Ford might be phasing out diesels from ever more models – Dagenham stopped building the 1.5-litre engine for the Fiesta in September – but others such as Kia are finding that some buyers still want them. The Sportage offers a newly updated version of HMG's U3 series 1,598 cc 48 V mild hybrid, power being the same 100 kW (136 PS) and 320 Nm as before but the engine itself is now compliant with Euro 6d norms.
The CO2 average starts at 144g/km but in as-tested GT-Line S specification, that rises to 161g/km due in large part to the added weight of all-wheel drive. Less expensive trim levels can also mean a six-speed manual transmission rather than the seven-speed DCT. The Combined fuel consumption is 46.3 mpg which as so often happens, was a little worse than I found it could be. An owner could expect close to 50 mpg without trying too hard.
The mild hybrid system works in the same way as most others, by using a belt-driven starter-generator run off the crankshaft. Energy stored in a lithium-ion battery is used for acceleration so as to lower the load on the engine and therefore emissions. Regeneration takes place automatically when braking or coasting, the starter-generator recovering energy from the crankshaft. That recharges the 0.44 kWh battery, which is positioned below the boot floor.
There could be times when the engine's 320 Nm isn't quite enough for some buyers – perhaps those who want to tow a caravan – as some rivals offer a 2.0-litre diesel alternative. There's nothing wrong with the smoothness of the 1.6 CRDi though and the same applies to the seven-speed dual clutch transmission. There's also remarkably little turbo lag or clatter when cold.
The usual high standard specification which has become a Kia trademark features in the latest Sportage. A reversing camera is fitted to all versions, even the base spec ones, and there are parking sensors for '3', 'GT-Line' and 'GT-Line S' model grades.
Every Sportage also has electrically folding mirrors, heated front and outer rear seats, Apple CarPlay and Android Auto, front and rear phone charging sockets, cruise control with a speed limiter, along with Lane Keeping Assist System (LKAS), High Beam Assist (HBA) and Speed Limit Information Function (SLIF). The GT-Line S adds Forward Collision-Avoidance Assist (FCA) with pedestrian detection, plus Blind-Spot Collision Warning (BCW).
After a record breaking 97,323 registrations in 2019 (of which more than a third were the Sportage), Kia will be disappointed that it won't hit 100,000 units in 2020. All things considered, this year is far from being a disaster, as the more than 57,000 cars sold during the first three quarters noted above underlines.
It's impressive how strong Sportage sales continue to be in the face of intense competition from many younger and sometimes cheaper alternatives. Kia Motors Corporation does a very good job of keeping the looks fresh and fitting new powertrains when needed, such as the diesel mild hybrid. Combine that with the UK importer's competitive pricing, the seven-year warranty, a good dealer network spread plus the all-important strong to ever improving brand image results and the results are clear to see.
From QL to NQ5
The next Sportage for Europe is said to be a year away, although the new model will supposedly be revealed in South Korea in six months' time. Production for Kia's home market comes first, with build in Slovakia to follow probably from September.
There should also be a hybrid and a plug-in hybrid, while for the first time, China is believed to be getting a special extended version which is codenamed NQ5C. The digit, incidentally, refers to this being the fifth generation Sportage.
The as-tested Kia Sportage GT-Line S 1.6 CRDi 48 V DCT has a top speed of 112 mph, reaches 62 mph in 11.6 seconds and costs from GBP 30,510.