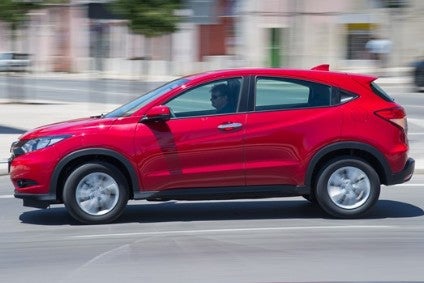 If small crossovers and SUVs were bought for reasons of sensibility over all other factors, the Honda HR-V would be the number one model in Europe. As it is, this B-SUV has a hard time standing out in what is a properly crowded segment. With Volkswagen finally set to push its way in during 2018, the little Honda will be in danger of being prised further from view.
Over the first eight months of 2017, sales across EU and EFTA markets slipped to 94,403 units. That was a drop of 12.4 per cent compared to 2016 and Honda's share of regional registrations has even dipped below one per cent. At 0.9 per cent, it's the same as Land Rover's, although the English brand delivered 99,574 vehicles during the same period.
The Jazz was easily Honda UK's best seller in the first half of 2017.
At some point, Honda Motor Europe will see its long-in-decline sales begin to rise. That point may well be coming soon. The cars and SUVs are more than good enough by most competitive parameters, the HR-V being a case in point.
Honda Motor Europe was able to provide data by market only for the year ending 30 June. In the UK, March was obviously a big month, with 1,418 units registered, while in June, that fell to 434 cars.
Honda UK admits that this market isn't a big one for the vehicle, and there is a lot of effort going into promoting the new-shape Civic. It's telling though, that the image of this being the 'Jazz brand' persists, especially when that little hatchback was easily Honda's best seller in the first half of 2017.
Globally, this small SUV is a big deal for Honda. Take the USA. There, where it's a rival for the segment-leading Jeep Renegade, plus the Subaru Crosstrek, Chevy Trax and Kia Soul, the HR-V has just set a new September record. That has extended its 2017 month-on-month winning streak to nine months with a gain of 17.1 per cent on sales last month of 8,024 units.
The Renegade might be top dog in the sub-compact SUV segment, but we can see from American Honda's data just what the impact of last month's big rise in sales was. Year to date, the HR-V has reached 74,034 deliveries (Subaru Crosstrek: 76,814; Jeep Renegade: 80,209), a YoY change of +27.1 per cent. Soon, it will not only overtake the Odyssey minivan (75,309) but sail past its own 2016 total of 82,041 units. The 100,000 mark may even be within reach by year-end.
In China, it's a similar and even more impressive story, given that Honda has to please two JV partners. The Vezel, manufactured by the Guangqi Honda joint venture, was the first to appear locally. This was announced at April 2014's Beijing motor show. Four months later, Dongfeng Honda revealed a modified version, the Honda XR-V, at the Chengdu motor show.
Chinese market sales have greatly helped to push Honda into overall second place behind Volkswagen.
The Vezel went on sale in China in October 2014, with the XR-V following the next month. Sales have been brisk, helping greatly to push Honda into overall second place behind Volkswagen. For the year to the end of August (September numbers by brand and model are not yet available), total volume was 895,657, a YoY gain of 43 per cent. Toyota, in third place, was more than 120,000 vehicles adrift.
The XR-V is Honda's best seller in the world's largest market, its registrations reaching 121,441 during the first eight months, followed by the Civic (114,379), CR-V (97,747) and Vezel (94,692). Combined, the XR-V and Vezel would be the number two SUV, more successful than even the VW Tiguan (210,166) if not China's long-running number one SUV, Great Wall's Haval H6 (302,545). (Source: CAAM, excludes imports)
In Japan, where B-SUVs are only now starting to take off, thanks to the impact made by the C-HR (92,446 for the calendar year to the end of August), the Toyota leads, but the Vezel is the number two model in the segment, its registrations being 47,891 in the same period. (Sources: JAMA, JADA & JAIA)
Another major market, Brazil, which has been staging an impressive comeback in recent times, is one more success story for the little Honda. Overall sales rose by 24.9 per cent year-on-year in September to 193,580, lifting the market to 1,573,562 for the year to the end of September. Honda is in eighth position behind Toyota and a long way ahead of Jeep and Nissan, which round out the top ten. The HR-V is now the brand's best seller, with 34,926 examples registered between 1 January and 30 September. This is enough to place it 400 units ahead of the Jeep Compass, making the Honda Brazil's number one SUV. (source: Fenabrave)
Manufacturing
The HR-V, XR-V and Vezel are built in multiple plants, the main ones being in Mexico and China.
The HR-V, XR-V and Vezel are built in multiple locations, the main ones being in Mexico and China. The HR-V for Europe and North America comes from Mexico and there are two plants there building the model. Originally, production was only at Celaya but build was added at El Salto (Guadalajara). The capacity came from shifting CR-V production out of that factory and across the border to the US (Greensburg, Indiana).
Cars for Japan are manufactured at Yorii-machi in Saitama prefecture just north of Tokyo.
As for China, Dongfeng Honda makes its XR-V at the Wuhan #1 plant in Hubei, while GAC and Honda manufacture their Vezel at ZengCheng #1 in Guangzhou.
Honda has also been assembling the HR-V in Argentina since April 2015. The company imports around 15,000 kits annually, with some 70 per cent of these CKD vehicles exported. Honda's plant is in Campana, a city located about 80km/50 miles north of Buenos Aires. Another plant in the Americas, Sumaré, also makes the HR-V with almost all production retained for the Brazilian market.
Impressions
The way the 'Magic' rear seats fold so quickly and with a minimum of effort could be a lesson to several other car makers.
Although it's a relatively rare sight on British roads, the HR-V deserves to be more successful here. The way the 'Magic' rear seats fold so quickly and with a minimum of effort could be a lesson to several other car makers.
Likewise, the design team has clearly looked at how a family would use a small SUV such as this one, and placed storage compartments, USB sockets, 9V sockets and drinks holders seemingly everywhere. The loading sill for the boot isn't too high, and the luggage space is a generous 470 litres, extending to 1,533 with the seats folded.
You've a choice of two engines. The 1.6-litre diesel would be my preference, due to its superior torque of 300Nm versus just 155Nm for the 1.5-litre petrol. Obviously, there is less power with the diesel, but there isn't much in it: 120PS versus 130PS. Top speeds are identical at 119mph and the diesel is faster to 62mph: 10.0 seconds versus the 10.2 which it takes the petrol engined HR-V to get there. The only downside of the diesel is that you can't have an automatic gearbox. This transmission, which is exclusive to the 1.5 petrol, is a CVT.
Prices range from GBP19,090 to GBP26,630 and CO2 averages are between 104 and 134g/km.
What's next?
The next news for the 2XP series HR-V should be a facelift in 2018, with the next generation due to be revealed and in production during 2020. We're likely to see Honda's 1.0-litre petrol turbo engine step in to replace the 1.6 at the time of the mid-cycle refresh plus a revised diesel, which should be the same one which will be fitted to the Civic from early 2018. The architecture for the future HR-V will almost certainly be closely linked to the basis of the latest Civic (model code: 2SV), CR-V (2HX) and Accord (3GA), although being a B segment platform, it might well have unique, lower-cost elements to its construction. An electrified variant seems highly likely too.