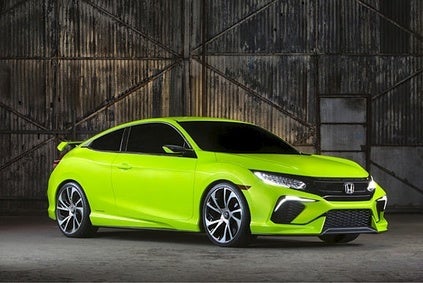 Is it far fetched to suggest that Honda might eventually withdraw from the European market? That would be the worst possible scenario but where is the vision to prevent such a humiliation for this company, a global giant which keeps failing in EU markets?
How bad is it right now for Honda Motor Europe? The UK is the brand's largest market and sales are down by 5.1% to just 31,200 cars for the year to the end of July. That's not even 5,000 units ahead of Mazda, a brand with zero plants versus Honda's two if you include Gebze in Turkey, it's 3,000 fewer than what Mini has sold, it's only just ahead of SEAT (30,517) and roughly half the total registrations for Toyota (60,196). These numbers are from the SMMT.
At a Europe-wide level (ACEA data for EU+EFTA markets), things are so bad it's almost difficult to take in: Honda lags Mitsubishi. And not by a few hundred cars, but by over 4,000 for the year to date. Its total registrations for 1 January to 31 July number just 66,018. Mercedes-Benz sold 69,560 cars in July alone. Volvo has sold over 100,000 more cars this year than Honda, while Nissan has sold roughly a quarter of a million more than the maker of the Civic and CR-V.
The astonishing thing is that there is no sense of an emergency. We hear nothing about HQ parachuting in fresh management, no major address being given to dealer groups across the region, no media releases stating that the division is aware of the situation and here is its plan of action. Instead, we see another facelift for the Civic now on sale, the much delayed Jazz soon to hit the market only months ahead of a mid-life restyle that's expected in Japan by year-end, a lot of hype about the low volume Civic Type-R, and ditto for the NSX. Arguably, aside from a small capacity diesel for the Jazz, the right product range is finally in place. But what makes any of these cars stand out, let alone command near premium pricing levels as Mazdas now do? Honda will be condemned to being a maker of cars that need to be heavily discounted if it doesn't do something soon.
The situation is best summarised by a campaign which went live today. Like previous Honda Europe TV ads, Ignition will likely win awards. And sell few cars. We all recall Cog. A few of us even remember which model it advertised. The Accord. Which was a flop in Europe, even though it was an excellent car. Needing a low CO2 engine, instead it got lumped with a beautifully engineered but too-big 2.2-litre diesel which has since been discontinued.
Honda Europe either refuses to see how serious the situation is and is trying to muddle through, or else it is waiting for the parent company to act. And this is clearly the fault of HQ in Japan.
Let us be clear: if things continue as they are, Honda is destined to become a niche brand in Europe. It's already that in the region's largest market. German sales stand at just 11,373 for the year to date, which is less than half what smart has sold. Japan's second largest OEM dropped another place in July to 26th, behind Land Rover. Nissan (12th place) has sold 41,521 in the same period and Toyota, which is ranked 13th, has sold 37,945 cars.
Japan needs to be brave and make a decision about a few things. One is HUM (Swindon plant). It should either be closed, or have its second line reinstated building a C-segment Acura crossover. Such a model is under development, based on the same architecture as the imminent next Civic. Neither of these options would be easy, and each would involve taking a big financial hit. Yet compared to the money that has already been lost from years of building the wrong vehicles there, and the money which will continue to be lost for years to come, one of these options must surely be the way forward.
There is no reason to believe that Acura wouldn't be an eventual success. In a year's time, Infiniti could well be doing serious volume with the Q30 and QX30. Nissan is being brave; bravery that comes from having seen off Toyota in Europe. Emboldened by now regularly outselling TME, Nissan Europe can see that Lexus' current success is probably not sustainable. No diesels, no B-crossover, no C segment estate, an aged CT 200h and overall rising sales due mainly to one model, the NX. Nissan knows that executives in Japan are dictating Lexus' European strategy – the same mistake that Honda has been making for years and years: "First we gave you lots of money to develop a 2.2-litre diesel and a special Accord, including an estate. Then we gave you more money for a special 1.6-litre diesel engine and a Civic estate. You did not deliver profits. So, you must wait for new cars, other regions come first. Successful regions. And, you had your chance with unique products. But you failed".
Honda's future in Europe seems to be defined by an outdated way of thinking as demonstrated by the hypothetical quote above, allied to a me-too and muddle-through philosophy. Where is the vision? Where is the innovation? Where are similarities to what the company has done and continues to do in the US, in Japan, in China? HME needs a blockbuster product like the Qashqai or the Juke or the Evoque but HQ in Japan won't give HME the funds and the independence it needs to allow its talented people to create such a vehicle.
Look at what tiny Mazda has done by inventing a term that no-one can define, but which clearly works. The SKYACTIV badge on the boot of its cars, constant new models and facelifts, short life cycles for core vehicles, excellent CO2 averages, slick marketing and a consistent, edgy look for exteriors and interiors have added up to surging sales. TME and Honda Europe need to study Nissan and Mazda closely, but, they needed to do this years ago. Neither Mazda nor Nissan feels the need to have an agency come up with an arty ad which promotes….what exactly, the agency's left-field thinking abilities?
The IAA will soon take place in Frankfurt and that should be a big opportunity for Honda. If it showed a truly beautiful concept, or even a hydrogen car that looked stunning (and when is ANY manufacturer going to launch an attractive fuel cell model?), it could steal the show from the Germans. Or how about a new diesel engine with a buzz word to better TDI or SKYACTIV? Unless something radical such as this is pulled out of the hat soon, the brand is likely headed towards an eventual exit from Europe. The losses from selling beautifully engineered but so-so styled and marketed ('Earth Dreams' anyone?) will mount and mount.
Where are the cars with fun, clever features? To be fair, the Jazz and Civic's so-called Magic Seats already exist but people just don't know about them: when did you last see an online or short TV spot advertising their genius? Sure, it's nice to show that Honda makes ATVs and lawn mowers but could you imagine Mercedes-Benz linking the C-Class, its best seller in Britain, to its heavy trucks or smart cars or its white vans?
What Honda really needs is to stop believing its own hype about the 'success' of exporting soon to be old-shape five-door Civics to the US and Japan. The Type-R sits awkwardly in American Honda's line-up as the moment it arrives there later this year it will be part of the old-shape range.
So forget the tiny numbers of cars to be exported to countries outside Europe and start afresh with new products. Why not jump into a gap in the market for fun and eccentric but clever cars. Skoda is sort of there already but it doesn't have the enormous advantage of being an independent firm that can do as it pleases.
How did Honda quietly muscle its way past Suzuki and Nissan to become Japan's number two brand in passenger vehicles? It innovated. The N Concept Kei-class mini vehicles are cute, incredibly spacious, super-economical and cheap to build. Crucially, in a country where car fashions change at the speed of a Shinkansen, multiple derivatives have been added at regular intervals during the almost three years since the original model went on sale. And yes, there really is one called N-Box Slash: it's part of a model range that's Japan's number two best seller so far this year. Officially, the Toyota Aqua (Prius c in certain overseas markets) is the country's number one model, with sales of 138,951, with the Honda N-Box trailing it, with 118,864 registrations. But add the N-WGN and N-One and you have a total of 195,797 units. Not that long ago, this brand was a minor player in 660cc vehicles. It's almost as if Daihatsu and Suzuki never saw it coming.
Or look at minivans: where is Honda Europe's equivalent of the Waku Waku tailgate? It doesn't matter if it really is an innovation or not, even though in this case it clearly is. The significance of what the marketing department decided to name Waku Waku is this: it shouts that this is a company where the engineers are not only allowed to have a passion for cars but that this is encouraged. Such men and women want to design vehicles for people even when the market dictates that certain models are usually boring and boxy. Design which is acceptable, not exciting.
In Japan, Honda doesn't do boring, and in Europe, it's trying not to, anymore, as witnessed by the creation of the Civic Type-R. But there is a long, long way to go and the firm's core models lack any kind of sparkle. What's distinctive about the new-to-Europe Jazz, for example?
What is most needed are bespoke models for Europe. Toyota eventually saw that, but it might be mistakenly losing that belief right now due to the only average performance of the Auris. Will the facelifted Avensis make much of an impact in its segment? No, it won't. A new model was needed but one suspects Japan wouldn't authorise the spending needed for that. Or else the Avensis had unfortunate timing and a truly new model has to wait until TNGA (Toyota New Generation Architecture) is ready. Nissan Europe overtook TME by creating vehicles which were nothing like the norm. It started thinking as an outsider does. That's where the Qashqai came from, and the Juke too.
Compared to TME, Nissan Europe has a small range of models. The thinking is to allow resources to be targeted at the segments with the greatest potential – there are no imports of cars to challenge TME's niche vehicles: GT86, Prius, Prius PHEV, Prius+, Land Cruiser and Land Cruiser V8. The GT-R is an exception but its job is twofold: to push the upper point of pricing for Nissan vehicles, and to add a sports image for a brand which, let's be honest, in Europe, doesn't really have an image at all. People don't buy Nissans, they buy a Juke or a Qashqai and to a lesser extend, a Note or a Micra. Pulsar? Leaf? Hmm, not so much. But that's an Analysis for another day.
Another problem for Honda's European operations is that the firm is just too successful elsewhere in the world – the interest of HQ and the big spending goes where there is a strong track record of success. Look at Japan, the US, even Brazil where it's a small brand but things are improving due to….having cars which stand out. And now look at India. The local division got its way with HQ in Japan – it made the business case for a bespoke diesel engine with a capacity of 1.5 litres rather than being made to adapt the existing, too-big, too advanced 1.6 manufactured in and for Europe.
Honda sold 6,676 units of the locally built Jazz in India last month, which was enough to get into the top ten and even ahead of the brand's own City and Amaze models. The Jazz only went on sale in the second week of July. Just imagine what the numbers for August will be.
Honda is now India's number three brand behind Maruti Suzuki and Hyundai. Its year to date sales of 120,969 place it in front of Mahindra by more than 4,000 units and way, way ahead of Toyota, Tata, Ford, Volkswagen, Chevrolet and Renault. Take a minute to absorb the order of those top ten brands. Honda is selling more than four times as many cars as TMC, Volkswagen, General Motors and Ford. One day, this will be the world's largest market. Honda sees that and has acted early to build up brand loyalty.
What has India got to do with Europe? A lot in fact. As has happened in Brazil and Russia, old technology cars are fading fast and the likes of GM, Ford, FCA and Volkswagen either don't see this, or are waiting as long as they can before putting new tech models in local production. Last month, as the new Hyundai Creta took off, the Ford EcoSport, which was designed for Brazil and adapted for India, crashed down the sales charts. Like Ford, Honda cannot win in Europe with cars which work best in other markets – unlike the new Hyundai, the EcoSport has a heavy side-hinged tailgate and an interior which says 'you didn't pay so you don't get a lot'. The same principle applies to the Jazz. It was clearly not designed for Europeans – one look at its diesel-less engine spec sheet tells you that, as does how long it took for imports of the model to arrive in the region.
Despite it being somewhat less than competitive against even the aged Ford Fiesta and VW Polo, the addition of the Jazz (and the new-to-Europe HR-V) will help this brand in what has become a deeply troubled region for it.
In many ways, these cars having some modest success is the worst possible outcome. If that happens, then Japan will probably allow the European division to keep on muddling through. There will be some sighs of relief as each month Nissan and Toyota sell in far higher volumes but the gap will close slightly and people will convince themselves that a few fresh products and some improvements in brand recognition metrics have fixed the former problems.
Imagine where Honda Europe will be by decade-end – the equivalent of the beautiful and brainy girl who failed to see that there are younger, brighter challengers turning up all the time. By then it will be too late. No-one will be looking at her. No-one will be asking her out. And her parents will be saying to themselves, "we just don't understand what went wrong".