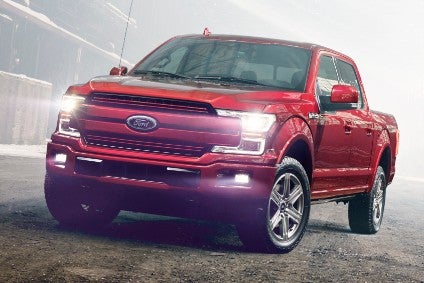 Following on from a look at what Ford Motor Company is believed to be planning for Lincoln, the second chapter of a three-part series turned to future Ford cars and minivans. The final instalment below concerns the blue oval brand's next generation of SUVs and pick-up trucks. Each feature includes details of autonomous, hybrid, PHEV, EV and/or hydrogen fuel cell models.
Small SUVs
The second generation of the EcoSport (ECHO sport) is a small, Fiesta-based SUV which is gradually becoming an ever more important model worldwide. It had its global debut in pre-production form at the New Delhi auto expo in January 2012. The vehicle is built in Brazil, China, India, Thailand and Russia. It was developed at Ford's Camaçari Engineering Center in Brazil's Bahia state. Production would also take place in Romania from October 2017, Ford announced in March 2016. The model had its global debut in production form at the Beijing motor show in April 2012.
Just ahead of November 2016's LA auto show, where it displayed a world premiere facelifted model, Ford finally announced that the EcoSport would be offered in the US and Canada for the first time (it has been available in Mexico for some years now). Ford will use its Indian plant as the source of production.
Depending on the market, up to six engines are available: 1.0-litre EcoBoost (direct injection and turbocharged, and pronounced 'EEK-oh') three-cylinder petrol, 1.5-litre petrol, 2.0-litre petrol and 1.5-litre TDCi (diesel). The Brazilian market model originally came as standard with a 1.6-litre flexfuel engine, while the model for Mexico has the 145hp 2.0-litre engine. In June (2017), Ford do Brasil announced a new 1.5-litre three-cylinder flexfuel engine, codenamed Dragon. It is manufactured in India.
Ford of Europe revealed the model for this region at the Geneva motor show in March 2013. Depending on the country, Ford of Europe offers the EcoSport with the choice of the 1.0 EcoBoost and 1.5-litre petrol engines, as well as the 1.5-litre diesel.
The Changan-Ford JV's China-built model was launched in March 2013. Its motor show premiere was at AutoShanghai, a month later. This JV was renamed 'CAF'.
Ford Thailand pre-launched its locally-made EcoSport at the Bangkok motor show in March 2013. Production at the Ford Thailand Manufacturing (FTM) facility in Rayong commenced in January 2014. This is a separate facility from the AutoAlliance plant though both are in Rayong.
In May 2013, the Ford-Sollers joint venture revealed plans to build the EcoSport in Russia. Ford 1.6-litre petrol engines would also be made at the JV's Elabuga plant in Tatarstan from December 2015, the partners added in their May 2013 announcement. In October 2013, Ford issued a statement naming Naberezhnye Chelny as the build location for Russia's EcoSport. Both 1.6- and 2.0-litre petrol engines would be available for the local market's model, Ford stated.
An updated EcoSport for Europe premiered at the Geneva motor show in March 2015. As well as the addition of an S derivative, the main changes were the deletion of the spare wheel on the tailgate and a revised interior. These changes were in response to criticisms that the vehicle was too noisy, that the side-hinged tailgate was too heavy to open on a slope and the dashboard's plastics were too hard. The suspension was also retuned, more sound deadening was added and engines became Euro 6 compliant.
The facelifted model which debuted at the 2016 LA auto show went on sale globally from early 2017. The car will be new for the US and Canada's 2018 model year, with imports from India to commence in early 2018. In those markets, engine choice will be between 1.0- and 2.0-litre petrol units. Ford is expected to be able to sell around 60,000 EcoSports in the US during its first calendar year. Production at all the various global plants should continue until 2019.
The future EcoSport Energi is not yet confirmed but it is likely to be the small electric SUV which Ford announced in January. According to the company's statement, production would commence at the Flat Rock assembly plant in Michigan during 2020. As the third generation EcoSport is due for release in 2019, this would make sense. This model will have a range of up to 300 miles according to the US system of measurement, and the vehicle will be available in Europe and Asia too.
The third generation EcoSport is expected to become available from the second half of 2019. The main production locations should again be Brazil, China, India, Romania and Thailand, with assembly in Russia. It might also be manufactured in the USA, with exports from there to Mexico and Canada.
Compact SUVs
C430, also known as CX430, is to be an additional crossover, mainly for Ford of Europe. Essentially, it is being developed as a VW T-Roc and Nissan Qashqai rival. Production is due to commence in 2019 and the architecture should be the same as that of the fourth generation Focus. It will be smaller than the Escape/Kuga.
The latest generation of the Escape went on sale in the US in June 2012, while the near-identical Kuga began to reach dealers across Europe from November 2012. Months before these launches, the Changan Ford joint venture, now CAF but formerly CFMA (Changan Ford Mazda), announced at the Beijing motor show in April 2012 that it would build its own variant. The local name is Yihu, and the model went on sale across China beginning in January 2013.
A facelifted Escape premiered at the the LA auto show in November 2015 with an equivalent Kuga premiering at the Geneva show four months later. North America's 2016 model year Escape, gained new engines as well as the facelift: these are 1.5- and 2.0-litre EcoBoost petrol units and each has stop-start. China's facelifted Kuga premiered locally at the Beijing motor show in April 2016. Ford of Europe began selling a facelifted Kuga in October 2016. Ford Australia changed the name of its model from Kuga to Escape as it began selling the facelifted model in early 2017.
The next generation Kuga/Escape/Yihu, Ford's current global C-SUV/Compact SUV, is expected to become larger and slot in just below the Edge replacement. The third model is due to be launched first in North America (Escape: end of 2018), China (Yihu: 2019) to be followed by Europe (Kuga: 2019). All will use the platform of the fourth generation Ford Focus. Ford is expected to offer an Escape Energi too. It should be a plug-in hybrid.
The new model should become larger and may also be available in seven-seat form. This will be for two reasons: to take on the seven-seat Honda CR-V in North America, and to give Ford direct rivals for the Nissan Rogue/X-Trail and slightly smaller Qashqai/Rogue Sport. Presently, it has only the Escape/Kuga and Nissan's two-model strategy is far more successful, worldwide.
Mid-size SUVs
CD539, the second generation Edge, is a five-door SUV similar in size to the Jeep Grand Cherokee. It entered production in Ontario during the second quarter of 2015 for North America's 2015 model year. It has the same CD4 platform as the Fusion. Other rivals in North America and/or other regions are the Nissan Murano, Toyota Highlander/Kluger, Hyundai Santa Fe, VW Tiguan Allspace and Renault Koleos.
In November 2014, it was announced that a special seven-seat Edge would be manufactured in China by CFA and sold through Changan Ford dealerships. The car premiered at a special event in Guangzhou on the eve of the city's motor show's media preview day. Ford's 2.7-litre V6 EcoBoost engine is available in China's Edge. The car is made at the Hangzhou plant which Changan Ford opened in March 2015. Sales commenced in August 2015.
The standard length Edge went on sale first in North America. This was followed by Europe, South America and Asia Pacific. There is right-hand drive too, for the UK and Ireland. Ford of Europe sells the Edge with two versions of the 2.0-litre Duratorq TDCi diesel. These produce 180PS/400Nm or 210PS/450Nm. Despite its size, Ford of Europe's Edge has just five seats, unlike some rivals such as the Hyundai Santa Fe and the 5+2-seater Land Rover Discovery Sport.
The diesels are not available in North America. Instead, there are three petrol engines. A 245hp 2.0 four-cylinder EcoBoost is standard for the Edge in the US, and the SUV is also offered with Ford's 2.7- and 3.5-litre V6 gasoline engines.
Ford Australia will begin importing the Edge in 2018 as the effective replacement for the locally built and similarly sized but now out of production Territory. As Toyota Australia owns the rights to the Edge name it is expected to be sold as the Ford Equator. It will be sourced from Canada and the line-up will include a seven-seat format as standard or possibly optional.
A facelift for the Edge is due in 2019 for North America's 2020 model year although it might be brought forward to late in CY2018. North America will gain the option of the seven-seat format which Chinese buyers can already have as part of 2019 model year changes.
According to the terms of an agreement which Ford of Canada made with Unifor (the union which represents the workers at its Ontario vehicle and engine plants) in November 2016, Oakville will remain the main export plant for the Edge. CDX706, the third generation model, is due to be built from 2021. However, the agreement with Unifor only lasts until 2020. Ford will therefore have to decide on what if any spending it will undertake at the Oakville Assembly and Essex Powertrain sites before 2020. It seems increasingly likely that the company plans to cease making vehicles and engines in Canada. That being the case, Edge 3 will probably be manufactured in the USA or Mexico as well as in China.
The replacement for the Everest (Endeavour in some markets) was developed by Ford Australia. It was revealed to the media as a prototype at a special event in Sydney in August 2013. The production model then premiered at an event in China in November 2013. It is based upon the T6-series Ford Ranger/Mazda BT-50 pick-ups and is 4,892mm long.
The model is also built by the Ford JMC joint venture and sold there as the Everest. Chinese production commenced in August 2015. This body-on-frame SUV is also available in Australia, New Zealand, India, South Africa and markets across the ASEAN region. Depending on the country, up to three engines are available: 2.0-litre four-cylinder EcoBoost (petrol), 2.2-litre four-cylinder Duratorq (diesel) or 3.2-litre five-cylinder Duratorq.
A unique (restyled) version of the Endeavour/Everest for North American markets will be manufactured at Ford's Dearborn/Michigan Assembly (Wayne) plant from 2020. It will revive the Bronco model name, Ford confirmed in January 2017. The Ford Ranger will also be built at Michigan Assembly. Dana has already announced itself as the supplier of AdvanTEK solid axles for the US-built Ranger and Bronco. These will be manufactured at the same Toledo plant in Ohio as the axles supplied to FCA US for the JL series Jeep Wrangler. These trucks will take the place of the Ford Focus at Wayne. Production of that car ends in mid-2018 and the plant will then have a refit. Ranger build is due to commence in late 2018, Ford announced in June 2017.
India's locally assembled Endeavour had its debut at February 2016's Delhi auto expo. Production is from CKD kits which Ford puts together at its Chennai plant.
In April 2016, Ford announced that it would begin building the Everest at its Silverton plant in South Africa from the third quarter of the year.
There should be a facelift for the Everest/Endeavour in 2019 and a successor model in 2023. This should have an update of the current model's separate chassis platform.
Large Crossover & SUVs
The current generation Explorer was new for North America's 2011 model year. Unlike its body-on-frame predecessor, it uses a unibody architecture. As it uses the basic platform of the first generation Volvo S80 from the 1990s, the U502 Explorer is able to be built on the same line at the Torrence Avenue plant on Chicago's South Side as another model which shares its basic modules: the Ford Taurus.
The Explorer comes with a 290hp 3.5-litre V6 ('Ti-VCT') as standard in North American markets, with the four-cylinder EcoBoost an extra cost option. There is no V8. A six-speed automatic is the sole transmission for all vehicles. The turbocharged 3.5-litre Explorer Sport was new for North America's 2013 model year, having made its global debut at the New York auto show in April 2012.
The Explorer, which can seat seven occupants in three rows, was the world's first vehicle to have inflatable seatbelts for rear occupants. These are available for second row-seat occupants and are supplied by Key Safety Systems. The Lexus LFA was fitted with Takata-supplied inflatable belts but that car had no rear seats.
Production began in December 2010, with sales in North America following later that month. A facelifted Explorer premiered at November 2014's LA auto show and went on sale in 2015. As well as the styling update, Ford's 2.3-litre EcoBoost four-cylinder engine was new and replaced the 2.0-litre EcoBoost.
In October 2011, Ford and its Russian partner, Sollers, named the Explorer as the first model to be built at the latter's plant in the Russian republic of Tatarstan. Full production commenced in April 2013.
A Sport Appearance Package was part of the changes for North America's 2017 model year Explorer range. For the 2018 model year, Ford has given the Explorer a second facelift. The 2018 Explorer's public debut was at April's New York auto show. No further changes are expected.
The Explorer replacement is expected to use the same CD4 architecture as the Fusion. The D-segment/Mid Size sedan was the first model to use this platform. An additional model for Lincoln might well be launched some months ahead of its Ford twin-under-the-skin. The 2020 Explorer, which should be on sale from 2019, may well have aluminium door skins, tailgate and hood.
Ford is expected to offer an Explorer Energi too, which should be a plug-in hybrid although there is a chance that it could be fully electric or perhaps an EV might come later in the lifecycle.
Larger than the Explorer is the Flex.This is a small-volume crossover which has never lived up to expectations. It was first seen at the New York motor show in April 2007 so is now getting towards the end of its production run at Ford of Canada's Oakville plant. The Lincoln MKT is the same vehicle but with a different body. As the Flex has not sold as well as Ford had hoped, it is not likely to be directly replaced.
What Ford will build at its Ontario factory between the end of Flex and MKT production and the arrival of the next Edge SUV is a mystery. This naturally has led to the suspicion that Oakville is to be closed rather than retooled.
Even bigger than the Flex but in this case, SUVs rather than a crossover, are the new generation Expedition and extended length Expedition MAX. These were world premieres at the Chicago auto show in February. There is seating for up to eight, a biturbo 3.5-litre EcoBoost V6 plus Ford and General Motors' ten-speed automatic transmission. The Expedition and MAX have aluminium/aluminum panels attached to a steel platform. Ford claims that the weight saving compared to the outgoing vehicles can be as much as 300 pounds. It isn't just the alloy panels which help the 2018 Explorer to weigh less than its predecessor, despite being larger. There is less glass thanks to a higher waistline.
The new model is four inches longer, while the MAX has been stretched by an inch compared to the 2017 Expedition EL. Both are lower, but wider.
Production will commence at Louisville Truck in Kentucky during September. Build of the former models ceased in June.
The replacements for the Lincoln Navigator and L share much with the Expedition and Expedition MAX.
An Expedition Hybrid is expected to be added to the line-up for the 2020 model year. The lifecycle of the this model series will likely be eight or nine years, with the first facelift due in 2022.
Mid-size pick-up
The second generation Ford Ranger and its Mazda BT-50 twin had their global debuts at the Sydney motor show in October 2010, with build starting in mid-2011. These pick-ups introduced the T6 architecture, which was developed by Ford Australia.
The Ranger would be built in Thailand, South Africa and Argentina, Ford stated at the vehicle's launch. Regular, Super and Double bodystyles are offered and depending on the market, up to three different engines: 2.2-litre four-cylinder diesel, 2.5-litre four-cylinder gasoline or 3.2-litre five-cylinder diesel. Five- and six-speed manual gearboxes feature, as does a six-speed automatic.
Ford of Europe gave the current Ranger its regional debut at the Geneva motor show in March 2011. Ford South Africa revealed plans in June 2011 for build of up to 110,000 units a year of the Ranger at its Silverton plant near Pretoria. South African build started in September 2011. Silverton also supplies the truck to European markets.
FTM, which is Ford of Thailand's own plant as opposed to the AutoAlliance facility, though both are located in Rayong, added Ranger production in October 2016.
The next Ranger should use an evolution of the body-on-frame T6 architecture and again be built in Thailand, Argentina and South Africa. US production, at Michigan Assembly (Wayne) was confirmed by Ford in January 2017. The closely related Ford Bronco, an SUV, will be built at this small city southwest of Detroit. Michigan Assembly occupies two square miles of the tiny six-square-mile city of Wayne.
Dana has already announced itself as the supplier of AdvanTEK solid axles for the US-built Ranger and Bronco. These will be manufactured at the same Toledo plant in Ohio as the axles supplied to FCA US for the JL series Jeep Wrangler.
Unlike the existing model, the future Ranger won't be a joint venture with Mazda, following the July 2016 announcement by the Japanese company that it will instead have its next generation pick-up supplied by Isuzu.
The potential for a Raptor variant in Australia – the Ranger is the best selling Ford in that country – is understood to have persuaded Ford Motor Company to make such a vehicle part of the next Ranger line-up. The Raptor is expected to be powered by a biturbo V6. It will be premium priced just as the F-150 Raptor is in North America and elsewhere.
Large pick-ups
P552, pictured above, is about to go on sale in facelifted form. This is the first major update for the latest F-150, which was new for the 2015 model year. Five primary trims were originally available in the US: XL, XLT, Lariat, Platinum and King Ranch.
Aluminium is used for the body-in-white, pickup bed and most exterior panels, but the frame is steel. Ford claims 27kg was saved in the frame and an average 320kg in the vehicle overall, compared to the previous F-150. The frame is sourced from Metalsa S.A. de C.V. The Mexican firm purchased Dana Corporation's structural products business in 2010. The F-150's frame is made at Metalsa's Elizabethtown plant in Kentucky.
The F-150 uses Alcoa's Micromill technology. Novelis is another supplier to Ford for both the F-150 and (2017 model year onwards) Super Duty trucks.
The strategy of going after a lightweight construction is in contrast to that adopted by GM, which launched steel-bodied replacements for its Chevy Silverado and GMC Sierra from mid-2013.
There were four engine choices at launch in late 2014: a then-new 325hp 2.7-litre EcoBoost V6 with standard start-stop, a 283hp 3.5-litre V6 with twin independent variable camshaft timing, a 3.5-litre EcoBoost V6 and a 5.0-litre Ti-VCT V8. F-150s equipped with EcoBoost engines have standard Active Grille Shutters. These stay open when extra engine cooling is needed, such as during low-speed stop-and-go driving or while working in hot weather. They automatically close to reduce aerodynamic drag at cruising speed.
In January 2015, Ford announced that stop-start would become standard on all F-150 EcoBoost engines for the 2017 model year. That meant it was new for variants with the 3.5-litre V6.
In March 2014, Ford stated that the 2.7 EcoBoost would be made at Lima Engine Plant, alongside the 3.5-litre and 3.7-litre Duratec V6 engines. The latter two are fitted to multiple Ford vehicles including Edge and Explorer utilities, as well as the Lincoln MKX crossover, MKT utility and MKZ sedan.
Dearborn is the lead plant for the F-150, and was retooled ahead of the new truck's introduction. Kansas City also builds the truck, but production there did not commence until March 2015. As at that time, Dearborn was also building three shifts of the F-150.
A May 2014 media release noted the following innovations for the 2015 F-150: segment-exclusive LED spotlights found on the side mirrors, innovative remote tailgate release and smart trailer tow features that make towing easier. Other features never offered before on a Ford pickup include 360-degree camera view, integrated loading ramps stowed in the pickup bed, 400-watt power outlets inside the cab and LED headlights. The 2015 F-150 began to reach US dealers in December 2014.
The 2016MY F-150 was announced in June 2015. The main news was the replacement of the former Sync with MyFord Touch by the newer SYNC 3 infotainment system and the addition of a pricey Limited model grade. The option of CNG and propane powered trucks was also new for the 2016 model year, these having been announced in December 2015.
The 2017 model year F-150 was announced in May 2016. The main news was the second generation 3.5-litre EcoBoost V6 and a ten-speed automatic gearbox.
There is a facelift for the 2018 model year, the latest range having its public debut at the Detroit auto show in January 2017. These trucks go on sale from October. A diesel F-150 is also new for the 2018 model year. This is the company's 3.0-litre V6 which is manufactured in England at the Dagenham plant. It is the same unit which is supplied to Jaguar Land Rover for certain of that company's US market models. The F-150 'Power Stroke' diesel will not be available until the northern hemisphere summer of 2018.
One further change for the 2018 model year is a 3.3-litre V6 base engine. This is the only engine not to be paired to Ford and General Motors' co-developed ten-speed automatic gearbox, which is another update for MY2018. The 282hp 3.3 comes with a six-speed auto and replaces the 3.5-litre V6 (same power output). The main way to tell the facelifted trucks from the rear is 'F-150' tattooed onto the tailgate and from the front, the grille now has two bars instead of three. There are also new headlights and bumpers.
The 2018 F-150 engine line-up is as follows:
3.3-litre Duratec V6
2.7-litre EcoBoost biturbo V6
3.5-litre EcoBoost biturbo V6
3.0-litre Power Stroke biturbo V6 diesel
5.0-litre Ti-VCT V8
Ford is expected to add a four-cylinder EcoBoost gasoline engine for the 2019 model year.
The Raptor is a high-priced, high-margin F-150 variant. The current model was introduced at the 2015 Detroit auto show. It is six inches wider than other F-150s. Unlike the previous Raptor, it isn't powered by a 411hp 6.2-litre V8 but instead, by a more powerful 3.5-litre EcoBoost V6. There is also a Raptor SuperCrew. This one has four full-sized doors. Expect a facelift for the Raptor in the coming months, for the 2018 model year, and a third generation F-150 Raptor to become available during CY2022.
The price of gasoline might be historically low but Ford is clever enough to have learned from history. If and when a new fuel spike happens, the company will be ready, should dealers be able to persuade buyers of the F-150 that a gasoline-electric powertrain is the answer to expensive gasoline.
The F-150 Hybrid will be available by 2020 and sold in North America and the Middle East, Ford Motor Company told the media in January. The big pick-up will be built at Dearborn Truck in Michigan, and the vehicle will "offer powerful towing and payload capacity and operate as a mobile generator". A future hybrid F-150 was first hinted at following the August 2011 announcement that Toyota and Ford would collaborate on such powertrains for some of their future light truck models. This alliance was then dissolved in July 2013.
The hybrid will have a short life cycle, with the next F-150 for the 2023 model year. This series should have a re-engineered and lighter frame.
What must surely be Ford Motor Company's most profitable model series was last replaced for the 2017 model year. P558, which is the code for the latest F Series Super Duty range of trucks, comprises the F-250, F-350, F-450 and F-550. All variants use an even stronger version of the T3 platform as introduced by the F-150. Production at Kentucky Truck (Louisville) commenced in August 2016, eleven months after the series' public premiere at the 2015 State Fair of Texas. Avon Lake, which is officially known as Ohio Assembly, produces F-350, F-450 and F-550 Super Duty chassis cab configurations.
The larger F-650 and F-750 are commercial trucks. A new range of these models was announced by Ford in August 2015. Production shifted out of Mexico and into Avon Park, a Cleveland area plant in Ohio. Previous generations had been built by Blue Diamond, a Ford and Navistar International joint venture based in Escobedo. The F-650 and F-750 are usually sold as cab-and-chassis skeletons and customised for specialist use as ambulances, beverage delivery trucks and oilfield vehicles. Both gasoline and diesel derivatives are available.
Future model plan reports for other manufacturers can be viewed in the OEM product strategy summaries section of just-auto.com.
Future product program intelligence
Additional data on vehicle lifetime and future product plans, such as code names, production plants and expected annual build, are available in PLDB from QUBE.
The next manufacturer for just-auto's in-depth examination of current and future models will be Suzuki Motor Corporation.