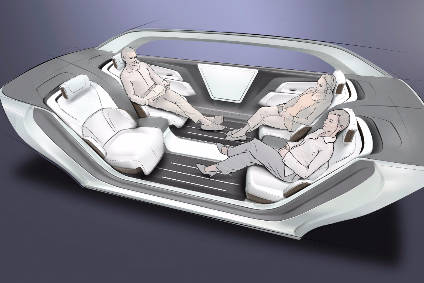 Mobileye and Delphi stepped forward this week to announce their plans to jointly develop a complete SAE Level 4/5 automated driving solution production ready for 2019. This latest technology partnership is just one of a string of others announced this year alone in the race to offer fully autonomous cars.
Production ready fully-automated vehicle solution
Mobileye and Delphi have been jointly developing active safety systems since 2002. This particular multi-million dollar project will involve the partners developing a "production-intent, fully-automated vehicle solution" for integration into vehicle platforms for a range of customers worldwide.
To clarify, the Society of Automotive Engineers' (SAE) vehicle standards committee has defined six levels of driving automation to help the industry and consumers understand how the semi- and fully autonomous car can progress safely. Level 0 means no automation; whereas Levels 4 and 5 mean high and full automation, respectively.
Mobileye says it will contribute its EyeQ 4/5 System on a Chip (SoC) with sensor signal processing, fusion and worldview generation, and a Road Experience Management (REM) system. Its REM technology provides real-time data for precise localisation and high-definition lane data that forms an important layer of information to support fully autonomous driving. The technology is based on software running on the supplier's EyeQ processing platforms that extract landmarks and roadway information at extremely low bandwidths, approximately 10kb per kilometre of driving.
Mobileye's EyeQ technology itself is in strong demand. The company's 2016 Q2 financial results showed that the EyeQ chip volume increased 45.4 percent year-over-year to 1.4 million units. Its EyeQ average selling price per unit for the 2016 Q2 period was US$44.5, up from US$43.7 during the same period last year. Mobileye sells its EyeQ to the likes of GM, VW and Nissan.
For its part, Delphi will incorporate automated driving software algorithms from its Ottomatika acquisition, which include the Path and Motion Planning features, as well as its Multi-Domain Controller (MDC) with the full camera, radar and LiDAR suite. Last year, Delphi acquired software company, Ottomatika, to enhance its active safety and automated driving capabilities. By combining Ottomatika's automated driving software with its active safety systems, the pair have developed a technology platform for automated driving that enables a vehicle to make human-like decisions.
Mobileye and Delphi have a shared history and legacy of battle-tested products
During a conference call to discuss the details of the partnership, Mobileye's chairman and chief technology officer, Amnon Shashua, explained: "When you think about what is needed to bring a Level 4/5 autonomy to series production, on the one hand there is interpreting sensing, building environmental models and semantic meaning. But there is another component to it which is being able to merge into traffic in a way that mimics the human driving behaviour. And there is machine intelligence to be imported into this. There is a synergy between Delphi's core IP in that area and Mobileye's core IP in that area. Together, we can bring a new class of machine intelligence into this project. This is very important. It goes beyond simply combining expert components. The bottom line is that the programme will result in autonomous drive system that can be brought to market with a high probability of success given our shared history and legacy of battle-tested products and in less time and with less investment than with an OEM going it alone."
Shashua also believes that when a core validated system can be demonstrated, the risk of an adoption by an automaker becomes substantially lower and they avoid a substantial upfront investment. "We are confident that this approach will feed an adoption rate and expand the addressable market for Level 4/5 vehicles," he added.
In terms of the investment both parties are putting into this particular project, Delphi's president and CEO, Kevin Clark said during the call: "We won't get into specifics [but] as you can imagine, just given the level of technology required on a combined basis is hundreds of millions of dollars. And as Amnon said, that is one of the benefits that we see in developing a turnkey solution where we can effectively make that investment and optimise a solution for our customers which reduces their costs and accelerates the development of the technology."
In explaining their time plan to develop the technology and when and where we could see it on the road, Clark added: "With respect to the combined technologies from the two parties, this will be at the CES [Consumer Electronics Show] in January 2017. We will begin fleet testing shortly thereafter. Some of that has, quite frankly, already started with what we, at Delphi, are doing with Singapore – and partnering with Mobileye from a visioning standpoint. So it will begin there. We have a plan that will introduce a number of other vehicles across multiple regions to further strengthen and enhance the system. As it relates to onboarding for OEs, we said that we will have a production-ready system in 2019. Depending on how early an OE would begin to work with us, [we] could see a scenario where it would be on an OE's vehicle for commercial purposes as early as late 2019 or 2020."
ADAS technology race moves up a gear
As such technology partnerships move up a gear in the race to offer fully autonomous cars, predictions as to when the first truly driverless car vary depending on who we talk to. Even if the more optimistic predictions come true, initial volumes will be small.
Last week, Ford boldly stated its plans to produce a fleet of SAE Level 4-capable cars for ride-sharing services, such as Uber and Lyft, by 2021. The automaker is doubling the size of its Palo Alto testing and research team to 260 by the end of 2017. Ford is also working with a number of start-ups in Silicon Valley to help turn president and CEO, Mark Field's vision of autonomous driving into a reality.
Volvo is another front runner in the autonomous car race. Next year, the popular XC90 will be equipped with Volvo's latest semi-autonomous drive technology, known as Pilot Assist II. When activated, acceleration, braking and steering are assisted in order to help the driver follow the traffic flow along a well-marked highway. The driver can, of course, override the system at any time by using either the brake pedal, accelerator pedal or steering wheel. The automaker says this addition is made possible thanks to the modular approach to car building enabled by its new scalable product architecture (SPA) platform. Park Pilot II is another significant step along the way to fully autonomous driving.
Regulations in the pipeline
Although much of the technology needed to operate self-driving cars in geo-fenced areas has been developed, the laws that allow such vehicles on the open road are some way behind. Given that existing federal regulations do not anticipate self-driving cars soon, Ford lobbyists are said to be talking with the powers that be in Washington. Following a fatal crash involving car driving in semi-autonomous mode, the authorities are justifiably taking longer than expected to draft regulations for testing fully autonomous cars. Some have also questioned whether Ford could adequately test such cars by 2021.
Meanwhile, Jaguar Land Rover is also working with start-ups to push back the technical boundaries of future mobility solutions. Its so-called Tech Incubator programme, set up in Portland, Oregon, is to add a new technical centre by the end of this year. JLR is also working on a range of technologies that would allow an autonomous car to drive itself over any surface or terrain.
Other automakers have equally ambitious plans. Before Kia's fully autonomous car hits the road, the automaker believes that partially autonomous Drive Wise technology could be ready by 2020. Kia's ambitions to be one of the early birds to sell such cars are not without foundation. The automaker was the second (after Ford) to be granted a license to test self-driving cars in Nevada, albeit with a number of restrictions imposed. Kia is reported to be investing some US$2bn into fast-tracking self-driving car development between now and 2018.
Whichever automaker is first to offer a fully-autonomous car, the sheer complexity of such vehicles bring with it software demands. Dr George Gillespie, CEO of HORIBA MIRA told delegates at Frost & Sullivan's Intelligent Mobility event: "The Ford F-150 that was launched recently had 100m lines of code. A fully autonomous vehicle may need 250m lines of code; it's a very complex car and that brings challenges."