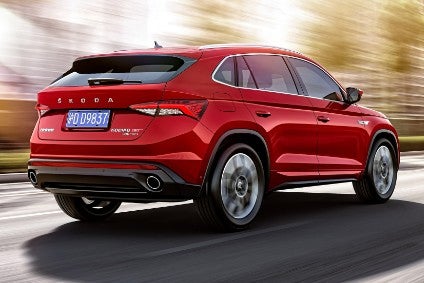 Below is a list of vehicle world premieres which appeared at the 2018 edition of AutoGuangzhou.
Information on the majority of the following models can be found by searching PLDB, just-auto's global vehicle database. Simply click on the link at the end of this list.
Audi A6 L
FAW Volkswagen's extended wheelbase model is revealed ahead of its local launch in 2019. Wheelbase is 3,024mm compared to 2,924mm.
Baojun RS-5
SAIC GM Wuling has added this SUV to its line-up. Engine choice is between a 135hp naturally aspirated 1.8 or a 148hp turbocharged 1.5, each of which has four cylinders.
Bestune T77
This prototype is the first model for the renaming of the Bestern or Besturn brand. The forthcoming 4.5m long SUV is said to be closely based on another FAW model, the existing Junpai D60.
BYD Tang
The second generation Tang, a 4,870mm SUV with a PHEV powertrain and seven seats, had its world debut at the Beijing motor show in April and was on sale in China two months later. Now BYD is adding five-seat versions.
The petrol-electric plug-in DM (dual motors) hybrid variants have the same 505hp output as the seven-seat ones but there is also now the option of a non-PHEV powertrain. This is a 205hp 2.0-litre turbo. The dashboard has the same large screen which can be swivelled into portrait or landscape form.
Changan CS85
Yet another model for Changan's line-up of crossovers and SUVs, this one is 4,720mm long, 1,845mm wide and 1,665mm and high.
Chevrolet FNR-Carryall concept
This prototype is an extended version of North America's imminent Blazer, stretched to 5,000mm and given a longer roofline to accommodate a third row of seats. SAIC GM will likely manufacture a slightly altered model in 2019 but the model name is still secret.
Chevrolet Malibu XL Redline
This is to be the fourth Redline vehicle for the Chinese market, following the Equinox Redline, Cruze Redline and Orlando Redline released earlier in 2018.
GM China is also launching a facelift for the Malibu XL range at the show, this being the same update announced for North America's Malibu in April and by GM Korea earlier in November. The standard engine for the Malibu XL and Malibu XL Redline is a turbocharged 2.0-litre petrol with outputs of 177kW and 350Nm. The 1.5-litre diesel which is new for South Korea will not be available in North America or China.
Chevrolet Monza RS
GM China terms this to be a "mid-size sedan" but is yet to fully reveal images and details.
Everus EV-1
The first of two electric SUVs, each of which is based on the Honda Vezel/HR-V. This one is for GAC Honda. Dongfeng Honda will also have a closely related model.
GAC concepts
The state-run OEM has partnered with BASF to create three concepts: the 2U, 2ALL and 2US. Meanwhile, the Aion is an electric C segment sedan concept.
Honda Envix prototype
Dongfeng Honda is to gain another sedan. Due to be built from 2019, it will be the twin of the second generation Guangqi Honda Crider. The Envix's Chinese name is Xiangyu.
Hongqi HS7
The HS7, a large SUV, follows the debut of the S concept at the Beijing show in April 2016. The production model made its debut at the 5th World Internet Conference earlier in November and this is its motor show debut. FAW should start series production in 2019.
JAC
The Refine S4 is yet another SUV for the domestic market. Measuring 4.4m long, its market release takes place in December.
MG eZS
Plug-in version of the 4.3m long SUV looks almost identical to the petrol-fuelled ZS. The charging port is behind a flap on the grille and the eZS gets its own design of alloy wheels. Power is claimed to be 110kW (150hp) with an NEDC maximum range of 335km. Battery pack is supplied by CATL.
Peugeot 508L
Dongfeng Peugeot will start manufacturing this lengthened 508 from Q1. As well as being longer, and with a wheelbase stretched by 55mm, the doors of the 508L – unlike those of the 508 and 508 SW – have frames for the windows.
Škoda Kodiaq GT
This is an additional model and unique to China's SAIC Volkswagen JV. A 4.63m long SUV, the Kodiaq GT forms a part of Skoda's ambitious goal to be building and selling 1,500,000 vehicles a year by 2020. The first variants offer the choice of a 137kW (186PS) turbocharged 2.0-litre four-cylinder petrol (2.0 TSI) with front-wheel drive or a 162kW (220PS) 2.0 TSI with all-wheel drive and a seven-speed DSG.
The GT is more curved in its styling than the Kodiaq and at the rear has Š K O D A in large letters across its tailgate. The new model extends Skoda's SUV line-up in China to four vehicles: Kamiq, Karoq, Kodiaq and Kodiaq GT.
Toyota Corolla & Levin sedans
The four-door Corolla will be manufactured by FAW Toyota while the slightly different looking Levin is the same model but built by the Guangzhou Toyota joint venture. The Corolla Hybrid and Levin Hybrid were also world premieres.
Wey P8 GT
The P8 is a PHEV variant of the Wey VV7. This 4,790mm long crossover was a world debut at the 2017 edition of AutoGuangzhou. Powered by the combination of a 2.0-litre turbo engine and two motors, the stated combined outputs are 250kW and 520Nm and the transmission is a six-speed dual clutch gearbox. Chinese market sales commenced in May. Now, Great Wall Motor is adding the GT, which is a less expensive and less powerful variant. Its combined output is 225kW.
Future product program intelligence
Get more data on vehicle lifetime and future product plans with PLDB from QUBE.