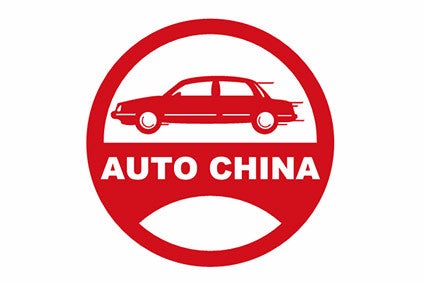 Multiple brands revealed concept, prototype and production model world premieres during the press preview days of AutoChina 2018. The show has just closed its doors to the public.
Information on the following models can be found by searching PLDB, just-auto's global vehicle database. Simply click on the link at the end of this list.
Acura CDX Hybrid: petrol-electric version of the two-year old C segment/Compact SUV will be manufactured by GHAC at ZengCheng #2 in Guangzhou
Aiways RG Nathalie fuel cell concept: the first use of the ambitious start-up's GES platform, initials stand for Roland Gumpert which developed this electric supercar
Audi Q5 L: the first long-wheelbase SUV from the brand, FAW Volkswagen has just started building it in Changchun, will be in local dealerships from June
Beijing Auto BJ40L: high end version of the existing Wrangler lookalike gains a bespoke interior and colour-coded wheelarch extensions to set it apart from the BJ40
Beijing Auto BJ80 6×6 prototype: giant version of the existing SUV with three axles, has a Saab-derived 2.3-litre four-cylinder turbo petrol engine
Beijing Auto EX3 concept: crossover design study which may go into production
Beijing Auto Huansu S7L: concept SUV powered by a turbocharged 2.0-litre engine, due to be in production later in 2018
Beijing Auto Offspace Suit concept: strangely named crossover, further details awaited from BAIC
Beijing Auto Senova D70: second generation of the D segment sedan no longer uses a Saab 9-5 architecture and loses the former Saab-based 2.0- and 2.3-litre engines
Beijing Auto Weiwang 407EV: prototype of a small electric MPV/minivan
Bestern T-Concept: prototype of a future SUV for the FAW brand model, project code said to be T77
BJEV EU5: 4,650mm long electric sedan is another model for BAIC's BJEV brand which already sells the tiny Arcfox electric hatchback
BJEV EX: prototype of an electric crossover with a claimed range of 400km
BMW Concept iX3: prototype of the electric version of the X3 which is due for release in 2020, power is said to be "in excess of 200kW/270hp"
BMW M2 Competition: replaces M2 and its 272kW (370hp) 3.0-litre turbocharged six-cylinder engine, Competition's output is 302kW (410hp)
BMW Wireless Charging: now available as an option for the 530e iPerformance
BMW X3: public premiere for the Brilliance BMW joint venture's modified locally built model, to be manufactured at Dadong/Da Dong in Shenyang
Brilliance V7: pre-production example of a future seven-seat SUV powered by a 1.6-litre turbo engine
Buick Enspire concept: following a media preview on 17 April, AutoChina will be this 410kW electric SUV's public world premiere
Buick Velite 6: PHEV and EV variants will be manufactured by SAIC GM, cars will be based on the Velite concept from 2016
BYD E-Seed concept: aluminium platform and panels for this crossover, claimed range of 600km
BYD Qin Pro: 4,765mm long sedan, 154hp 1.5-litre petrol turbo engine plus 150PS motor PHEV powertrain, current Qin stays in production as a cheaper model
BYD Tang: second generation of this PHEV super-SUV, 205hp 2.0-litre petrol turbo engine for front axle and two motors at the rear, combined power of 505hp
BYD Yuan EV360: electric variant of the existing Yuan SUV
Changan COS1: 4,830mm long SUV prototype powered by a 180PS 1.5-litre turbo
Changan CS75 facelift: mid-life update time for this 4,650mm long SUV, has been in production since March 2014, standard engine is a 131kW 1.5-litre turbo
Changan CS75 PHEV: plug-in hybrid powertrain for the facelifted SUV
Changan Eado DT: new name and a facelift for the Yuexiang V7, a small sedan that was launched at the Chengdu motor show in August 2014
Changjiang EV concept: wild-looking design study of an electric crossover which had a giant screen where the grille would be
Changjiang Vincent concept: prototype of an SUV which the electric bus manufacturer specialist says it will begin building in 2019
Chery Arrizo GX: additional model to be positioned above the Arrizo 5 and should likely also replace the slow-selling Arrizo 7 sedan
Chery Exeed LX concept: potential preview of an SUV for Exeed sub-brand
Chery Tiggo 8: additional SUV is the largest yet for the Tiggo series, is the production version of the T18 project
Citroen C4 Aircross: C3 Aircross-based crossover, to be manufactured by DPCA and on sale in China during the second half of 2018, likely to be built in Brazil and France too
Dearcc EV 10: upgraded version of the slow-selling electric minicar, claimed range rises to 270km from 155km, brand is controlled by Fujian Dongnan's SouEast Motors
Denza 500: the 400 is facelifted and gains a new name to reflect the claim that a new battery gives the car a range of up to 500km
Dongfeng Aeolus eπ concept: scissor-doored coupe, the e-Pi is claimed to be potentially able to be produced with 500km range BEV and 1000km PHEV powertrains
Dongfeng Fenghang F600: details of this minivan to follow
Dongfeng Fengxing ix5: prototype of a D segment SUV with choice of 1.8 or 1.5-litre turbo engines, infotainment system is based on Baidu Apollo, due on sale in Q4
Dongfeng Fengxing X5S: also known as the T5, was preview of an SUV, has the word FORTHING on its tailgate which will be the name of yet another new Dongfeng brand
DS 7 Crossback: localised version built by CAPSA (Changan Auto and Groupe PSA joint venture), production has recently begun in Shenzhen
DS X E-Tense concept: design study of a futuristic sports car, X-motif on the sides will reportedly be used on future production DS vehicles
FAW Junpai D80: 4.5m long SUV positioned above the D60, powered by a 1.2-litre turbo four-cylinder engine, has J U M P A L on tailgate instead of Chinese name of Junpai
Ford Escort facelift: mid-life update coincides with the debut of a new Focus, six-speed manual and automatic transmissions, 1.0 and 1.5-litre petrol engines
Ford Focus sedan and five-door hatchback: sedan was revealed to the media at an event in Chongqing on 10 April, this was the public world premiere for both bodies
Geely Borui GE PHEV: 1.5-litre three-cylinder petrol engine plus one motor send power through a seven-speed dual clutch transmission
Geely Boyue facelift: minor styling changes after only two years of production for this big-selling SUV
Geely Concept Icon: 4.5m long crossover with strong links to the Volvo XC40 is said to be headed for production in 2019 with SX11 as its development code
Geely Emgrand MPV: model name not yet known, production version of the VF11 project, 4.7m long, three powertrains including a hybrid with an EV to follow later
Guangzhou Auto E-More: tall electric crossover said to be headed for production as soon as October
Guangzhou Auto Trumpchi GM6: MPV which is due to be on sale in China later in 2018 powered by a 1.5-litre petrol engine
Guangzhou iX4: an EV based on Guangzhou Auto's Trumpchi GS4, to be manufactured by the Guangzhou Toyota joint venture but branded as a Guangzhou
HaiMa F7 concept: design study of a large crossover
HaiMa S5 facelift: mid-life update for this slow-selling SUV
HaiMa SGOO concept: bright orange SUV prototype, claimed to be a preview of an additional model due for launch in 2019
HaiMa VFOO concept: radically styled MPV design study
Hanteng EV concept: preview of an electric SUV which insiders say will be sold as the X3
Hanteng MPV: prototype of the brand's first such model, production model's name is not yet known
Haval F5: yet another model for Great Wall Motor's crossover and SUV specialist brand
Haval H4: 4,410mm long crossover is a production version of the HR-02 concept from AutoChina 2016, 1.3- and 1.5-litre turbocharged petrol engines
Haval H7 facelift: a minor restyle for this SUV which premiered at the 2016 Beijing show
Hawtai iEV360: 58hp electric hatchback based on the discontinued Chery M1-EV
Hawtai Shendafei 2 XEV 360: another tiny electric hatchback, and this one is based on the Riich X1 which is also no longer manufactured by Chery Auto
Honda Accord Hybrid: localised version of the existing sedan, to be assembled by GAC Honda "in the second half of 2018"
Honda Everus EV concept: to be built and distributed by GAC Honda by the end of 2018, there will also be an equivalent model for Dongfeng Honda
Honda Inspire concept: Dongfeng Honda will commence building this sedan "during the second half of 2018"
Hongqi E-HS3 concept: a potential preview of an additional SUV for the Red Flag brand
Hongqi E-Jing GT concept: large coupe, strikingly painted in a jade green
Hyundai Lafesta: new sedan for the Beijing Hyundai joint venture will be on sale by year end
Hybrid Kinetic H500 concept: smaller than the E segment H600 prototype, shares that car's four motors and a range-extending micro-turbine, styled by Pininfarina
Hybrid Kinetic K350 concept: preview of a future SUV which also uses motors and a micro-turbine and is said to have a maximum range of 1,000km
Infiniti QX50: first vehicle to be made at DFL's Dalian plant using Daimler's MFA 2 architecture, first of five Infinitis to be built in China over a five-year roll-out period
JAC iEVA50 concept: prototype of a Bora-sized electric sedan, expected to go into production later in 2018
JAC T8: an additional pick-up to supplement the T6 and shares that model's ladder frame chassis, will have a standard 2.0-litre four-cylinder diesel engine
Jaguar E-Pace: public debut for the Chery JLR joint venture's locally produced version, 2.0-litre Ingenium petrol turbo is the sole engine
Jetour X90 concept: prototype of a seven-seat SUV for Chery Auto's Jetour division, will be positioned above the X70
Jetour X-Electric concept: another potential model for Chery Auto's latest additional brand, tail lights of this crossover illuminate in the shape of lightning
Jeep Grand Commander: a rival for the Toyota Highlander and Volkswagen Teramont, powered by a 2.0-litre petrol turbo engine, built by the GAC-Fiat joint venture
Jetour X90: large SUV will join the existing X70 as Chery Auto expands this brand
JMEV E500: first model for a new brand from JMC (Jiangling Motor Corporation), SUV based on the Yusheng S330 and Yusheng S330 EV
KDC Regalo: parts maker commissioned this concept as a means of generating publicity, no production plans for the orange painted McLaren-like electric sports car
Kia K5 PHEV: DYK is about to start assembling this localised version of the petrol-electric sedan at its manufacturing complex in Yancheng
Kia Sportage facelift: SL-C series third generation model is still made in China by DYK (QL fourth generation model – QL-C in China – is the Kia KX-5 in China)
Kia Yi Pao: local name for DYK's version of the Stonic, will be manufactured in Yangcheng from "the second half of 2018"
Leopaard CS3 BEV: prototype of a small electric crossover, Changfeng says it will go into production version in 2019
Leopaard Mattu concept: also referred to as Maitu, 4.7m long SUV with a giant grille, due to go into production later in 2018, said to be based on Changfeng's Liebao CS9
Lexus ES: TMC does not manufacture any Lexus vehicles in China but current ES is especially successful as an import, thus this event for the new model's world debut
Lifan X70: preview of an SUV to be added to the range later in 2018
Lifan 650EV: prototype of a C segment electric sedan, due on sale from late 2018
Lifan Pengfei: 4.4m long SUV with drive to the front axle only and powered by a 2.0-litre non-turbo engine
Luxgen A1 concept: autonomous electric vehicle with hidden wheels
Lynk & Co. 01 PHEV: uses the same petrol-electric plug-in hybrid powertrain as the Volvo XC40 T5 which is also premiering at AutoChina
Lynk & Co 02: second model from the Geely division, project code is CH11, is a 4,448mm long five-door hatchback, was revealed to the media on 26 Mar
Maxus Tarantula concept: big SUV based on the D90 and said to be headed for production
Mazda CX-8: LHD world premiere for this large SUV which has been available only in Japan (since December), no word as yet on where China's model will be built
Mercedes-Benz A-Class L Saloon: 4,609mm long sedan will be manufactured by the Beijing Benz joint venture mainly for the Chinese market
Mercedes-Benz C-Class Saloon facelift: mid-life update time for Beijing Benz's extended wheelbase sedan
Vision Mercedes-Maybach Ultimate Luxury concept: 5,260mm long crossover, interior has much copper-effect detailing and a tea service for the rear passengers
MG X-Motion concept: design study for a potential extra SUV; prototype based on SAIC's ladder frame chassis platform as used by the Maxus T60, LDV T60 and Roewe RX8
Nissan Sylphy EV: looks almost identical to the existing sedan but there is a fresh bonnet pressing, Dongfeng and Venucia brands will also have cars based on this
Nissan Terra: based on Navara/NP300 pick-up, ladder frame SUV rival for Mitsubishi Pajero Sport, Toyota Fortuner, Ford Everest and Chevrolet TrailBlazer
Nio Eve concept update: prototype which premiered at SXSW in 2017 has had some minor revisions
Ora R1 concept: debut for Great Wall's brand which will sell only electric vehicles, the R1 five-door hatchback is the smallest at 3.4m long, looked production-ready
Ora R2 concept: slightly longer than the R2 and looking more futuristic, is also a five-door hatchback, claimed range of 300km
Ora Q5: prototype of a 4.5m long crossover, had ORA in large letters on the tailgate, brand is 'Oula' in Chinese, claimed range of 460km
Qiantu Motor Concept 1: electric, low-roof five-door hatchback in the style of the Tesla Model S, may go into production in 2019 or 2020
Qiantu Motor K20 concept: small electric coupe follows the debut of the K50 at AutoChina 2016
Qiantu Motor K50: final prototypes exhibited ahead of the planned start of production in July
Qoros 5G concept: confusingly, it is also called the Mile 1 concept and is electric coupe with inductive recharging
Roewe Marvel X concept: electric prototype based on the RX5, said to be headed for production and to have a 500km range
S1Tech Dev1: 3.7m long electric hatchback is the first model for a new FAW brand, has face recognition technology, will be manufactured at one of FAW's Changchun plants
Senia R7C: new variant of the existing R7 SUV with its own large and ornate grille, goes on sale in July
Senia R9: seven-seat SUV which is part of FAW's Senia, Xenia or Senya brand
Singulato iM8 prototype: preview of an electric SUV which should be the firm's second model after the iS6, will reportedly collaborate with BAIC's BJEV division
Singulato iS6: prototype has a 75kWh battery pack and a claimed range of 400km, rear doors are hinged like those on a Rolls-Royce Phantom
Škoda Kamiq: 4,390mm long crossover for the SAIC Volkswagen JV, positioned below the Karoq, PQ25 platform, unique to China
Sol E20X: 4,135mm long SUV is a lightly modified JAC iEV7S, first model for JAC and Volkswagen's electric vehicle brand, has an NEDC range "of more than 300km"
SWM G01: Brilliance-Shineray revealed this crossover to the media at an event in Italy in March, is powered by a 1.5-litre turbocharged four-cylinder petrol engine
Toyota Corolla plug-in hybrid: to be manufactured by FAW Toyota not from 2018 as previously stated but now from 2019
Toyota Izoa: FAW Toyota gains its own slightly altered version of the C-HR which is to be sold in China by the GAC Toyota joint venture
Toyota Levin plug-in hybrid: aside from some styling adjustments, GAC Toyota's car is the same basic model as FAW Toyota's Corolla PHEV
Traum Meet3: second model for Zotye Auto's additional brand is a C segment SUV based on the Zotye SR7, has a built-in Pioneer karaoke system
Venucia T90 facelift: an early update for this Murano-based crossover which only went on sale in December 2016
Venucia X concept: design study for a potential large SUV for the Dongfeng Nissan JV's brand
Volkswagen CC: FAW Volkswagen's version of the Arteon has this name and will be manufactured in Changchun
Volkswagen Lavida Plus and Gran Lavida Plus: SAIC Volkswagen sold in excess of 517,000 units of the outgoing Lavida (sedan) and Gran Lavida (wagon) in China in 2017
Volkswagen Tayron: long-wheelbase T-Roc manufactured by FAW Volkswagen, uses MQB A/B architecture
Volkswagen Touareg: in common with the Audi Q7, Porsche Cayenne, Bentley Bentayga and Lamborghini Urus, has MLB Evo as its platform
Volvo S90 Ambience Concept: potential version of the three-seat S90 Excellence, offers a scent diffuser and relaxing images projected onto the glass ceiling
Volvo XC40 T5 plug-in hybrid: 187kW (347PS) and 350Nm from the combination of a 1,969cc petrol engine and one motor, standard eight-speed automatic gearbox
Wey RS7 concept: faster looking version of the VV7 but the GWM brand says the prototype has the same 230hp and 320Nm as the standard VV7
Wey VV6: a second prototype of what will be a 4,585mm long crossover to sit between the VV5 and VV7
Wey-X concept: crossover with Level 5 autonomy and a holographic miniature female assistant, outside there is a large longitudinal fin on the tailgate
WM Weltmeister EX6 concept: slightly larger but not dissimilar to the just-released EX5, has six seats and is also an EV
WM Weltmeister Isdera Commendatore: claimed power of 800hp and range of 500km, is headed for limited production
Yudo Pi 7 concept: preview of the EV specialist brand's third model which is expected to join the recently released X-Pi and Pi 3 in 2019
Future product program intelligence
Get more data on vehicle lifetime and future product plans with PLDB from QUBE.