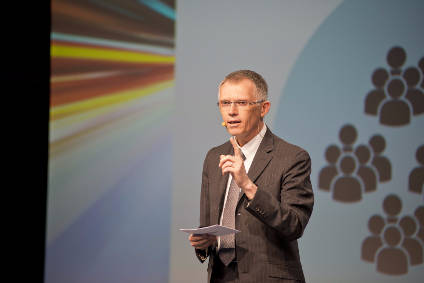 These are interesting times for PSA Peugeot Citroën or, as it now wants to be known, PSA Groupe. The company posted a whopping EUR5bn loss in 2012. CEO Carlos Tavares joined in late 2013 and set about a recovery plan based on rationalising product and creating a more globally based organisation. The plan was called 'Back in the Race'. The company duly turned around to post a net profit of EUR1.2bn by 2014, in spite of a sluggish and extremely competitive European car market. Nice recovery work and time for a new business plan.
And so we heard this week about 'Push to Pass', the plan that builds on the work achieved thus far to turn the company around. Global efforts and a new product push are at the heart of the new plan and there are some big numbers to aim for. We were in Paris to get more details, including a supply chain angle. All of the coverage from Paris is grouped together as a hot topic.
One area of automakers' activity that sometimes gets overlooked is light commercial vehicles, which can be a very significant contributor to profitability. Still on PSA, I recommend Graeme Roberts' forensic analysis of the company's strategy in this area.
Elsewhere this week, we had some March market numbers coming in. The US was positive again and threw up a few surprises. The numbers for Western Europe were reassuringly positive, too. LMC Automotive raised its forecast for this year, while acknowledging some risks. The UK car market continues to perform very well. March sales were over 500,000 units for the first time ever and the car market was running at an astonishing annualised rate of 2.9m units. Phew. I got some interesting perspective from one of the smaller players doing well in Britain right now, Kia.
SUVs really are hot in markets around the world right now. If you were interested recently to hear about Renault's plans for a low-cost SUV for Russia called Kaptur, we have followed up with a detailed look at the company's strategy in that area and upcoming models. Look out for our follow up analysis of Alliance partner Nissan next week.
One subject that has got everyone talking lately is Tesla and its ambitious plans for EVs. The Model 3 unveil was followed this week by the news that the company has experienced 'severe parts shortages' on Model X which caused it to undershoot Q1 deliveries. How did Tesla handle that news? It admitted 'hubris' and issued a very frank statement to explain the problems and reassure that it has resolved them. Refreshingly candid, certainly, but also quite a clever move. Investors seem to be unconcerned, for now, and reservations for a car that will not be available in the US until late 2017 certainly look healthy.
Finally, Daimler put on its annual jamboree for thousands of shareholders this week. There was plenty to be pleased about when looking back at 2015. And, naturally, the free sausages provided were very good.
Have a nice weekend.
Dave Leggett, Editor, just-auto.com