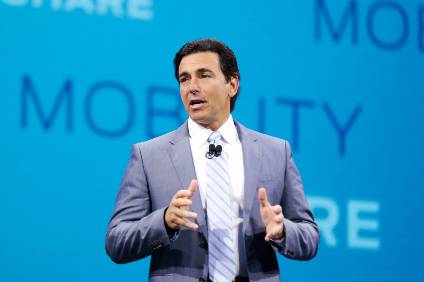 There had been enough rumours in automotive and financial circles over the last few weeks (and months) to suggest Change was coming at Ford – to wit the Monday ousting of CEO Mark Fields (billed in the press release as 'retirement') after less than three years in the top job, with a well-seasoned (but mostly not in autos) executive, Jim Hackett, replacing the long-Ford-serving Fields who had been praised, for example, for his work heading Mazda on the way to the top job in Dearborn and the moves towards 'mobility' once there.
Having had the opportunity over several decades to observe the different cultures in western and Japanese automakers, I have long noted how the US based firms, in particular, seem too focus more on short-term results (sometimes literally quarter by quarter) and shareholders' returns on investment (from small stockmarket dabbler to big institutions, they're pretty vocal when unhappy), and thus are swift to change the cast if things aren't going right.
As we noted both last week and this, Fields' exit is linked primarily to investor dissatisfaction over falling profitability and a 40% decline in the Blue Oval's share price over the past three years, though, in fairness, this is partly due to the regular 'auto cycle' – after the post credit crunch drop with its attendant plant layoffs, furloughs and closures, there were several immediate years of 'up' (benefiting Fields' immediate predecessor, 'One Ford', ex-Boeing Alan Mulally) but this has, especially in the last year or so, turned to a falling domestic market (always key to most automakers' results), challenges in Europe (where Ford did a better turnaround than GM which is fleeing) and India (where GM is also retrenching and late arrival Ford has yet to hit full potential), and yet more challenges in South America (Venezuela now a basket case economy; Brazil only slowly recovering after several years of slump).
Like any top exec who's watched like a hawk, Fields has had the odd mis-step (flying to and from home each week by – since sold – company private jet fleet while UAW members were being laid off some years back was not his finest hour) but it cannot be argued he did not move Ford on from Mulally's vision, taking key steps towards making the firm the 'mobility company' that most vehicle makers must become. Some commentators this week have suggested Ford is 'throwing the baby out with the bath water' by ditching Fields; time alone will tell if Hackett – a very experienced business man filling two very large pairs of predecessor shoes – will achieve what the Ford family, board and shareholders expect before the timer runs out. I await, with interest to see where Fields, who reportedly earned US$22m last year, will pop up next – or will a nice, winterless Florida retirement just be too attractive?
Have a nice weekend.
Graeme Roberts, Deputy Editor, just-auto.com