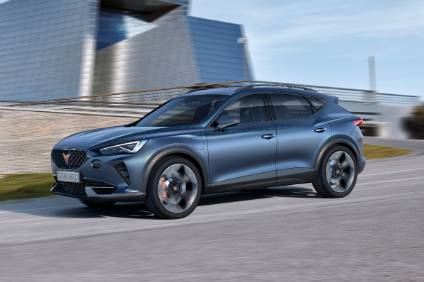 Ray Hutton says Volkswagen's Spanish subsidiary has finally defied the doubters to become one of the Europe's fastest-growing car brands. But SEAT's history illustrates that it wasn't easy…
For 60 years, SEAT, Spain's only surviving indigenous car maker, struggled to find its place in the world. Now, at last, SEAT has become established as a brand with its own identity, its plants are working at full capacity, and it is making a useful profit for the Volkswagen Group, its owners since 1985.
2018 was the best year in SEAT's history. It reached over half a million sales for the first time, made an after-tax profit of EUR294m and was given lead responsibility in the Volkswagen Group for 'micromobility' – scooters and other non-automotive modes of personal transportation.
To see how it finally achieved maturity, we need to look back at its troubled history. SEAT (the name stands for Sociedad Española Automóviles de Turismo) put its country on wheels in the 1950s. It was a state-owned company, licensing Fiat designs made in Barcelona largely with Spanish components. Fiat took a 37% interest in the business, adopted some of the unique SEAT variations of its models and helped the company to export, initially to Egypt and Argentina.
Then in the economic downturn at the end of the 1970s, Fiat withdrew. The Spanish company was left high and dry. Juan Antonio Diaz Alvarez, SEAT chairman, told me at the time: "One day in May 1980 we were confronted with the shattering fact that the survival of our company was in serious danger. We lacked our own technology, had no product development plans, our financial structure was weak, and we had substantial over-capacity. In this situation we could close down and send 32,000 people home; we could surrender to whatever conditions were imposed on us; or we could fight for survival. We decided to fight."
Alvarez talked to Toyota about some form of cooperation but found Volkswagen a more receptive partner. As a start, SEAT became VW's distributor in Spain and an agreement was made to assemble Polos in the Pamplona plant that SEAT had inherited from Authi, British Leyland's aborted Spanish operation. In parallel, it initiated its own new car project, bringing together some of the best people in Europe: Giorgetto Giugiaro for design, Wilhelm Karmann for body engineering, and Porsche for a state-of-the-art four-cylinder engine. Unusually, Dr Ferry Porsche agreed that SEAT could use the name 'System Porsche'.
The result, launched in 1984, was the first Ibiza, a neatly-styled hatchback with either a 1.2 or 1.5 litre engine. Export markets were re-established and the Ibiza, along with some re-vamped, re-engined and re-named Fiat models, put SEAT back on an even keel. In 1985, when Spain was about to join the European Union, Volkswagen took a controlling 51% share of the business and sanctioned the construction of a large new manufacturing facility at Martorell on the outskirts of Barcelona to design and produce SEATs based on Volkswagen platforms.
This was part of the plan of CEO Carl Hahn to spread Volkswagen throughout the world. Spain was becoming a major source of low-cost cars. The same motivation brought VW's annexation of Skoda in Czechoslovakia six years later. Despite Skoda's dodgy reputation in the Soviet era, it quite quickly became established as a value-for-money brand with Volkswagen engineering. SEAT failed to build on the Porsche connection and when, as a member of the EU, the Spanish market opened up, the public went for foreign brands rather the state car company. It was a developing problem for Volkswagen which had two brands competing in the same budget sector with cars that were mechanically identical.
Bernd Pischetsrieder, when he became VW Group chief executive under the chairmanship of Ferdinand Piech, recognised this and for a while it looked as if SEAT might be abandoned and its resources used to make and sell Volkswagens in Spain. Although Volkswagen was in bad shape financially at the time, Ferdinand Piech had other ideas. He wanted to move SEAT up-market and to turn it into a sporty brand, Volkswagen's equivalent of Alfa Romeo.
The Volkswagen Group was split into 'north' and 'south' divisions. The 'north' put Skoda under the wing of the Volkswagen brand, while Audi took responsibility for SEAT in the 'south'. This was the saviour of SEAT, as more emphasis was put on design and performance cars. Most of the VW Group's future top designers had a spell there and Martin Winterkorn, the boss of Audi who eventually became VW Group chief executive, regarded SEAT as his personal mission. Year after year when the Volkswagen Group's results were published and SEAT made yet another loss, Winterkorn defended the Spanish company, saying that it was moving in the right direction.
It was, but very slowly. Ten years ago, James Muir, a Welsh salesman who had been president of Mazda Europe, was put in charge of SEAT. His predecessor, Erich Schmidt, a production engineer, is credited with a major improvement in quality from the Martorell factory. Muir knew that his main job was give the brand a stronger profile and image. A new phase was about to begin. Schmidt's work allowed SEAT to bid to build the Audi Q3 and thus bring production at Martorell closer to its nominal 400,000 capacity. Muir encouraged a more youthful, sporty image by association with Barcelona as a fashion capital and sponsorship of the UEFA Europa League. He also declared that SEAT's future products should meet the competition head-on rather than sit between traditional segments as did many of its then-current models.
The new generation Leon, launched in 2012, was a turning point.
The new generation Leon, launched in 2012, was a turning point. For the first time, SEAT was able to use Volkswagen's latest MQB architecture. Smart and distinctive styling (SEAT was among the first to create a light 'signature') together with Audi's premium standards at the factory, inspired confidence in the brand and the new Leon quickly gained a following with hot hatch enthusiasts.
But at that time SEAT still only covered 50% of the market. Muir's successor Jurgen Stackmann (now Volkswagen sales chief) made the case for a compact crossover SUV, the Ateca, which would be made at Skoda in the Czech Republic. It would be followed by two other SUVs, the smaller Arona (made at Martorell) and the larger seven-seat Tarraco (from VW in Germany). With those, SEAT had a range of products to meet 80% of market demand – and three new models in the hottest sector.
Dieselgate engulfed the industry and, for once, SEAT could be relieved that many customers did not know of its association with Volkswagen. The ensuing management shake-up in Wolfsburg brought Luca de Meo, one of VW's youngest and brightest senior executives to Martorell. He arrived just in time at launch the Ateca and was able to announce SEAT's first profit in eight years – even if it was only EUR6m.
De Meo, who made his name launching the 500 for Fiat and had been sales and marketing chief of Audi, was quick to exploit the advantages that the SUVs presented. He said: "SUV crossovers are what people are buying right now and they command a premium compared with traditional body styles." Raising transaction prices would be important to increase profits and De Meo developed the idea of separating Cupra, the name of its high performance models, into a semi-premium sub-brand. Cupra is headed up by Wayne Griffiths, SEAT's British vice-president of sales and marketing.
So far, the results are good – 14,400 Cupras were sold last year – and the next step, towards the end of next year, will be to offer a Cupra with a unique body style – the Formentor crossover. SEAT is also part of the Volkswagen Group's electrification programme; the Mii Electric will be available early next year and will be followed by the larger el-Born, the second car to be built on the MEB platform (the first being the VW iD3).
As the Volkswagen brand with the youngest customers De Meo pushed for group leadership in connectivity (infotainment). SEAT was the first brand to introduce Alexa to its cars.
SEAT sold 517,600 units last year, 10.5% more than 2017, and is 7.7% up in the first five months of 2019. Interestingly, Germany is its best market, ahead of Spain, where it regained leadership last year, and the UK, which has enjoyed two years as the fastest-growing brand. It has been cautiously expanding in export markets outside Europe. Just as Skoda has made India its own, SEAT is representing the VW Group in North Africa, with an assembly operation in Algeria. An attempt to enter the Chinese market some years ago was a failure but there are hopes of better results from a recent deal with JAC to devise and sell a small electric car in China.
SEAT finally succeeded by offering the right products, having the right sales strategy, and achieving the critical mass which means that its cars are now a familiar sight on our roads. Sounds simple but the Spanish company's chequered history proves that it isn't.