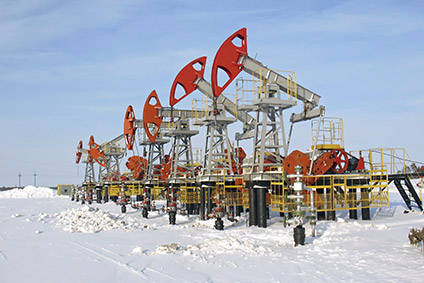 It was a politician's remark delivered mid-speech at last week's Russian Automotive Forum (Raf) in Moscow, which struck me as indicative of just how parlous a state are The Kremlin's finances.
That the Russian auto sector is in crisis is clearly obvious – sales falling off a cliff for the past 14 months coupled with a ruble under severe pressure and oil barely hovering above US$40 a barrel are proving a toxic cocktail for Moscow's coffers. And that's let alone before you factor in high inflation and interest rates making credit access extremely problematic, while the not-so-small matter of international sanctions still hovers spectre-like at the feast.
Moscow hasn't exactly stood idly by however and let the auto sector go slowly to the wolves. It's a major employer – witness the reaction to – now recently former – AvtoVAZ CEO Bo Andersson's axing of tens of thousands of staff from what some would view as a Soviet-style bloated manufacturer which simply couldn't survive on such huge employee numbers.
Add to that the supply sector – now eagerly looking to swiftly raise its quality thresholds as a plunging ruble affords it perhaps a very rare opportunity to trumpet its new-found competitiveness compared to overseas component producers – which equally employs significant numbers – and The Kremlin's keenness to preserve the sector is apparent.
To that end, Russia Deputy Industry Minister, Alexander Morozov delivered a tub-thumping defence of his government's response to the undoubted crisis at the RAF, reeling off a shopping list of support measures, while also insisting to me on the sidelines of the Forum the auto industry remained front-of-mind.
"The support plan was the very first plan signed by [Prime Minister] Dmitry Medvedev," said Morozov. "Absolutely, it [car industry] is an important sector of the Russian market. We are supporting according to the rules. Currently we have an [automotive] budget for one year – we [believe the] automotive industry is a priority."
"This year we plan to increase the support of State funding [to RUB50bn], first renewing the car fleet, then leasing programmes and special automotive lending for trucks and supporting interest rate subsidies to buy electric transportation for cities, as well as [renewing] the ambulance fleet."
That shopping list – Russians do like to reel off great swathes of achievements – does not come cheap either especially at a time when The Kremlin's wallet is not exactly awash with cash – vast reserves of energy or not.
Last year alone, Moscow pumped RUB43bn (US$633m) into the sector propping up those measures, while this year it plans to increase this to a nice round RUB50bn in a bid to stave off a doomsday scenario which some have painted could see the market hitting a rock bottom low of 1.2m.
That for a country, which was once forecast to overtake Germany and reach the dizzy heights of 4m, is clearly unacceptable to the Russian government, triggering its actions in desperately providing financial incentives to the sector to stabilise sales at around 1.6m for 2016.
But such largesse may not be on the cards for ever. Back to that remark, almost casually delivered by Morozov, but which may have automakers and suppliers nervously trying to plan ahead beyond next year.
Quite simply, there is no bottomless pit of money which Russia can throw at the industry, despite its undoubted dire straits and Morozov gave a hint the taps could be turned off in the not too distant future.
"Naturally we will have to trim this strategy [at some point] – that is what the President said and by Q3 I hope we will have developed the new strategy [for the] macro-economic development of the industry," said the Deputy Minister.
That was it, no more elaboration, no more detail, just a not-so-very veiled broad hint the government could not go on spending a billion dollars a year on the sector, which he hoped might see light at the end of the tunnel, if not this year, then next.
Well, part of the light in the tunnel may be coming from oil prices, which, after spending the past year in gentle but steady decline to a low of the mid-US$20 mark, have this week hit $42.
Also addressing RAF delegates in Moscow, IHS Global European LVS Forecasts manager CEE, Tatiana Hristova outlined the importance of reaching the near US$50 mark as "critical," but given the fact the price has already reached US$42, a 50% recovery from the depths of January could provide some relief for The Kremlin's beleaguered finances.
However, with Russia's volatile and febrile political environment, there are any number of unforeseen circumstances which could derail even this modest recovery.
"The rebound with Russia will be a lengthy process – US$80 we expect by 2020 and US$100 maybe by 2026," added the analyst.
Much of Russia's economy has historically been predicated on strong energy prices, but fierce competition among the oil producing powerhouses as well as the arrival on a world stage of US shale and the emergence of Iran back into the international business community, has forced the cost down to extremely low levels.
But back at US$42, well, that's not so very far off the magic US$48 level and if the price of the black stuff is inextricably linked to exchange rates, then maybe, just maybe, we might also start to some upswing in the ruble, which has taken such a battering.
Take this from Volkswagen Group Rus head of business development, Vassil Stavrev at the RAF, who although conceding Russia would continue to endure cyclical shocks, "for good or bad," the economy would remain tied to commodities.
In this case, the 'good' might start to be trickling through and although Russia is clearly an unpredictable entity on occasion and frequently laced with political drama – witness Crimea and Ukraine just for starters – the creeping up of oil may at least provide some temporary relief.
"We see a very strong correlation between the exchange rate and the oil price," added Stavrev. "The Russian automotive industry is still very much bound to exchange rates."
So is Moscow gambling on a future oil price above US$50 minimum in the next 12 months to finally start replenishing its threadbare coffers or does it have more of a crystal ball than it's letting on?
Either way, it may be the auto sector is going to have to look at an environment where that very handy RUB50bn incentive package is gradually withdrawn as a higher ruble rate inflated by rising oil prices feeds into the economy.
However, this is all ifs and buts. Russia's recent history is littered with those "cyclical shocks" cited by Vassil Stavrev and this most volatile of countries may yet have more twists and turns in its political and economic cycles.