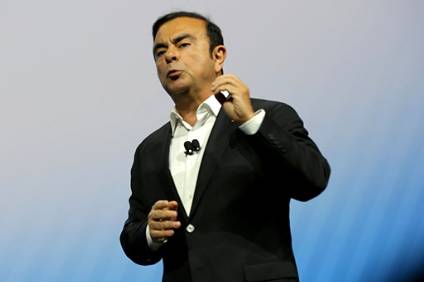 As one of my colleagues remarked, the rather substantial grille on the just facelifted BMW 7 Series is a little reminiscent of the front-end of a basking shark in full plankton filter-feed mode. I'm sure the Chinese will love it anyway (a staggering 44% of all 7 Series sales last year were in China – which explains the Shanghai roll-out this week). It was a lighter moment in a week that has had a more serious side on a number of fronts.
One of those was undoubtedly the ongoing plight of ex-Nissan chairman Carlos Ghosn, who is likely to remain in detention for months ahead of a complex trial in Tokyo. It also looks like he's losing support in Paris; the Renault CEO job could be someone else's next week. And there was some detail of 'improper payments' arising from Nissan and MMC's joint investigation. Not the best of weeks for the man who rescued Nissan.
Here in the UK, Brexit dominates the newspaper headlines and I think it's fair to say, the process hasn't been going particularly well. Political disarray in London at this late stage means that huge uncertainties remain for businesses that like to invest and trade across the UK-EU27 border. The automotive sector, in the UK and in Europe, with its high volumes of trade and pan-European supply chains, is getting mightily concerned as the clock ticks towards March 29 when the UK is scheduled to leave the EU. The UK's road haulage sector is also making its concerns known.
Over in Detroit, the NAIAS was in full flow and it's the last time it will be held in January. Given current trade tensions, the German auto industry – represented by the VDA – chose to stress the importance of the US market to German carmakers. And Ford and Volkswagen used the occasion to announce their new alliance. There was nothing surprising about the elements contained in it, but there could be more to come, over time. As Ford chief Jim Hackett has said before, it can be a 'delicate dance' when two OEMs and business rivals try to come together to save cost. Ford also said in Detroit that an electric F-150 is on the way. A sign of the times.
Deputy Editor Graeme Roberts escaped the January gloom to Barcelona where Toyota was showing off its new RAV4. It's obviously a very important model for the brand and will only be available in the UK market as a hybrid. And diesel was hardly mentioned – another sign of the times. Or, as Graeme puts it, 'how the mighty fuel has fallen'. Indeed.
In other news, Tesla decided to axe 7% of its workforce, Faurecia told us that it envisages the electric share of the Chinese car parc heading to 25% by 2030 and we noted Subaru's quiet success in the US marketplace.
Oh, and Chinese vehicle sales in 2018 were down for the first time since 1990. They were still over 28m units though. Back in 1990, that would have been very hard to imagine.
Have a good weekend…
Dave Leggett
Editor, just-auto