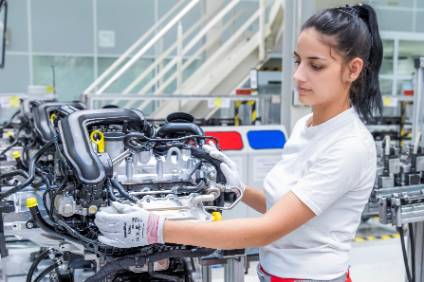 Even as the unprecedented global COVID-19 public health crisis is yet to reach a peak in many countries, a number of carmakers and major component companies are now talking about restarting temporarily shut down plants later this month or in early May.
It's a sign of a much hoped for gradual resumption of normal economic activity as policymakers look to balance broader economic needs with immediate public health priorities.
However, all industries are different and some will find it easier to swing back into action than others. The automotive industry is one that will face considerable challenges on the path to getting back to (or close to) where it was pre-COVID.
It will not be an easy process of simply opening the factory gates and quickly getting back to normal. For one thing, the public health crisis is far from over, meaning that facilities have to have protocols in place to manage social distancing and reassure workers over safety. Some areas of plant activity are easier than others to adjust for that due to their natural level of automation or worker density. There could be innovations and technological solutions ahead to facilitate a transition to an environment that still entails social distancing, but processes all along the manufacturing journey need to be looked at and adapted. Nevertheless, the auto industry is blessed with considerable engineering and logistics talent and we can be confident those things can be quantified and managed at plant level. Best practice and industry standards will rapidly proliferate. However, there are far more serious problems ahead to be addressed.
One is the still depleted state of final demand. If the value chain is not being fed at the top by sufficient new retail sales, there is little point in starting up production. Much depends on a broader return of consumer and business confidence in the coming months. Past experience suggests that government assistance – in the form of scrappage incentives – will be high on the agenda as a lever to stimulate automotive sales in these tough times. However, there is uncertainty over the form it could take and the impact on automotive market segmentation.
Policymakers could, for example, opt for incentives that genuinely target older and less environmentally friendly diesel cars for parc exit, while making electric vehicles and/or plug-in hybrids much more attractive. And policymakers at national government level will be acutely aware of national economic priorities and the nature (market segment) of the output of factories in their own countries. There is a lot – on the demand-side – for car companies to keep an eye on, but while markets are at historically low levels, calibrating manufacturing activity to real – and potentially volatile – demand, won't be easy.
The second big problem for automakers is the condition of manufacturing supply chains. In a typical vehicle that contains as many as 25,000 component parts, there is an elongated supply chain that stretches to suppliers of varying size across the world. They will be in varying degrees of health, some of them gone, some severely financially stressed. Few will be chipper.
Financial problems will be more acute for smaller suppliers down the supply chain.
During the crisis of furloughed vehicle production, many of the bigger 'Tier 1' suppliers will have been able to access sources of credit to maintain cash reserves. However, financial problems will be much more acute for smaller suppliers further down the supply chain. Indeed, they may turn out to have been much more vulnerable to cash flow difficulties and also lack the resources to re-start operations. Stops and starts and the additional costs involved if there are 'false dawns' could also send many smaller Tier 2 and Tier 3 supplier firms under.
Past experience also suggests that companies at the top of the automotive supply chain often have difficulty identifying and then addressing problems that may arise down the supply chain. A missing part for a critical sub-assembly in short-supply can instantly shut down a vehicle assembly line, especially if just-in-time production means there are no stocks held.
Protecting key suppliers and parts of the supply chain will also be something to watch. Relationships between companies – supplier-customer – are often a very sensitive area in terms of contract size and capacity, the degree of reliance on one or two big customers or OEMs. For the OEM, when it comes to risk mitigation and looking at their supply base, they may conclude that it is better to bail a company out than see it fail and seek an alternative. Such considerations will occur all along the supply chain, giving a boost to industrial consolidation and M&A activity later this year. It could be a chaotic period for the supplier industry, characterised by uncertainties over support for companies in trouble and the knock-on implications of business failures. Investment strategies – especially in costly advanced tech – could also be called into question, or dragged unceremoniously into commercial supply negotiations for parts on global vehicle programmes.
The international nature of automotive supply chains also complicates the position still further as plants in some countries may be at a more advanced stage in terms of re-start while others are still closed. In a perfect world, there would be considerable coordination to smooth restarts in industrial supply chains that stretch across borders. We're more likely to see an uneven spread of manufacturing activity with some plants caught in start-stop-start cycles as supply chain 'breaks' are confronted and managed as effectively as they can be.
The reality is that vehicle manufacturing plants will slowly calibrate production levels to emerging demand levels and do that while also assessing the health of supply chains and doing what they can to help key suppliers financially. Supply chains will be exceptionally fragile as this crisis slowly unwinds.
It will be single-shift to start and mean operating way below optimal levels of capacity utilisation. Cost control will still be a big part of the picture to keep cost per unit produced down.
We will be in extraordinary times for some months to come and automotive companies will be slowly feeling their way out of this unprecedented crisis.