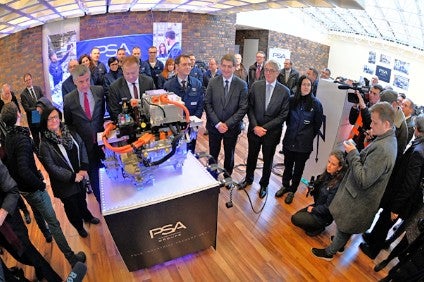 We began this wrap last week with job cuts and 'ere we go again.
Daimler just today said planned to axe at least 10,000 jobs worldwide to improve profit margins squeezed by heavy investments in electric and self-driving vehicles, a move that follows German rivals BMW and Volkswagen's Audi division. The cuts, accounting for at least 3.3% of the workforce, would be carried out by the end of 2022 as part of efforts to reduce personnel spending by EUR1.4bn euros ($1.5bn). The company plans to extend early retirement programmes and offer buyouts to reduce administrative staff in Germany. This had been signalled earlier this month when chairman Ola Kaellenius said at a Capital Markets Day: "The expenditure needed to achieve the CO2 targets require comprehensive measures to increase efficiency in all areas of our company. This also includes streamlining our processes and structures. This will have a negative impact on our earnings in 2020 and 2021. To remain successful in the future, we must therefore act now and significantly increase our financial strength." By the end of 2022, Mercedes-Benz Cars plans to save more than EUR1bn in personnel costs. To this end, jobs are to be reduced in both management and the indirect areas, Daimler had said.
Just days earlier, Volkswagen Group premium brand Audi said it would cut "up to 9,500" jobs as it converts its key Ingolstadt and Neckarsulm plants in Germany to electrified vehicles, saving EUR6bn in the process. The automaker had agreed a new deal, dubbed Audi.Zukunft [Audi.Future] with its works council which also extends the employment guarantee for the remaining workforce up to the end of 2029. That, as at Daimler, means no compulsory boots until then. So the cuts "will take place along the demographic curve – in particular through employee turnover and a new, attractive early-retirement programme", Audi said. Then the sweetner: "An equivalent percentage staff reduction will take place in management. Nonetheless, Audi will continue to recruit in the coming years. The company plans to create up to 2,000 new expert positions in areas such as electric mobility and digitalisation. Those appointments will be made on the principle of internal before external candidates."
BMW took a slightly different tack, announcing it had reached an agreement with its workforce on measures to reduce costs and avoid 'drastic measures'. "We have achieved a solution based on solidarity. This allows us to avoid drastic measures that others are currently taking to reduce their costs," BMW Group chief executive Oliver Zipse said. The agreement involves reducing bonuses for workers based on company profits, as well changes to Christmas and other bonuses for some workers, effective next year.
On the other hand, good news if you are a potential autoworker in China or interior parts maker in Serbia. BMW has put meat on the bones of last year's announcement of a joint venture with Great Wall and today marked the ground breaking for a joint venture plant in China under a new name to build electric Minis. Local Chinese government officials and the automakers announced the launch of the new joint venture, Spotlight Automotive, in China. The plant will have capacity for up to 160,000 vehicles per year, eventually employing 3,000 people. Both partners will share the cost of EUR650m and the plant will be built in 2020 to 2022 in Zhangjiagang, Jiangsu Province. The deal with Great Wall includes joint development of battery electric vehicles in the world's largest market for electromobility.
Meanwhile, Yanfeng Automotive Interiors (YFAI) has officially opened its new plant in Serbia. Officials and industry representatives attended a ceremony in Kragujevac were the supplier plans to recruit up to 800 employees over the next few years. "With this new plant in Serbia, we are expanding our manufacturing capacity in eastern Europe's growth markets and responding to our customers' increasing presence in the region," said Tony Elenbaas, vice president & general manager, Europe & South Africa. The company manufactures automotive interior components in a production area of approximately 18,500 square meters and has already brought 180 new jobs to the region. Employee numbers are to be gradually increased annually at the supplier's first plant in Serbia. Yanfeng said good infrastructure and availability of skilled workers in the Kragujevac region were key to selecting the location.
We took a look at future Toyotas and I took more than a look at the latest 'self charging hybrid' to reach these shores. As we said: "Profits are sky-high, brand image is excellent and the company keeps expanding the Toyota model range, especially in North America and China. A major shift is also taking place as plug-in hybrids and fully electric vehicles are added to a line-up which once contained next to none of either." If a largish, hybrid (the only powertrain option here in the UK), non-premium D-segment saloon/sedan, ticks the right boxes with a private buyer or fleet operator, this revived nameplate – Camry, exiled from Europe for some time to Russia – is worth a look, I thought.
Tata Motors' Jaguar Land Rover is thinking of the future and told a recent industry gathering CASE concepts have moved to the top of its priority list as megatrends start to increasingly shape the way it does business. Addressing the recent Central & Eastern European Automotive Forum organised by Adam Smith Conferences in Budapest, JLR outlined how the move to CASE needed to be coordinated with suppliers. "Most urgent is what we refer to as autonomous driving, electric vehicles, sharing [CASE], not just technologies with those vehicles," said JLR Global STA director, Body Engineering, Special Vehicle Operations & European Operations, Paul Goff at the Budapest conference. "It is about how we ensure that capability is developed through the supply base. How we support suppliers in a massive shift for the industry."
Yanfeng's new Serbian plant can be seen in this JLR context: "Certainly for suppliers in this region, our focus has been sourcing the right components in the right locations. We have a large purchasing operation in central Europe – we spend in the region of EUR3bn in central and eastern Europe with around 300 supplier facilities."
Relatively late to the EV party, Mazda has begun taking 'pre-orders' in select Europe markets for its first production electric car, the MX-30. The model, launched at the Tokyo motor show last month, has what its maker calls 'unique freestyle' (rear hinged) doors, similar to those on the BMW i3, Honda Element, et al, and is made from 'ecological materials' with a 'right-sized battery giving a range of approximately 200km (120 miles) which Mazda claims is more than the 48km (30 miles) average daily drive of the European customer.
PSA has officially opened its electrified powertrain assembly line at its Tremery plant, now designated as the main source for EV drivetrains for the four current group electrified models and those coming soon. The new line will have capacity for 120,000 units in 2020 but flexible design will help it reach 180,000 by 2021. The powertrains will go into all group fully electric vehicles – both passenger cars and light commercial vehicles. Tremery eventually is expected to produce 900,000 electric motors thanks in large part to the Nidec-PSA emotors joint venture begun in 2017 with Nidec Leroy-Somer.
Have a nice weekend.
Graeme Roberts, Deputy Editor, just-auto.com