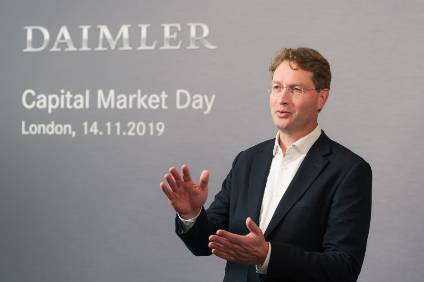 Daimler has reported a widening Q2 loss amid sharply slower sales caused by the impact of the COVID-19 pandemic.
However, the company also said it expects to generate an operating profit this year as demand in major markets recovers from the worst of the crisis. The results cheered investors and Daimler's share price has risen in early trading today.
Assuming that the economic recovery continues in the second half of the year and that there is no new major wave of COVID-19 infections in its key sales markets, Daimler expects both group EBIT and the free cash flow of the industrial business to be positive in 2020, but lower than in the previous year. That would be a considerable achievement in the wake of the unprecedented crisis and consequent fall to new vehicle demand.
For the second quarter, Daimler's total unit sales decreased by 34% to 541,800 passenger cars and commercial vehicles (Q2 2019: 821,700). Revenue slipped significantly by 29% to EUR30.2 billion (Q2 2019: EUR42.7 billion). EBIT was minus EUR1,682 million (Q2 2019: minus EUR1,558 million).
However, the adjusted EBIT loss, reflecting the underlying business, was down to a much lower minus EUR708 million.
Given the scale of the drop to sales this year, this set of results isn't too bad – particularly in terms of steps taken to preserve liquidity and also address the cost base. The company is refocusing investments to critical projects and has moved quickly to make capacity adjustments in its global production network that will reduce fixed costs in the long-term.
As part of a cost-saving reaction to lower demand caused by the COVID-19 pandemic and a sharp deterioration in financial results, Daimler is rejigging plant-model mix in North America.
As part of a cost-saving reaction to lower demand caused by the COVID-19 pandemic and a sharp deterioration in financial results, Daimler is rejigging plant-model mix in North America. Mercedes-Benz will cease making the C-Class at its Tuscaloosa, Alabama, plant, leaving the factory to specialise on SUVs. The Tuscaloosa plant is also preparing to integrate the upcoming electric SUV models from the EQ product and technology brand into its operations – a sign of continuing ongoing investment in critical projects even as savings are made in some areas.
As part of cost savings Daimler has already said it will sell its Hambach manufacturing facility in France, which currently makes Smart brand vehicles. Thousands of job cuts are also reportedly in prospect across the group as part of a strong push for cost savings.
The company is also putting its automated driving JV with BMW on pause, reflecting high costs for this advanced technology and current market conditions. Their cooperation on development of next-generation technology for automated driving is temporarily on hold. Following extensive review, the two companies decided to concentrate instead on their existing development paths. Both sides concluded that, in view of the expense involved in creating a shared technology platform, as well as current business and economic conditions, the timing was not right for successful implementation of the cooperation. Cost saving box ticked.
Daimler's stated aim of an operating profit this year will require further efforts to increase efficiency, but Daimler appears to be moving in the right direction in its response to the COVID-19 crisis. It is cutting cost where it can, reviewing production plans and plant-model mix to take account of changed demand levels.
However, Daimler also makes clear that risks to the outlook remain – particularly if a major wave of new COVID-19 infections hits its key sales markets. As vehicle markets recover from historic lows in the second half of the year, this is an ever present danger and risk for automotive companies generally.