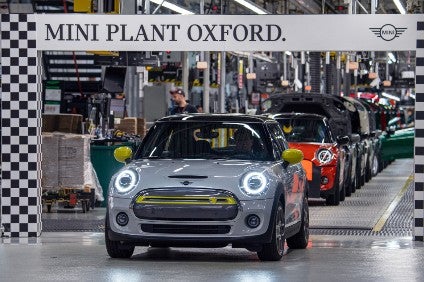 BMW is preparing to invest up to GBP600m in its British Mini plant at Cowley, near Oxford, the BBC said. The money was expected to be used to prepare the plant for a future building electric models.
The government has offered support worth GBP75m to BMW, the report said.
First generation electric Mini production began at Cowley plant in 2019.
In 2022, Mini said production of most of its electric cars would move to China, to be built by a joint venture between BMW and Great Wall Motor.
One electric model, the Countryman, would built at Leipzig, in Germany. Earlier this month, BMW detailed progress on readying that eastern Germany plant to build the redesigned model. Previous generations have been built by contract assemblers in Austria and the Netherlands.
BMW last year suggested building both conventionally fuelled and electric cars in the same factory was inefficient but also insisted Oxford would remain the "home of the Mini" and no jobs would be lost, the BBC noted.
UK sales of new non-hybrid petrol and diesel powered cars are due to end in 2030 so the factory will ultimately have to build electric cars again, if it is to continue operating.
All Minis will be electric by 2030.
In a statement sent to the BBC, BMW said it had a "continuous and productive dialogue with UK government", but declined to comment on any future production plans.
The report added the GBP75m being offered to BMW comes from the government's Automotive Transformation Fund.