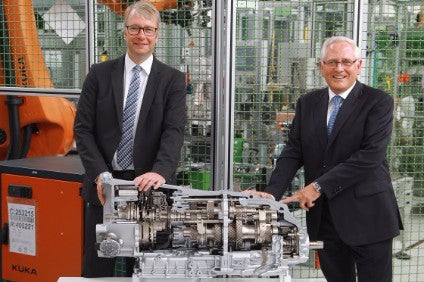 ZF has celebrated the official production start of its eight-speed dual clutch transmission (8DT), developed jointly with Porsche, at the Brandenburg plant. It's been developed as a modular kit so versions for 2WD, 4WD and hybrid can all be made on a flexible production line for which ZF spent EUR100m.
"The new transmission allows us to offer maximum flexibility for sporty applications – from all-wheel drive to plug-in hybrid," said ZF CEO Stefan Sommer. The combination of modular kit and flexible production mase such wide-ranging options possible.
Brandenburg has 1,200 employees making 600 transmission systems a day. The factory has made seven-speed DCTs since 2008 and started seven-speed manual transmission production in 2012.
Porsche has recently updated its Boxster and Cayman models with more power and better fuel economy from four-cylinder flat engines with turbocharging. For the first time, the Coupe and Roadster have the same power – 220kW to 257kW from two- or 2.5-litre displacement.