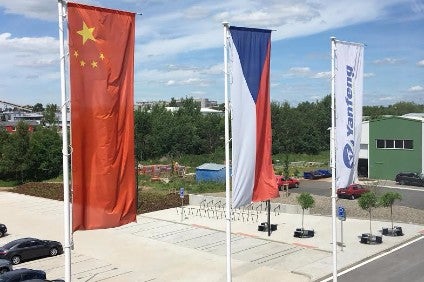 Yanfeng Automotive Interiors (YFAI) says it is key to have a presence in Central and Eastern Europe as the boom in automotive suppliers in the region continues its frantic pace.
Only last week (8 June) the Chinese interiors specialist – operating as YFAI opened its Planá nad Lužnicí site around two hours south of Prague in the Czech Republic – building on inauguration of its Automotive Business Centre in Bratislava a few weeks ago and the unveiling of its Technical Centre in Trencín, Slovakia.
That pace of activity is in addition to Yanfeng's plant in Žatec manufacturing door panels, floor consoles and other interior components in the Czech Republic as well as production sites in Papa, Hungary and Námestovo, Slovakia.
In Žatec alone, the supplier has 1,700 employees, while the latest addition to its Central and Eastern stable will eventually see hundreds more jobs swell its burgeoning presence in the region as automakers look to capitalise on competitive labour costs and a skilled workforce.
"Today in Europe there is a trend manufacturing is more East-moving and we follow our customers," Yanfeng VP & deputy general manager Europe & South Africa, Joseph Lee told just-auto at the Planá nad Lužnicí site. "Czech Republic is a good place for us – [there is] an educated people.
"We believe it is a good decision for us to be here and demonstrates our commitment to grow here, to grow with the local economy."
The importance of the event and the status of Yanfeng was underscored by the presence in Planá nad Lužnicí of Chinese Ambassador to the Czech Republic, MA Keqing, who noted relations between the two countries were now on a more even keel following what appear to have been earlier tensions.
"In three years we have restarted our relations with the Czech Republic because before this period there were difficult times," Keqing told just-auto on the sidelines of the Planá nad Lužnicí factory opening. "For both sides it was high time for us to increase our cooperation especially in trade and economics – this is an urgency.
"We have now a co-operation according to China and 16 countries in East and Central Europe so this is a good platform. The Czech Republic has been very active and I think it is a mutual convergence of the development of our two countries. The Czech Republic is very strong in manufacturing and China is also [an] emerging economy.
"Both countries are having a process of restructuring or upgrading industry – there is a lot we can share with each other. Now with the globalisation of production [it] is good to be close to this kind of zone."