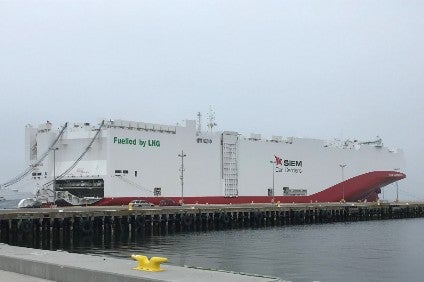 Volkswagen Group of America (VWGoA) this week welcomed its first overseas liquid natural gas (LNG) transport ship to the VWGoA port in Davisville, Rhode Island.
The LNG powered car carrier ship, named Siem Confucius, left Emden, Germany on 16 June to embark on its first voyage which includes one stop in the US before heading to the Gulf of Mexico.
This is the company's first in service overseas carrier to operate on LNG.
The Siem Confucius is one of a pair of trans-Atlantic LNG-fueled car carriers the VW Group and Siem Car Carriers unveiled in November 2019.
Powered by LNG, considered a more sustainable form of energy than the standard diesel fuel typically used on traditional overseas car freighters, the new carriers help reduce carbon dioxide emissions.
Both ships have 13 car decks and the capacity to carry up to 4,800 vehicles at a time.
The liquified gas tanks have a capacity of approximately 475,000 gallons each, which is enough for a complete round trip of the company's standard 12,000 nautical mile America Round Tour shipping route.
In addition to its visit to Davisville, the Siem Confucius also plans to make a stop in Veracruz, Mexico in advance of its return route to Emden.
The new carriers will replace two of the original nine in the current fleet.