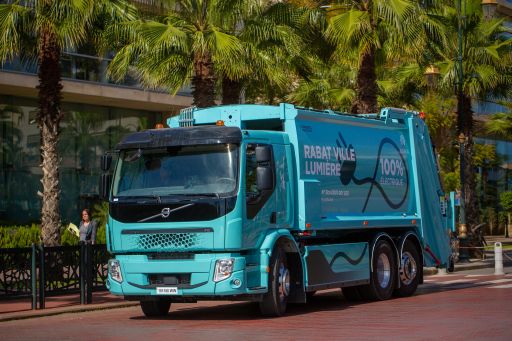 Volvo Trucks says it is the first global manufacturer to start serial production of heavy electric trucks and has started selling them in South Korea.
Volvo Trucks says that many types of transport needs can be electrified in South Korea, ranging from urban distribution and refuse disposal to regional transportation and construction traffic.
The Korean freight market is characterised by large transport flows over relatively short distances, making it suitable for electrified heavy trucks.
Large flows of goods are transported short distances and Volvo maintains that when an expanded public network of charging stations is developed, more transport needs can be electrified.
South Korea has a national plan to decrease CO2 emissions and aims for carbon neutrality by 2050. Electrifying road transports is one important measure to cut CO2.
"We think the timing is just right to start selling heavy electric trucks in South Korea," says Per-Erik Lindström, SVP Volvo Trucks International, and continues: "With 22% market share for heavy-duty trucks in South Korea, we have an important role to play in order to lower the transport sector's CO2 emissions."
Volvo Trucks goal is for 50% of the new trucks it sells globally by 2030 to be electric. Since it started production of fully electric trucks in 2019, the company has sold more than 4,300 electric trucks in over 38 countries around the world.
"It's obvious that the speed of the electric transition in any country is very dependent on the decisions the authorities make. We see that in the countries that are leading the transition to electric trucks, the progressive governments have combined economic incentives with targeted taxes and environmental zones in cities to greatly speed up the adoption of electric trucks," adds Per-Erik Lindström.